Boeing plant where Donald Trump vowed to create jobs fires almost 200 people
Mr Trump had promised the crowd he would 'never, ever' disappoint them
Emily Shugerman
New York
Friday 23 June 2017 18:11 Comments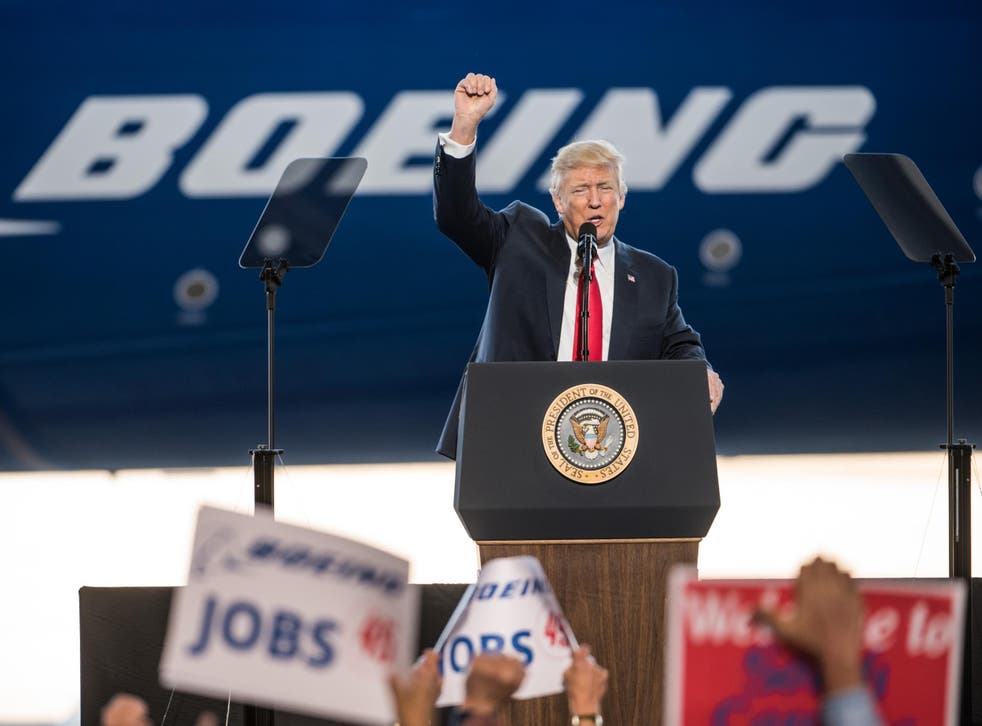 The South Carolina Boeing plant where President Donald Trump spoke about saving American jobs is laying off almost 200 workers, the company says.
Boeing's South Carolina assembly plant has notified employees that they will be off the company's payrolls from 25 August, company spokeswoman Lori Guntr told The Independent.
The layoffs are part of a larger effort to cut costs at Boeing, where intense competition with rival manufacturer Airbus has forced the company to lower prices and make savings. Orders for the company's signature 777 jet have also slowed, with production down nearly 60 per cent from its peak.
The company told employees in December that it would resort to layoffs "as a last resort". But they went on to announce some workers would be made redundant at their Washington plant in March, and the first-ever round of layoffs at the South Carolina plant were declared on Friday.
"We have gone through a variety of other ways of improving competitiveness at the South Carolina site, including voluntary layoffs and costs reductions," Ms Guntr said. "...We had exhausted all of those and we still were not at the level that our business requires."
The layoffs come just months after Mr Trump addressed crowds at the South Carolina plant and assured them he would "put our great people back to work".
"My focus has been all about jobs. And jobs is one of the primary reasons I'm standing here today as your president," Mr Trump said. "And I will never, ever disappoint you."
In pictures: Protests, pomp and Donald Trump

Show all 30
The President campaigned heavily on creating more jobs for Americans, and has frequently touted the number of jobs he says his administration has created.
The US economy added about 600,000 jobs in the first four months of Mr Trump's presidency, according to the Bureau of Labour Statistics. In the four month before his election, it added about 840,000.
Last month, the Carrier manufacturing plant where Mr Trump claimed he had saved 1,100 jobs – and promised to create even more – announced it would be cutting more than 600 jobs by the end of the year.
"I am appreciative of what took place," Carrier employee Robert James told The Daily Beast. "But there are still 500-some people who are going to be unemployed. And he bragged about saving 1,100 jobs."
Register for free to continue reading
Registration is a free and easy way to support our truly independent journalism
By registering, you will also enjoy limited access to Premium articles, exclusive newsletters, commenting, and virtual events with our leading journalists
Already have an account? sign in
Join our new commenting forum
Join thought-provoking conversations, follow other Independent readers and see their replies