Carrier factory Donald Trump 'saved' will lay off hundreds of workers before Christmas
The President claimed his intervention had saved hundreds of positions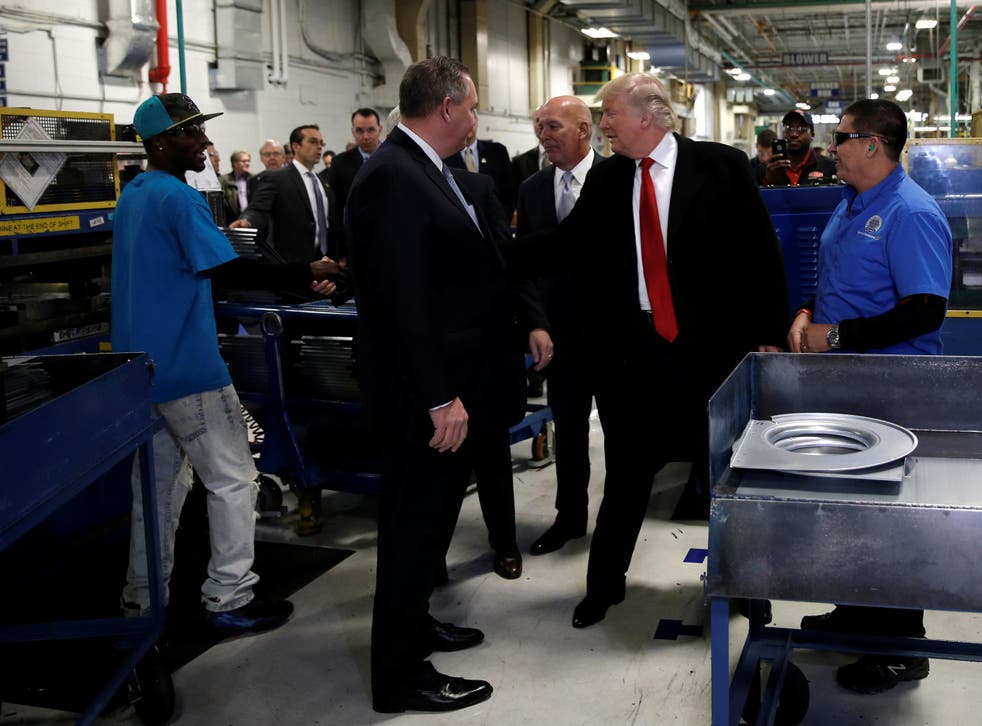 Donald Trump famously boasted about persuading a company in the US heartland not to move its furnace plant to Mexico.
Yet, despite the President's intervention, the business is still set to send around 630 jobs south of the border, with some of those positions being cut just days before Christmas.
Carrier Corporation, which produces heating and ventilation systems, issued a notice this week to its workers in Indiana, detailing its plan to terminate 632 positions from its factory in Indianapolis, it's largest and capital city.
"This action follows a thorough evaluation of our manufacturing operations and is intended to address the challenges the business faces in a rapidly changing industry," Steven Morris, a Carrier manager in Indianapolis, wrote in a memo.
Mr Trump became associated with the company during the election campaign, when he criticised it for planning to send jobs to Monterrey, Mexico, where the minimum wage is said to be $3.90.
Theresa May will make intelligence issue 'clear to President Trump'
Around 1,400 positions were on the chopping block, according to company estimates. Mr Trump has claimed he was able to save 1,000 of them and he took credit for doing so.
"Here's what's going to happen," Mr Trump told an election rally in Indianapolis. "I'll get a call from the head of Carrier and he'll say, 'Mr. President, we've decided to stay in the United States'. That's what's going to happen - 100 per cent," he said.
World news in pictures

Show all 50
The company said it was only going to retain 800 jobs, not the 1,000 that Mr Trump claimed. It also said number of those would ultimately be lost to automation, despite the fact that a deal with the state government to save those jobs involved $7m in incentives for the company.
Robert James, a senior official with the United Steelworkers union told the Associated Press that it was "cold" to put people out of work just days before the Christmas holiday.
"It's going to be hard for them. You don't replace jobs paying $25 an hour, like at Carrier and Rexnord. They got warehouse jobs paying ten to twelve dollars an hour. This is going to do damage to families, cause unnecessary stress and strain," he said.
"If [Trump] really wanted to help workers, why doesn't he start with bringing his own jobs back to the United States? His daughter and son-in-law all got jobs overseas where they pay people $60 a week or less. It's a tragedy where all these companies go overseas and abuse people."

Register for free to continue reading
Registration is a free and easy way to support our truly independent journalism
By registering, you will also enjoy limited access to Premium articles, exclusive newsletters, commenting, and virtual events with our leading journalists
Already have an account? sign in
Register for free to continue reading
Registration is a free and easy way to support our truly independent journalism
By registering, you will also enjoy limited access to Premium articles, exclusive newsletters, commenting, and virtual events with our leading journalists
Already have an account? sign in
Join our new commenting forum
Join thought-provoking conversations, follow other Independent readers and see their replies