Woman filmed attacking Native American group opposing border wall construction
Group is defending lands of the Kumeyaay people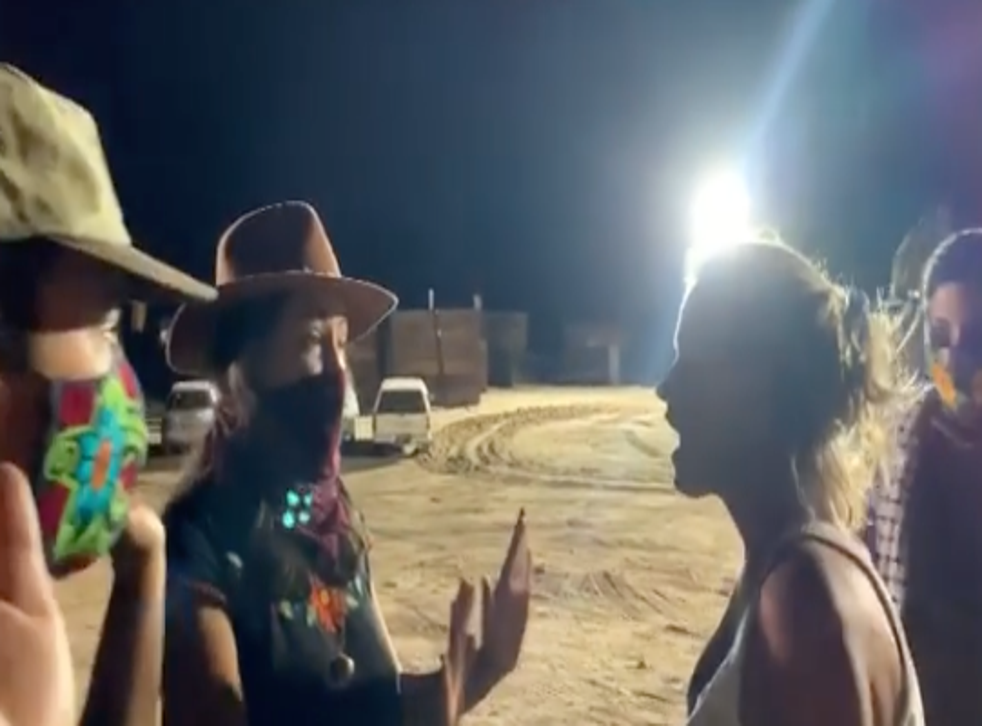 Leer en Español
Video taken this past weekend shows a woman attacking members of a Native American tribe protesting against president Donald Trump's border wall.
The Instagram post shows the woman grappling with protesters and slapping two of them while hurling obscenities. 
The footage was taken in San Diego County, California, where a "small indigeous initiative that is rooted in prayer" is defending the lands of the Kumeyaay people.
The maskless woman repeatedly tells the group to "Get the f*** out of here", declares that she is a protester too and that this is her community. She yells "you guys are disturbing the job" of the construction of the border wall.
The protesters attempted to restrain her and did not fight back. When the non-violent group begins singing and chanting, the woman then appears to mock them.
The caption of the Instagram post reads: "Tonight we experienced a violent woman who tried to tear our tents down. We de-escalated and stayed non-violent. We used songs and prayers again just like how we non violently stop desecration to the land."
After asking for help and prayers, the caption continues: "Say a prayer for these folks who are disconnected to themselves. Make space for those who are so hurt they act violently. The reason why these incidents happen is because we are so dehumanized in their eyes. And it's been happening since the beginning of invasion. We stay non violent. We stay in prayer."
In a separate video the woman returns in the morning and calls a protester a coward saying that he should take off his mask.
She continues to taunt the group before a man arrives from the direction of the construction site and escorts her away. She then slaps the phone out the hand of the man videoing her.
On Monday the Bureau of Land Management served the group with an Emergency Closure Order.
Kumeyaay land straddles the border between San Diego and Baja California in Mexico.
Register for free to continue reading
Registration is a free and easy way to support our truly independent journalism
By registering, you will also enjoy limited access to Premium articles, exclusive newsletters, commenting, and virtual events with our leading journalists
Already have an account? sign in
Register for free to continue reading
Registration is a free and easy way to support our truly independent journalism
By registering, you will also enjoy limited access to Premium articles, exclusive newsletters, commenting, and virtual events with our leading journalists
Already have an account? sign in
Join our new commenting forum
Join thought-provoking conversations, follow other Independent readers and see their replies