Trump says he has signed new executive order to lower drug prices
No details released about the order
Andrew Buncombe
Seattle
Sunday 13 September 2020 22:27 Comments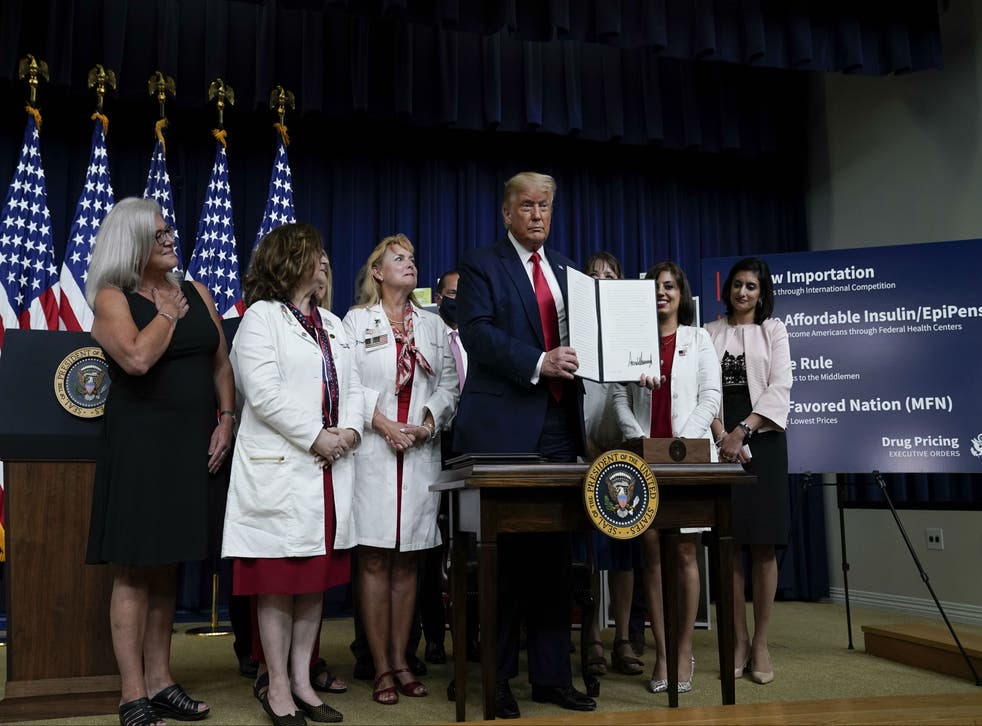 Leer en Español
Donald Trump has said he has signed a new executive order aimed at lowering the cost of medicines in the United States.
Critics of America's healthcare system - among then progressives such as Bernie Sanders - have long denounced the fact that prescription medicine costs far more in the US compared to other nations.
The president has often vowed to take on big pharma, which benefits from the fact the government does not regulate prices, unlike many countries where government agencies negotiate prices for every drug.
During the 2016 campaign he said he would lower their cost, and his first speech to the joint houses of Congress in February 2017, he vowed to "bring them down immediately".
Trump signs executive orders on lowering drug prices
Critics say he has not done that.
On Sunday he tweeted that he had signed a new executive order aimed at lowering drug prices in the United States by linking them to those of other nations.
"My Most Favored Nation order will ensure that our Country gets the same low price Big Pharma gives to other countries. The days of global freeriding at America's expense are over," he wrote.
"Also just ended all rebates to middlemen, further reducing prices."
The details of the order were not immediately clear.
The president this summer signed four executive orders that he claimed would lower the costs of medicine.
These included allowing certain drugs to be imported from Canada and making changes to the way discounts negotiated by middlemen were passed on to Medicare patients.
A report by the House Ways and Means committee published last year found individual drug prices in the country ranged from 708 to 4,833 per cent higher than the combined mean price in 11 other countries studied.
On average, US drug prices were 3.7 times higher than the combined average of the other 11 countries.
Register for free to continue reading
Registration is a free and easy way to support our truly independent journalism
By registering, you will also enjoy limited access to Premium articles, exclusive newsletters, commenting, and virtual events with our leading journalists
Already have an account? sign in
Join our new commenting forum
Join thought-provoking conversations, follow other Independent readers and see their replies