Fox and Friends responds to Trump's $1bn loss: 'It's beyond what most of us could ever achieve'
The hosts also attempted to find out who told the New York Times about the loss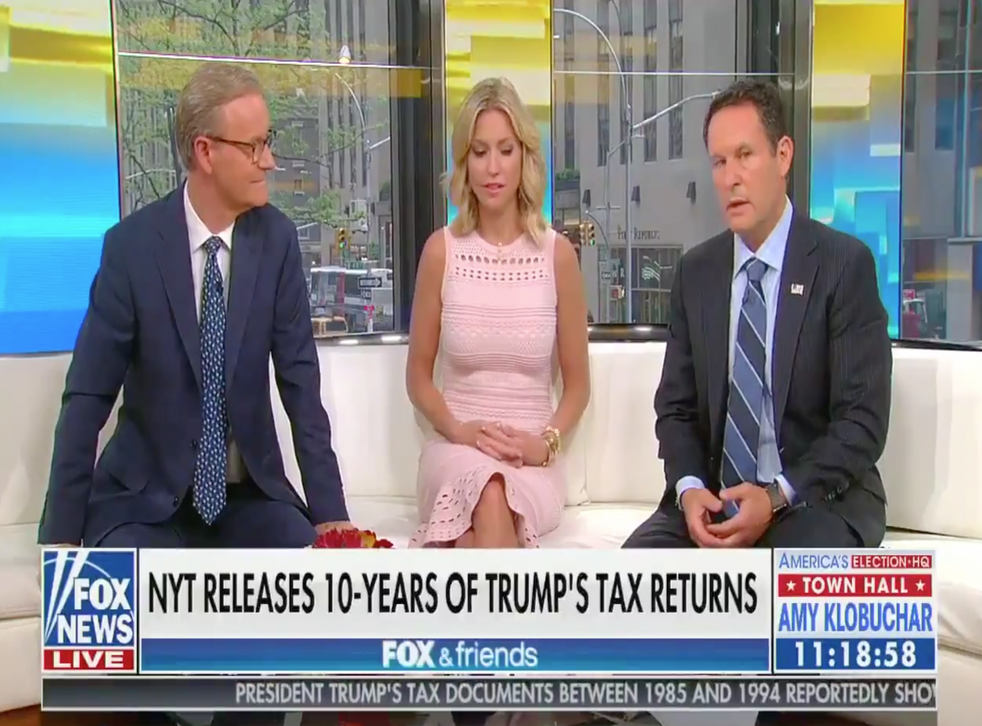 Fox & Friends hosts grappled with the New York Times's investigation into President Donald Trump's $1bn business losses on Wednesday morning, with one host saying: "It's beyond what most of us could ever achieve."
Ainsley Earhardt said: "If anything, you read this and you're like 'wow, it's pretty impressive, all the things that he's done in his life'."
On Tuesday, the Times published an in-depth look at 10 years of Donald Trump's tax figures, seen by their reporters.
The figures showed that between the years 1985 and 1994, Mr Trump appeared to have "lost more money than nearly any other individual American taxpayer."
Fox & Friends is widely considered to be among the most Trump-sympathetic programmes on the right-leaning Fox News. According to White House sources, the president watches the show, which often praises his leadership and condemns criticism of him, on a regular basis.
Assessment from reporters who follow both the television show and Mr Trump's tweets and talking points shows that the president regularly mimics arguments presented on the show.
Often, such as Wednesday morning, he directly quotes and tags the hosts in tweets.
Beyond praising the president for having so much money to lose, the hosts attempted to determine how The New York Times gathered so many tax records, which the president has refused to release.
"These tax records, according to The Times, were given to them by somebody who had legal access to them," host Steve Doocy said. "We don't know if that's one of his attorneys or one of his tax guys or if it's somebody in the federal government."
"Michael Cohen, maybe?" co-host Brian Kilmeade suggested.
For the most part, however, the hosts were simple support of the president's business losses, which they claimed were above most people's understanding.
Mr Kilmeade in particular chided the media's reaction to the $1bn loss, which was happening as Mr Trump was building a persona as a great businessman, as something negative, "as if, if you buy something and it doesn't pan out right away, or ever, you're a loser."
He also chimed in, saying it was only significant "if you consider a billion dollars a lot of money."
Join our new commenting forum
Join thought-provoking conversations, follow other Independent readers and see their replies