As it happened
ended
1599425704
Trump news: Cohen claims president said black people were 'too stupid to vote' for him as polls show RNC convention failed to give him election bump
Follow for all the latest developments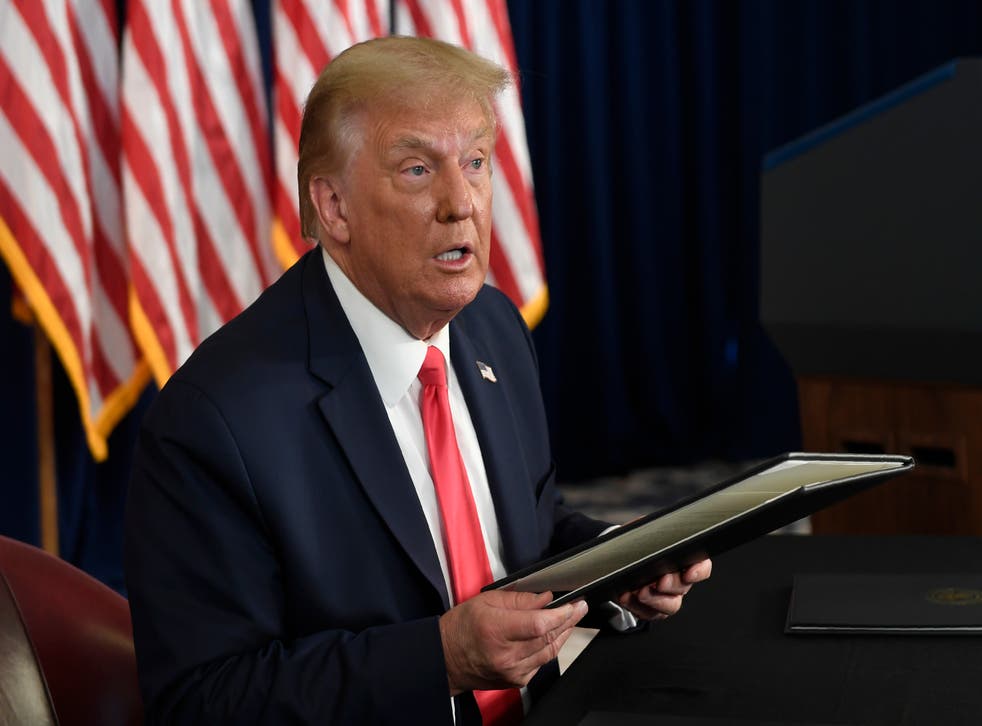 Michael Cohen's memoir, due to be published next week, alleges that Donald Trump described Nelson Mandela as a poor leader who "f***ed the whole country up" and said countries run by black leaders are "all complete f***ing toilets".
Other allegations in the memoir include Cohen saying Mr Trump ogled at his 15-year-old daughter and the pair visited a Las Vegas strip club in 2013 that involved performers urinating on other people.
Cohen also claimed that the president said black people were "too stupid to vote" for him.
White House Press Secretary Kayleigh McEnany said in a statement: ""Michael Cohen is a disgraced felon and disbarred lawyer, who lied to Congress. He has lost all credibility, and it's unsurprising to see his latest attempt to profit off of lies."
In other news, the editor-in-chief of The Atlantic has defended his publication's piece about Mr Trump allegedly calling fallen war heroes "suckers" and "losers". The editor defended his publication's use of anonymous sources and said more information would probably come out in the coming days about the president.
Mr Trump and the White House have denied the report, which claimed that the president refused to visit a cemetery of fallen war heroes because they were "suckers" and "losers".
In one tweet shared on Sunday, Mr Trump accused Democrats and the media of launching a "disinformation campaign" against him over the report.
Besides tweeting, the president has spent his Labour Day holiday weekend golfing, as he visited his Trump National Golf Club in Sterling, Virginia, both on Saturday and Sunday.
1599383842
Good morning, and welcome to The Independent's liveblog following the latest developments on US President Donald Trump.
Kate Ng
6 September 2020 10:17
1599384722
Michael Cohen to publish tell-all memoir on Donald Trump
The US president's former personal lawyer Michael Cohen is set to publish a book next week that alleges Donald Trump is "guilty of the same crimes" that landed his former fixer in federal prison.
Mr Cohen, who worked closely with Mr Trump before turning on him, writes in his memoir 'Disloyal: The True Story of the Former Personal Attorney to President Donald J. Trump' that his biggest challenge in working for the president was dealing with porn actress Stormy Daniels and her claims of an affair with him.
Mr Trump green-lighted a payment of $130,000 to silence Ms Daniels ahead of the 2016 election, which he would later deny. Mr Cohen writes that the president reasoned he would "have to pay" his wife a larger sum if the affair ever became known.
"It never pays to settle these things, but many, many friends have advised me to pay," Mr Trump allegedly said, according to Mr Cohen. "If it comes out, I'm not sure how it would play with my supporters.
"But I bet they'd think it's cool that I slept with a porn star."
According to the Washington Post, which reported it obtained a copy of the book ahead of publication, Mr Cohen also alleged that Mr Trump made disparaging remarks about black leaders, including Nelson Mandela.
According to the newspaper, Mr Cohen wrote that following Mr Mandela's death in 2013, Mr Trump said: "Mandela f***ed the whole country up. Now it's a s***hole. F*** Mandela. He was no leader."
Mr Cohen also alleged that Mr Trump said: "Tell me one country run by a black person that isn't a s***hole. They are all complete f***ing toilets."
The White House has dismissed Mr Cohen's claims and attacked his credibility, calling him a "disgraced felon and disbarred lawyer who lied to Congress".
Additional reporting by AP
Kate Ng
6 September 2020 10:32
1599386272
Anti-racism protests continue in Rochester and Louisville
Anti-racism protesters took to the streets of Louisville and Rochester, New York on Saturday, clashing with armed police supporters and police along the way.
In Louisville, hundreds of protesters marched towards the Churchill Downs trace before the Kentucky Derby horse race, changing "No Justice, No Derby" as activists called for organisers to cancel the annual race.
Louisville is where 26-year-old black woman Breonna Taylor was killed in March after police burst into her apartment using a "no-knock" arrest warrant that did not require them to announce themselves.
A group of counterprotesters, including about 250 pro-police demonstrators, clashed with the Black Lives Matter protesters. They brandished pistols and long guns.
In Rochester, New York, police used batons, pepper balls and tear gas to disperse about 2,000 protesters who marched toward the Public Safety Building.
Demonstrators there chanted "Black Lives Matter" and "Daniel Prude", a reference to a black man who died after encountering police in March. Mr Prude's family released body camera footage showing officers who pinned Mr Prude to the pavement and restrained him with a hood.
Elsewhere, more unrest took place in Portland, Oregon, where protests have continued for the past three months. Police arrested 27 people on Friday, mostly on charges of interfering with law enforcement or disorderly conduct.
Kate Ng
6 September 2020 10:57
1599387761
Trump makes 295th visit to golf course amid military dead scandal
As his administration deals with the fallout around an article alleging the president called dead American military veterans "losers" and suckers", Donald Trump made his 295th visit to one of his own golf courses on Saturday.
The alleged remarks, published in The Atlantic magazine, have been strongly denied by the White House. Mr Trump tweeted that the magazine was "dying" and had fabricated the story "in order to gain some relevance".
The president visited the Trump National Golf Club in Virginia, reported CNN, which tallies his visits to golf courses.
Kate Ng
6 September 2020 11:22
1599389131
Trump parade on Texas lake ends with four boats sinking
A flotilla of boats in support of Donald Trump on Lake Travis in Texas on Saturday led to at least four boats sinking and other crashing into rocks, local officials have said.
No one was injured in the parade, but there were a "truly exceptional number of boats", said Kristen Dark, public information officer for the Travis County Sheriff's Office, whose deputies patrol the lake.
The "Lake Travic Trump Boat Parade" generated choppy waves on the lake that led to the minor disasters.
The event had been advertised on Facebook and called for boats of "all shapes and sizes" to participate and for owners to adorn their boats with "patriotic colours and fly as many Trump flags as she can handle".
Kate Ng
6 September 2020 11:45
1599390031
Why Portland is still protesting 100 days after George Floyd's killing
The city of Portland, Oregon, has been gripped by protesters for three months straight, almost without pause.
While demonstrations in cities such as Seattle, Oakland and San Francisco have come and gone, protesters in Portland are determined not to give up, reports Andrew Buncombe.
'Civil resistance and civil disobedience is the bedrock of change,' says activist Jamal Williams
Kate Ng
6 September 2020 12:00
1599393626
Trump attacks Steve Job's widow for supporting The Atlantic
Donald Trump has lashed out at Laurene Powell Jobs, the widow of Apple CEO Steve Jobs, afetr he discovered her philanthropist organisation owns The Atlantic.
The president is furious at The Atlantic magazine for publishing an article in which it alleges he called America's war dead "suckers" and "losers".
Ms Powell Jobs also donated at least $500,000 to Democratic presidential nominee Joe Biden's campaign, angering Mr Trump further.
Kate Ng
6 September 2020 13:00
1599394512
Trump hired 'Faux-Bama' to pretend-fire him in video, writes Cohen
Donald Trump's former attorney, Michael Cohen, says that the president was so disdainful of former US president Barack Obama that he hired an actor to participate in a video as a "Faux-Bama".
According to CNN, which reported it had obtained a copy of Mr Cohen's new book ahead of its publication next week, Mr Trump "ritualistically belittled the first black president and then fired him" in the video.
The book, 'Disloyal: A Memoir', does not name the man allegedly hired as "Faux-Bama", but includes a photograph of Mr Trump sitting at a desk across from a black man wearing a suit with an American flag pin on his lapel.
Details of the book began emerging on Sunday morning, in which Mr Cohen described Mr Trump as "a cheat, a liar, a fraud, a bully, a racist, a predator, a con man".
Kate Ng
6 September 2020 13:15
1599396020
Demonstrations in Portland continue as police deploy tear gas and protesters throw fire bombs
Police and protesters in Portland continue clash as protesters threw rocks and fire bombs at police, who responded with tear gas on the 100th day of demonstrations against racism and police brutality.
At least one person was reported injured during the clashes. Police described what they called "tumultuous and violent conduct" by demonstrators in the city's Southeast Stark Street on Saturday night.
"Fire bombs were thrown at officers, injuring at least one community member," said police on Twitter.
A local newspaper estimated the number of people protesting last night stood at around 400. Police said they made arrests but did not confirm how many.
Kate Ng
6 September 2020 13:40
1599397567
Trump threatens to withdraw funding from public schools if they teach from 1619 Project
Donald Trump has threatened to defund public schools that implement The 1619 Project into their curriculum.
The 1619 Project, developed by The New York Times Magazine, aims to "reframe American history" around slavery and the contributions of African Americans.
It began as a special issue for the magazine's 20 August edition, timed for the 400th anniversary of the arrival of the first enslaved Africans in the Virginia colony in 1619, but became a sprawling, ambitious project including a special broadsheet section in the newspaper, a podcast series and live events.
The president retweeted a person on Twitter who said California implemented the project into public schools, adding: "Department of Education is looking at this. If so, they will not be funded!"
Teachers in some states in the US began bringing parts of The 1619 Project into classrooms in earlier this year to supplement the usual syllabus on American history.
But conservative commentators and Republicans have railed against The 1619 Project, calling it "propaganda" and accusing the project of aiming to "delegitimise America", reported Vox.
US Secretary of State Mike Pompeo criticised the project as "Marxist ideology" and a "dark vision of America's birth".
Kate Ng
6 September 2020 14:06
Register for free to continue reading
Registration is a free and easy way to support our truly independent journalism
By registering, you will also enjoy limited access to Premium articles, exclusive newsletters, commenting, and virtual events with our leading journalists
Already have an account? sign in
Register for free to continue reading
Registration is a free and easy way to support our truly independent journalism
By registering, you will also enjoy limited access to Premium articles, exclusive newsletters, commenting, and virtual events with our leading journalists
Already have an account? sign in
Join our new commenting forum
Join thought-provoking conversations, follow other Independent readers and see their replies