US secretary of state hosts dinner for top North Korean general as both sides race towards summit
'We're continuing to prepare for the meeting between the president and the North Korean leader'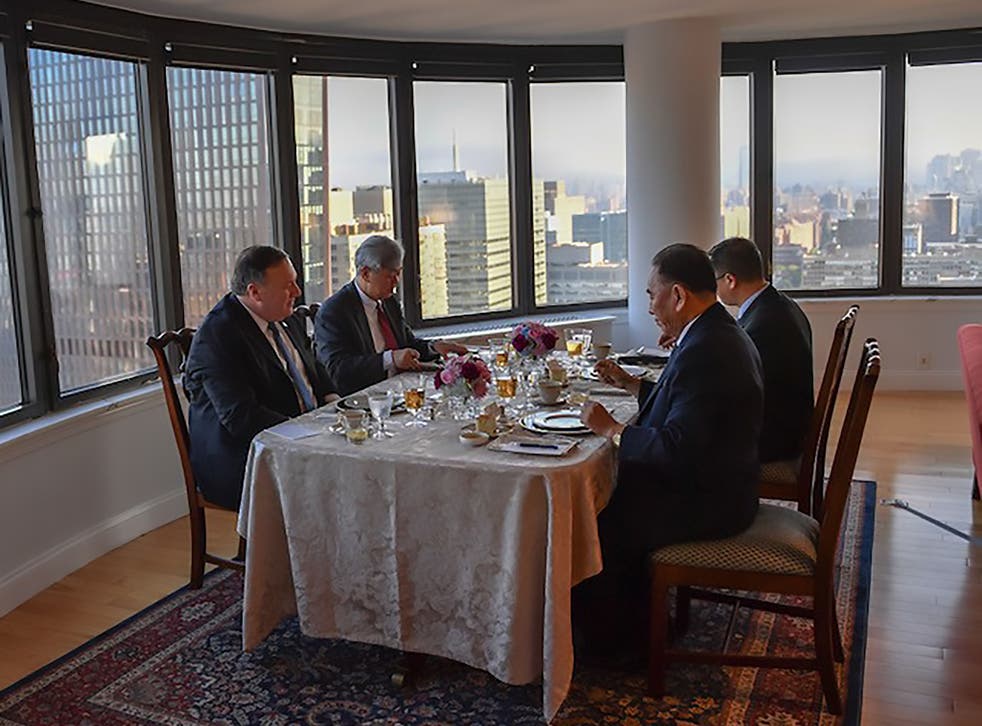 Top officials from the US and North Korea are to hold a "day full of meetings" in New York on Thursday as both sides race to get plans for a leaders' summit in Singapore back on track.
US secretary of state Mike Pompeo hosted dinner on Wednesday night with General Kim Yong Chol, one of Kim Jong-un's closest aides and the most senior North Korean official to visit the US in 20 years.
Pictures released from the dinner showed them sat in an apartment not far from the UN headquarters. Afterwards, Mr Pompeo tweeted: "Good working dinner with Kim Yong Chol in New York tonight. Steak, corn, and cheese on the menu."
Mr Pompeo has himself travelled to Pyongyang twice in recent weeks for meetings with Kim Jong-un, and has said there is a "shared understanding" between the two sides about what they hope to achieve in talks.
The White House has said it expects a historic summit between President Donald Trump and the North Korean leader to take place as planned. "We're continuing to prepare for the meeting between the president and the North Korean leader", White House press secretary Sarah Huckabee Sanders said.
The summit still hangs in the balance, with Mr Trump having issued a letter last week pulling out of the summit before the latest flurry of diplomacy aimed at salvaging the talks.
"We are preparing and expect that to take place on June 12, and we will be ready if it does on June 12, and if not, then we will be ready if it takes place on July 12", Ms Sanders said.
After Mr Trump abruptly called off the summit last week and lambasted North Korea for displaying "tremendous anger and open hostility" towards the US, the White House has been striving to reinstate the meeting, including by dispatching an array of officials to Asia.
A delegation of US diplomatic officials travelled to meet with North Korean counterparts in the demilitarised zone separating the north from South Korea, and a team headed to Singapore to meet with North Korean officials and continue laying the groundwork for a potential meeting there.
Escape from North Korea

Show all 16
One of those meetings in Singapore was said to have taken place on Wednesday, aimed at dealing with the logistics.
In announcing the various diplomatic moves, the White House said earlier this week that North Korea had "been engaging" since Mr Trump's open letter cancelling the meeting.
"So far the readout from these meetings has been positive", Ms Sanders told reporters.
Top North Korea official arrives in Beijing ahead of Trump-Kim summit in Singapore
In another sign of cascading diplomatic activity, Russia announced that its foreign minister Sergei Lavrov planned to visit North Korea on Thursday to meet with the country's foreign policy chief, Ri Yong-ho.
Much rides on the outcome of the negotiations. After months of North Korean weapons tests and belligerent statements spiked fears of renewed conflict on the Korean peninsula, Pyongyang's shift to diplomacy this winter afforded the Trump administration a chance to push North Korea to dismantle its nuclear programme long regarded as one of the world's leading threats.
America's outgoing head of Pacific Command, Admiral Harry Harris, underscored the peril in a speech marking his departure.
"North Korea remains our most imminent threat. And a nuclear-capable North Korea with missiles that can reach the United States is unacceptable," Adm Harris said in Hawaii.
However, it is clear that work still needs to be done. South Korea'€s Yonhap news agency quoted Seoul's Unification Minister Cho Myoung-gyon as saying in a speech on Wednesday that the differences between North Korea and the United States on the denuclearisation issue remained "€œquite significant"€ and it would not be easy to narrow the gap. But, Mr Cho said that engagement between the countries as seen recently suggested that the "chances are high that common ground can be found."
All along, the Trump administration has said it would be willing to walk away from a pact that falls short of total, verifiable denuclearisation. Officials have paired diplomatic efforts with a "maximum pressure" campaign of comprehensive sanctions intended to stifle North Korea's economy and force the country to negotiate.
While Pyongyang initially committed to total denuclearisation and said it would not demand the withdrawal of US troops whose presence on the Korean Peninsula has long angered North Korea, the regime hardened its stance as planned talks drew nearer.
In a statement earlier this month, Pyongyang threatened to walk away if pressured to unilaterally abandon its nuclear programme. A follow-up statement blasted vice president Mike Pence as a "political dummy", drawing Mr Trump's ire.
Once the talks were called off, Pyongyang released a statement that criticised the decision but praised Mr Trump's willingness to negotiate and signalled a continued desire to meet.
Join our new commenting forum
Join thought-provoking conversations, follow other Independent readers and see their replies