Trump uses N-word repeatedly on secret tape, Omarosa memoir claims
Former reality star also says she witnessed 'truly appalling things' during her time in the White House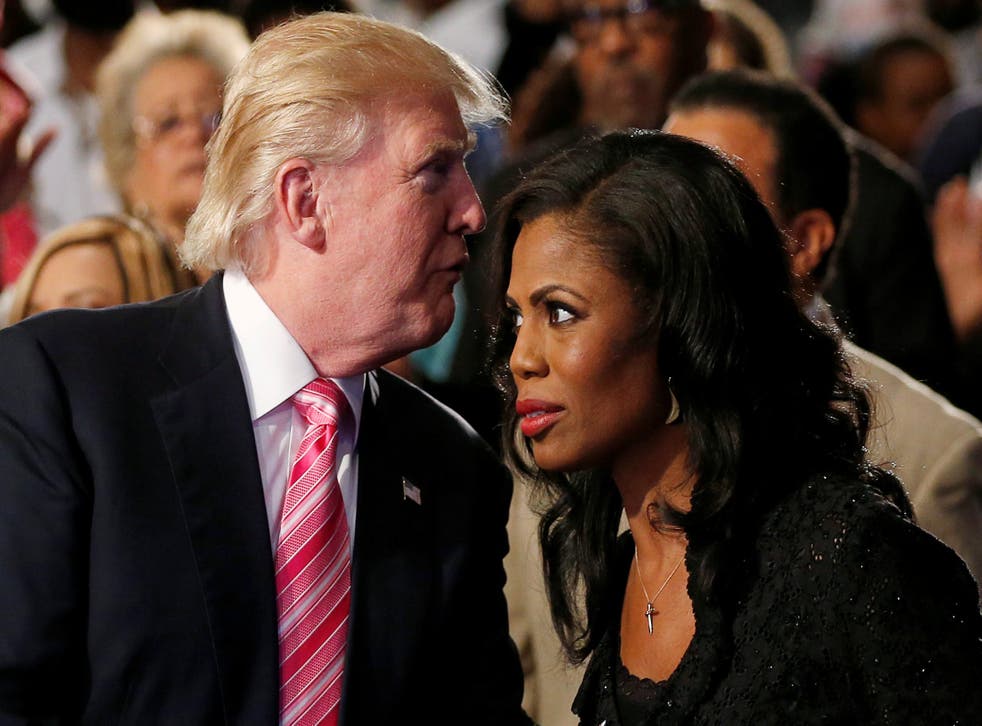 Former White House staffer Omarosa Manigault Newman has branded Donald Trump a "racist" who repeatedly used the 'N-word', she has claimed in an explosive new memoir.
In an excerpt of her book, Unhinged: An Insider's Account of the Trump White House, the 44-year-old reality star lifts the lid on her relationship with the president and alleges that he often uttered the racial slur while taping his reality TV show The Apprentice.
Her scathing account of the experience as a contestant on the show, revealed in the memoir which The Guardian obtained an advanced copy of, appears to confirm rumours that have been circulating since the 2016 election, indicating there is secretly recorded audio of Trump using offensive language on The Apprentice.
She writes that she felt a "growing realisation that Donald Trump was indeed a racist, a bigot and a misogynist. My certainty about the N-word tape and his frequent uses of that word were the top of a high mountain of truly appalling things I'd experienced with him, during the last two years in particular".
Although Newman cites three unnamed sources that have watched the damning outtakes, she doesn't say whether she ever witnessed him use the word on set herself.
Trump hosted The Apprentice from 2004-2015 before running for the presidency, and still likes to boast about the NBC reality show's popularity.
Newman goes on to claim Trump took his alleged bigotry into the White House, where she witnessed him use racial epithets about the White House counsellor Kellyanne Conway's husband George Conway, who is half Filipino.
"It had finally sunk in that the person I'd thought I'd known so well for so long was actually a racist," she writes in the memoir. "Using the N-word was not just the way he talks but, more disturbing, it was how he thought of me and African Americans as a whole."
Newman, who was once one of Trump's biggest supporters, has been fiercely critical of Trump since her abrupt departure as communications director for the White House Office of Public Liaison in December 2017.
At the time of her departure, Trump tweeted: "Thank you Omarosa for your service! I wish you continued success."
There are conflicting reports as to whether she had been fired or resigned, and it was claimed she had to be physically removed from the premises.
She later appeared on Celebrity Big Brother where she made headlines for comparing the White House to a plantation, saying she was "haunted" by Trump's tweets.
World news in pictures

Show all 50
It is likely that critics question her credibility and accuse her of seeking revenge when the tell-all is released.
The White House declined to comment.
Comedian Tom Arnold said in December 2016 that he had the footage of Trump using racist language, obscenities and demeaning his own son.
"I have the outtakes to The Apprentice where he says every bad thing ever, every offensive, racist thing ever. It was him sitting in that chair saying the N-word, saying the C-word, calling his son a retard, just being so mean to his own children," he told Seattle-based radio station KIRO.
At the time Metro-Goldwyn-Mayer studios, which owns the rights to the show, and its creator, Mark Burnett, resisted pressure to make the footage public, citing "various contractual and legal requirements".
Register for free to continue reading
Registration is a free and easy way to support our truly independent journalism
By registering, you will also enjoy limited access to Premium articles, exclusive newsletters, commenting, and virtual events with our leading journalists
Already have an account? sign in
Register for free to continue reading
Registration is a free and easy way to support our truly independent journalism
By registering, you will also enjoy limited access to Premium articles, exclusive newsletters, commenting, and virtual events with our leading journalists
Already have an account? sign in
Join our new commenting forum
Join thought-provoking conversations, follow other Independent readers and see their replies