Donald Trump sued for inciting violence at his campaign rallies
"You can't say, 'Get 'em out of here' and think that people aren't going to take it literally," says alleged victim of the violence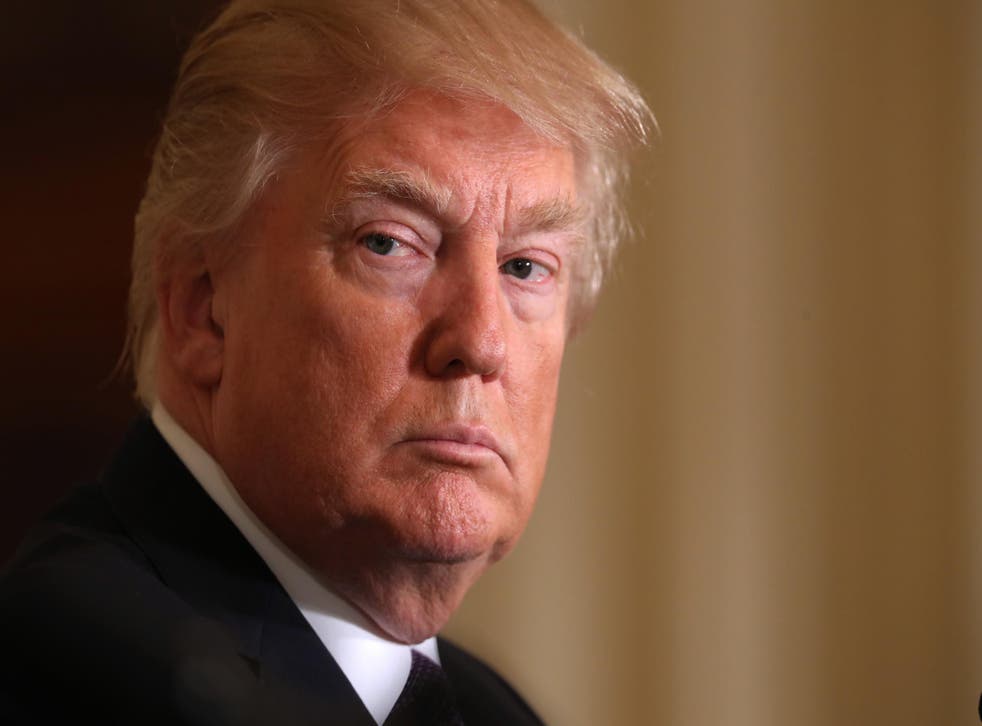 Three people are suing Donald Trump after being assaulted at his campaign rallies. Kashiya Nwanguma, Molly Shah, and Henry Brousseau have all filed lawsuits against Trump supporters they claim assaulted them at a rally — and Mr Trump, who they claim incited the attack.
They claim they were assaulted at a Trump campaign rally in Louisville, Kentucky, where Mr Trump drew attention to their peaceful protests and directed the crowd to "get them the hell out."
A video which clocked up thousands of views online shows one of the plaintiffs, Ms Nwanguma, being shoved repeatedly by attendee Alvin Bamberger. Ms Shah and Mr Brousseau say they were shoved and punched by attendee Matthew Heimbach, an alleged white supremacist from the area.
They are now seeking unspecified damages for "physical injuries, emotional distress, humiliation and mental anguish."
Violence at Mr Trump's rallies has generated national headlines both before and after his inauguration. Activists erupted when attendees chanted "Sieg Heil!" at a black protester in December 2015. Police arrested a man for punching and kicking a protester at a rally in March 2016, and anti-Trump protesters braced for confrontation at a pro-Trump rally in Berkeley this week.
Ms Nwanguma, Ms Shah, and Mr Brousseau are the first to take legal action on the issue.
Trump's lawyers attempted to dismiss the suit earlier this month, arguing his words were protected as free speech. But a federal judge let the case go forward on 2 April, noting that speech inciting violence is not protected by the First Amendment.
Now, Mr Trump's lawyers are trying a new tack: arguing that Mr Trump did not give his orders to the crowd specifically. In a federal court filing on 14 April, Mr Trump's lawyers acknowledge that he spoke the words "get them out of here," but deny that Mr. Trump's statement was "directed at the crowd."
Speaking on Saturday, attorney Gregory L Belzley — one of the lawyers representing the plaintiffs — was incredulous.
"If he wasn't directing it to the crowd, who was he directing it to?" Mr Belzley asked.
Mr Brousseau, the plaintiff who claims to have been punched at the rally, was similarly unpersuaded.
"You can't say, 'Get em out of here' and just magically hope or think that people aren't going to take it literally," Mr Brousseau told The Independent.
Both Mr Belzley and Mr Brousseau highlighted the importance of law suit recently filed by Mr Bamberger, the Trump supporter captured on video shoving Ms Nwanguma. In the filing, Mr Bamberger's lawyers claim his actions at the rally were directly motivated by Mr Trump's words.
While Mr Bamberger admits only to touching a woman in the crowd, his lawyers write that "to the extent that Bamberger acted, he did so in response to — and inspired by — Trump and/or the Trump Campaign's urging to remove the protesters."
Mr Belzley called the cross claim "extraordinarily significant."
"Now it is no longer just the plaintiffs saying that what [Mr Trump] said was wrong," he told The Independent. "Now one of the people that actually engaged in it has pointed his finger at Mr Trump as being what motivated to act in the way he did."
The third defendant, Mr Heimbach, has yet to respond to the suit. When he does, Mr Belzely said the plaintiffs are prepared to move "very, very aggressively with discovery."
He is confident that he will be able to overcome Mr Trump's legal team's second defence: that he is "immune from suit because he is President of the United States."
The concept of presidential immunity stems from 1982 Supreme Court ruling, which states that presidents cannot be liable for damages in civil suits over their actions as President. But subsequent courts have found presidents are not immune from federal litigation concerning their non-official acts.
Since Mr Trump was still a candidate at the time of the rally, Mr Belzely says his actions are not considered official presidential acts.
"That battle's been fought and lost," Mr Belzely said. "And if there's any attempt to postpone this litigation, to stay it, to dismiss it, [Mr Trump] is going to to be reading that authority."
Register for free to continue reading
Registration is a free and easy way to support our truly independent journalism
By registering, you will also enjoy limited access to Premium articles, exclusive newsletters, commenting, and virtual events with our leading journalists
Already have an account? sign in
Register for free to continue reading
Registration is a free and easy way to support our truly independent journalism
By registering, you will also enjoy limited access to Premium articles, exclusive newsletters, commenting, and virtual events with our leading journalists
Already have an account? sign in
Join our new commenting forum
Join thought-provoking conversations, follow other Independent readers and see their replies