Two Alabama police officers forced to leave the department for belonging to white supremacy hate group
One fired officer claimed that his former bosses shared his views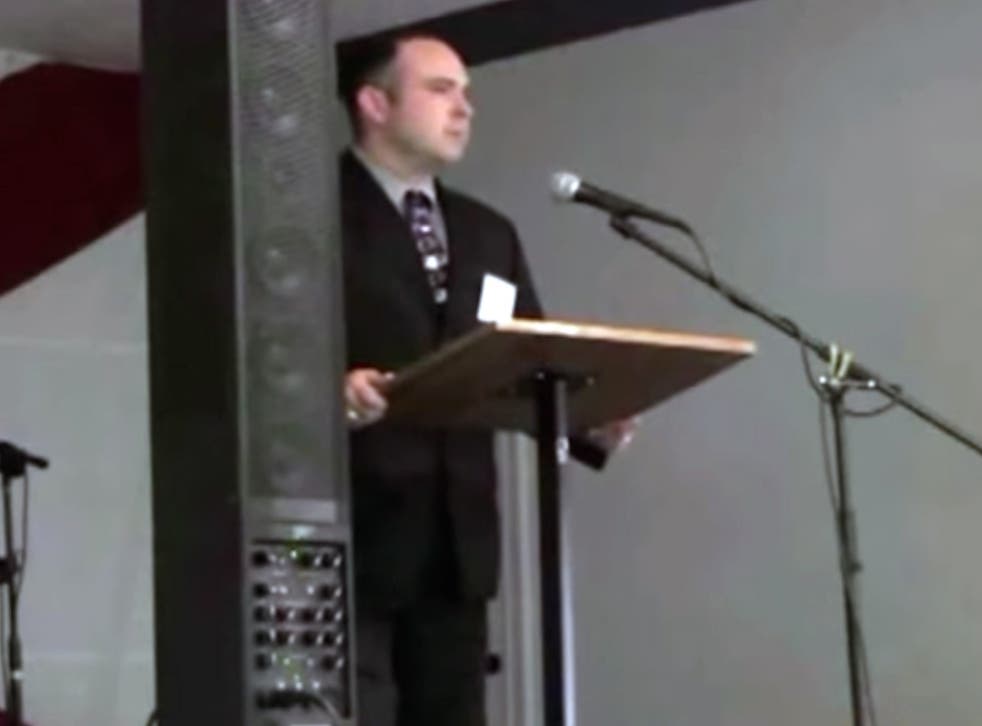 Two Alabama police officers are no longer with the force after allegations of their membership to hate groups surfaced.
The Anniston Police Department forced officers Wayne Brown and Josh Doggrell to leave the department after the Southern Poverty Law Center revealed that they belonged to the neo-Confederate League of the South, a white-supremacist group calling for "Southern independence".
Mr Brown, who had 21 years of experience, was given the option to retire while Mr Doggrell, a nine year vet, was terminated by the department.
The SPLC discovered Mr Doggrell speaking at a 2013 event for the LOS at an event which Mr Brown also attended.
"The vast majority of men in uniform are aware that they're southerners," he said in the video. "And kith and kin comes before illegal national mandates."
The SPLC said that Mr Doggrell joined the league in 1995 which has ties to the Ku Klux Klan. They also detailed the connection of "kinism" in the blog post.
"The Kinist Institute, an organisation that promotes kinism, has called for laws against racial intermarriage, an end to non-white immigration, expelling all 'aliens' ('to include all Jews and Arabs'), and restricting the right to vote to white, landholding men over the age of 21," it said.
"In the past, LOS websites have referred to kinism as 'a biblical solution for all races' that will save the South by preventing 'white genocide.'"
Michael Hill, LOS president, has previously written about engaging in an "American race war" — the same rhetoric suspected terrorist Dylann Roof used before allegedly shooting and killing nine black clergy members at the historically black American Methodist Episcopal Church.
"Negroes are more impulsive than whites. Tenacity and organisation are not the negroes [sic] strong suits. If [a race war] could be won by ferocity alone, he might have a chance. But like the adrenaline rush that sparks it, ferocity is short lived. And it can be countered by cool discipline, an historic white trait, and all that stems from it," he wrote.
Mr Hill also called for the removal of the American flag. Stating the "ugly gridiron now now stands for multiculturalism, tolerance, and diversity — the left's unholy trinity. It also stands for Bruce/Caitlyn Jenner, Rachel Dolezal, and every other fraud and pervert who is held up as an example of 'courage' in 2015 America".
Mr Doggrell said his bosses at the police department were aware of his involvement with the extremist group while hinting that they also shared his views. He was investigated in 2009 for his association with the LOS but the department ruled that his beliefs did not to cross over into his police work.
However, Anniston Police Chief Shane Denman said no other officers appear to be part of the group, the New York Daily News reported.
"This should not end up characterizing the entire department at all," he said.
Register for free to continue reading
Registration is a free and easy way to support our truly independent journalism
By registering, you will also enjoy limited access to Premium articles, exclusive newsletters, commenting, and virtual events with our leading journalists
Already have an account? sign in
Register for free to continue reading
Registration is a free and easy way to support our truly independent journalism
By registering, you will also enjoy limited access to Premium articles, exclusive newsletters, commenting, and virtual events with our leading journalists
Already have an account? sign in
Join our new commenting forum
Join thought-provoking conversations, follow other Independent readers and see their replies