Exotic spacecraft, extraterrestrial materials – and a cover-up: UFO whistleblower's out-of-this-world claims
Former member of the National Geospatial-Intelligence Agency is alleging the government has been withholding possible evidence of UFOs, writes Ariana Baio
Wednesday 07 June 2023 07:40 BST
Comments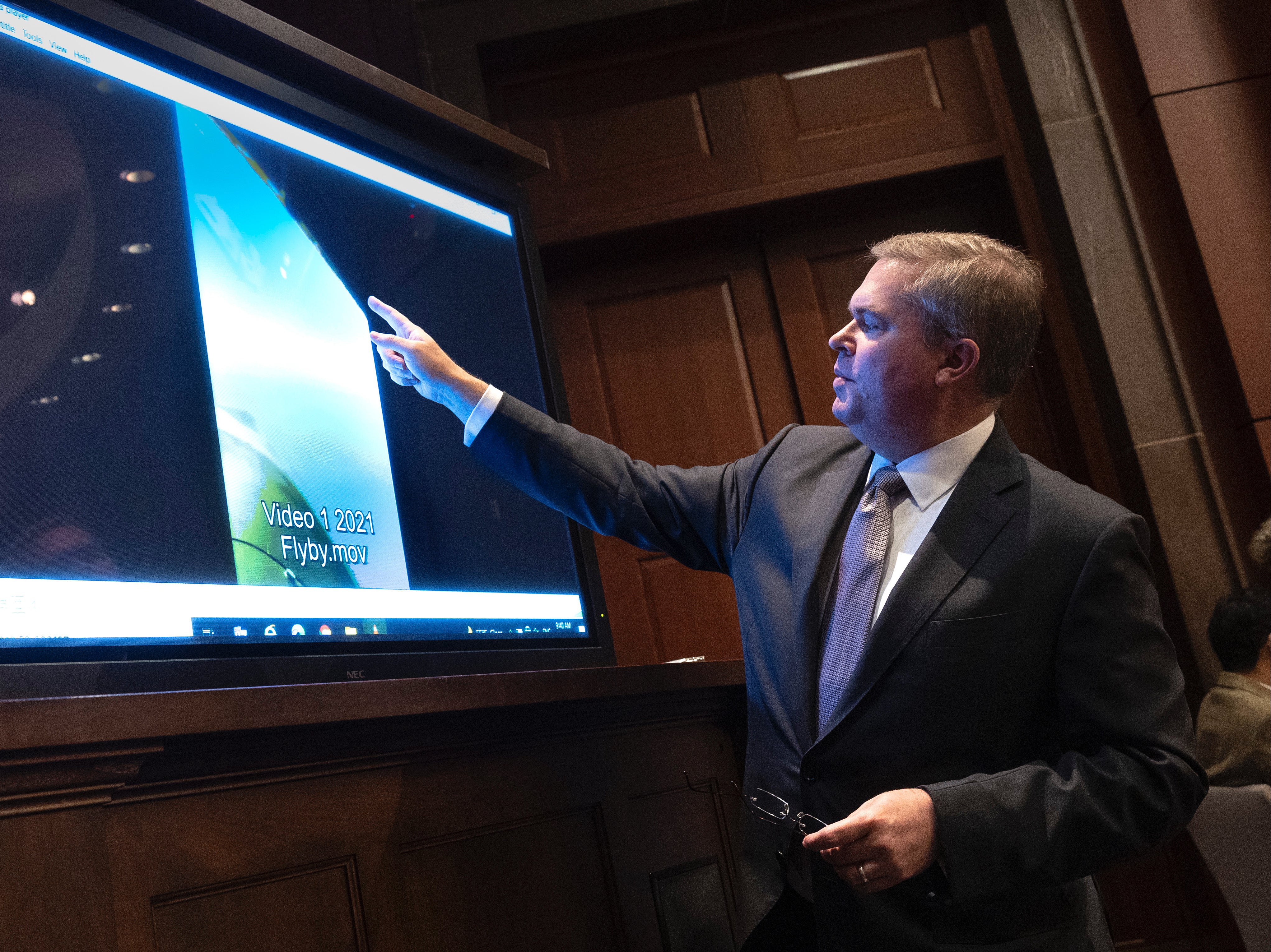 A former US intelligence officer has blown the whistle on the US government by alleging they concealed a programme that has physical evidence of a "non-human origin" craft.
David Charles Grusch told The Debrief and NewsNation this week that he confidentially turned over classified information to Congress and the Intelligence Community Inspector General in July 2021 about the programme and possible evidence.
According to Mr Grusch, he experienced retaliation when his identity was revealed – something he has filed a formal complaint regarding.
But now, Mr Grusch wants the rest of the world to know about some of the information that he believes was being illegally concealed, even if it means putting himself at risk.
"I am for real. I am sitting here at great personal risk and obvious professional risk by talking to you today," Mr Grusch told NewsNation.
Here's what we know about Mr Grusch and the claims he's making.
Who is David Charles Grusch?
Mr Grusch is a 36-year-old veteran of the US Air Force as well as the National Geospatial-Intelligence Agency and the National Reconnaissance Office.
He is a decorated former combat officer in Afghanistan, according to The Debrief.
From 2016 until 2021, Mr Grusch served as a senior intelligence officer with the National Reconnaissance Office. From 2019 until 2021, he was the office's representative to the Unidentified Aerial Phenomena (UAP) Task Force.
From late 2021 until July 2022, he co-led the National Geospatial-Intelligence Agency's UAP analysis.
In total, Mr Grusch has 14 years of intelligence experience.
At the National Geospatial-Intelligence Agency, Mr Grusch was a senior intelligence capabilities integration office and had Top Secret / Secret Compartmented Information level clearance.
Mr Grusch told The Debrief that he reported to Congress on the existence of a "publicly unknown Cold War for recovered and exploited physical material" that identified UAP [Unidentified Anomalous Phenomena] crashes, landings and retrieved material for "exploitation / reverse engineering to garner asymmetric national defense advantages."
Mr Grusch told NewNation that the UAP task force was refused access to the materials recovery programme.
"I thought it was totally nuts and I thought at first I was being deceived, it was a ruse. People started to confide in me. Approach me. I have plenty of senior, former, intelligence officers that came to me, many of which I knew almost my whole career, that confided in me that they were part of a program," Mr Grusch told NewsNation.
What are his claims?
Mr Grusch is alleging that the materials recovery programme retrieved, "non-human origin technical vehicles" but kept it hidden from the public.
"Call it spacecraft if you will, non-human exotic origin vehicles that have either landed or crashed," Mr Grusch said to NewsNation.
Nasa releases footage of unidentifiable 'spherical orb' UFO flying through Middle East
In a separate interview with the Debrief, Mr Grusch described how the government allegedly has evidence of spacecraft created by a "non-human intelligence" of "unknown origin."
"[This assessment is] based on the vehicle morphologies and material science testing and the possession of unique atomic arrangements and radiological signatures," the former official said.
He sounded the alarm to Congress and the Intelligence Community Inspector General in July 2021, confidentially alleging that the materials recovery programme was shielded from proper congressional oversight.
However, he claims his identity was somehow disclosed and he suffered retaliation for disclosing the confidential information.
"I hope this revelation serves as an ontological shock sociologically and provides a generally uniting issue for nations of the world to re-assess their priorities," Mr Grusch said to The Debrief.
The former defence official said he hadn't directly witnessed or seen photos of the recovered alien objects himself, but has spoken extensively with colleagues who have.
"We're definitely not alone," he told NewsNation. "The data points, quite empirically that we're not alone."
He added that as part of his disclosures to Congress and the inspector general, he turned over verifiable "proof" of his claims.
Altogether, Mr Grusch said his experiences have convinced him the US government has been systematically lying to the American people for decades about unidentified aerial phenomena.
"There is a sophisticated disinformation campaign targeting the US populace which is extremely unethical and immoral," Mr Grusch said in his interview with NewsNation.
What has the US government said?
Sue Gough, a spokesperson for the DOD said in a statement provided to The Independent that to date the All-domain Anomaly Resolution Office (AARO) does not have "any verifiable information to substantiate claims that any programs regarding the possession or reverse-engineering of extraterrestrial materials have existed in the past or exist currently."
The All-domain Anomaly Resolution Office (AARO) investigates unidentified flying objects and other phenomena in the air, sea, land or space.
Ms Gough said the AARO is "committed to following the data and its investigation wherever it leads" adding that they are working with the Office of the General Counsel and the Air Force Office of Special Investigations to establish "a safe and secure process for individuals ot come forward with information to aid AARO in it's congressionally-mandated historical review."
"AARO welcomes the opportunity to speak with any former or current government employee or contractor who believes they have information relevant to the historical review," Ms Gough added.
The Independent has reached out to the Intelligence Community Inspector General for comment regarding the whistleblower complaint.
Join our commenting forum
Join thought-provoking conversations, follow other Independent readers and see their replies