Protesters demanding no-fly zone over Ukraine fill New York's Guggenheim museum with paper planes
Artists and activists hold demonstration to urge Nato allies to enforce no-fly zone over Ukraine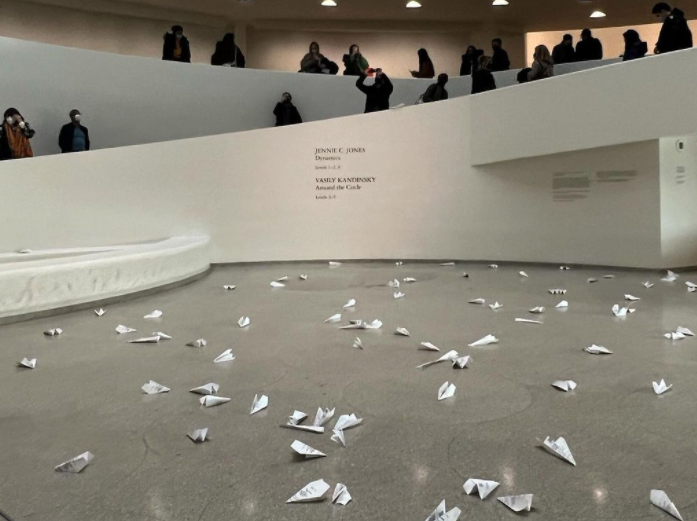 Leer en Español
Dozens of protesters flooded the Guggenheim museum in New York City with paper planes in a show of solidarity with Ukraine.
The protesters assembled in the atrium of the Upper East Side museum on Saturday armed with 350 paper planes and fliers explaining the reasons behind their stunt, which took place on the 10th day of Russia's invasion.
The group of artists and activists under the name Razom for Ukraine said their goal was to pressure Nato and the United States to enforce a "no fly zone" above Ukraine amid the Russia's onslaught.
They chose the Guggenheim as the site of their protest after one if its trustees, Putin-allied Russian oligarch Vladimir Potanin, resigned from his role last week.
Their fliers, which were turned into paper planes and thrown into the atrium of the museum, read: "Russia wants to move its nuclear arsenal to the Ukrainian-Polish border and push its army further west. Putin has openly said this many times. This is no longer a local conflict. Act now to save the world.
"Ask president Biden to declare a no-fly zone over Ukraine. Protect the sky over Ukraine. Full embargo on Russia. Boycott Russian influence in cultural and political institutions."
Hyperallergic reported on Monday that two of the Razom for Ukraine protesters were stopped by Guggenheim security from entering the gallery with hundreds of fliers meant to be flown across the atrium. The Independent has contacted the museum for comment.
"We believe that the importance of asking Nato to close the sky, establish a no fly zone and humanitarian airspace, to prevent a potential worldwide nuclear catastrophe, is urgent and critical," said the protesters in a statement to the news site, while arguing that "a third world war could start if we don't do anything to stop Putin".
Ukrainian President Volodymyr Zelensky has consistently called for European and Nato allies to enforce a "no-fly zone" above his country, which he said would deter Russia from firing and dropping missiles on civilians — an unknown number of whom have already been killed in airstrikes.
He added that a Nato-enforced "no-fly zone" would mean Russia "no longer has any possibility to continue this genocide", although the US and European Nato members have warned that it would risk coming them coming into direct conflict with Russia, or rather a world war between nuclear powers.
Asked about the resignation of Mr Potanin from Guggenheim's board, a member of the weekend protest said the Russian oligarch "is on Putin's cabinet of 13 billionaires and he met with him a week before the invasion. That's as direct involvement as somebody could have in a genocidal war," said Betty Roytburd.
Razom for Ukraine, a non-profit whose named appeared on the fliers from the protest, has organised a petition calling on the US to accept Mr Zelensky's 'no fly zone' request, as well as for humanitarian assistance.
The Independent has a proud history of campaigning for the rights of the most vulnerable, and we first ran our Refugees Welcome campaign during the war in Syria in 2015. Now, as we renew our campaign and launch this petition in the wake of the unfolding Ukrainian crisis, we are calling on the government to go further and faster to ensure help is delivered. To find out more about our Refugees Welcome campaign, click here. To sign the petition click here. If you would like to donate then please click here for our GoFundMe page.
Join our commenting forum
Join thought-provoking conversations, follow other Independent readers and see their replies