Ending violence in 16 days: United Nations agency shows shocking advert of woman using make-up to show violence
The campaign has taken hold, with a hashtag trending on twitter and politicians across the world speaking out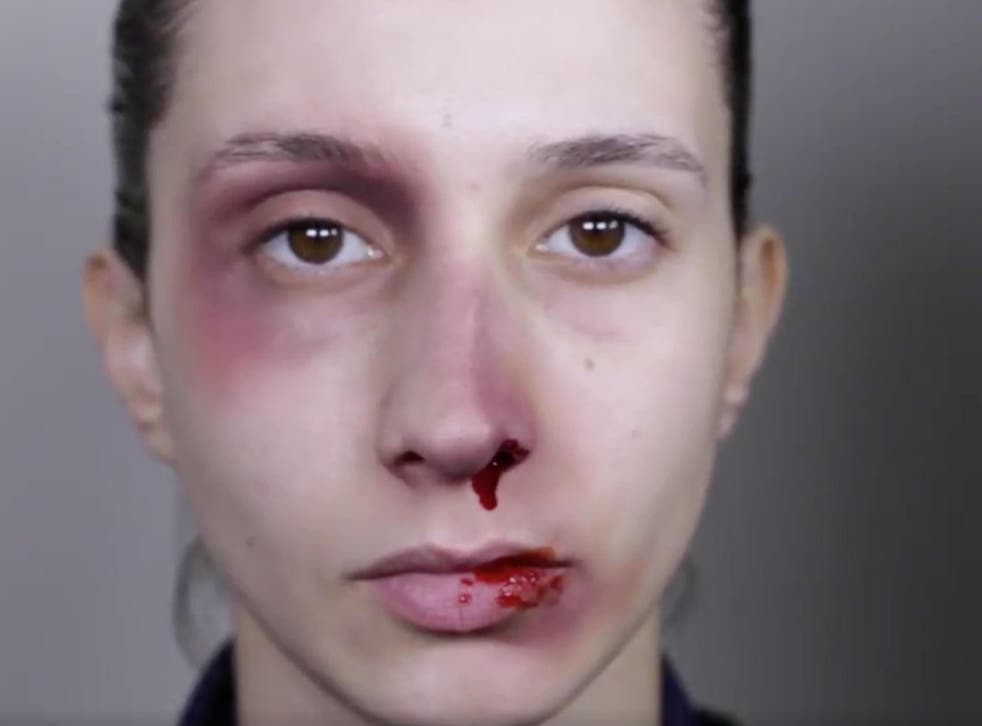 While millions of men, women and children around the world might fear what a president Donald Trump will do - or not do - to advance gender equality, campaigners have not lost their spirit or power to make an impact.
Starting on 25 November - the International Day for the Elimination of Violence Against Women - until 10 December, a campaign from the United Nations Population Fund (UNFPA) will highlight 16 voices of activism from around the world. The hashtag "16 days" was trending on Friday.
Politicians, activists, charities and agencies have celebrated the cause including US secretary of state John Kerry and Canadian prime minister Justin Trudeau.
"Violence against women is not just a women's issue – let's create a world that doesn't tolerate it," said Mr Trudeau.
A shocking video called "Reverse the Trend", part of the social media campaign and created by Palestinian artist Rand Jarallah, shows her using make-up to look like she has been beaten up, but the video is played in reverse.
"Make-up can be used as a form of art to empower people, because, you know what, art is unlimited – and so is our creativity," she said.
The UN agency will feature activists, including Maryna Kononeko, who heads a outreach team in Ukraine to provide psychosocial care to survivors of violence.
"Often the main problem is silence. Those women don't tell anyone about the violence they suffer from," she said.
The campaign also features people who fight for women's education and domestic violence laws, as well as taking a stand against female genital mutilation.
Men are a big part of the movement, too. One of the 16 voices is Zambian musician B Flow, who sings about violence against women.
"Why yuh turn around from sweet to bitter? / Why yuh turn around beating a woman? / Why yuh turn around instigating violence?" he sings.