United Airlines passenger says being dragged off plane was 'more horrifying than Vietnam War'
Lawyer for 69-year-old David Dao says doctor is 'shaken' by ordeal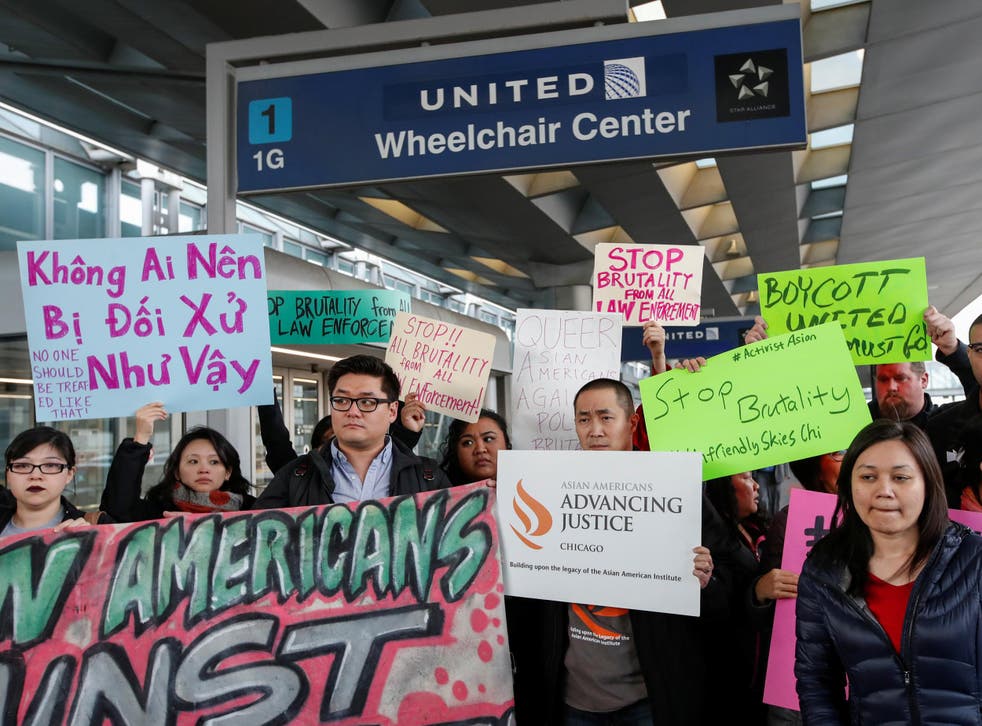 The doctor who was forcibly removed from a United Airlines flight has said being dragged down the plane's aisle was "more horrifying" than the Vietnam War.
David Dao's lawyer said the passenger, whose nose was broken when officers pulled him out of his seat on the overbooked flight, was more afraid during the incident than when he left Vietnam at the Fall of Saigon.
"He [Dr Dao] said that he left Vietnam in 1975 when Saigon fell and he was on a boat and he said he was terrified," said lawyer Thomas Demetrio at a press conference.
"He said that being dragged down the aisle was more horrifying and harrowing than what he experienced when leaving Vietnam."
Mr Demetrio said Dr Dao had been discharged from hospital but would need reconstructive surgery after sustaining several injuries, including concussion, injury to the sinuses and two lost teeth, as a result of his removal.
Several police officers dragged the 69-year-old physician from United Airlines flight 3411 on Monday after he refused to relinquish his seat to crew members.
Video posted on social media by other passengers shows Dr Dao crying out in protest, and later appearing in the cabin with blood on his face. The clips have been watched millions of times online.
Man brutally dragged off United Airlines flight: "I want to go home"
"Are we going to continue to be treated like cattle?" asked Mr Demetrio, accusing the airline industry of having "bullied" its customers for far too long.
He indicated Dr Dao, who was not present at the press conference, intended to sue.
One of the doctor's five children, Crystal Pepper, appeared alongside Mr Demetrio and said the family was "horrified, shocked and sickened" by what happened.
United CEO Oscar Munoz has promised to review the airline's policies to make sure a similar incident never happens again, and said United will no longer use police to remove passengers from overbooked flights.
Mr Munoz initially sparked controversy when he apologised for the incident but accused Dr Dao of being belligerent, but later said: "No one should ever be mistreated this way".
The airline also said all passengers on the flight would get a refund, and in a statement, United insisted that Mr Munoz and the airline called Dr Dao numerous times to apologise.
But Mr Demetrio said while his client accepts the apology, neither Dr Dao nor his family had heard from United.
The lawyer said he could not say precisely how Dr Dao was injured, as the passenger didn't remember exactly what occurred because of the concussion he suffered.
World news in pictures

Show all 50
Ms Pepper said her father and mother had been travelling from California to Louisville, Kentucky, and had caught a connecting flight at O'Hare.
After what happened, Dr Dao "has no interest in ever seeing an airplane" and will probably be driven to Kentucky, added Mr Demetrio.
United had selected Dr Dao and three other passengers at random for removal from the plane after unsuccessfully offering $800 (£640) in travel vouchers and a hotel stay to customers willing to give up their seats.
The three officers who removed Dr Dao have been suspended from their jobs at the Chicago Aviation Department.
John Slater, a United vice president, said that bumping passengers to accommodate airline employees happens infrequently, and that federal guidelines requiring rest for crew members made it necessary for the employees to take the Sunday flight to Louisville.
The Aviation Department's roughly 300 officers guard the city's two main airports but are not part of the regular Chicago police force, receive less training and cannot carry guns inside the terminals.
Additional reporting from Associated Press
Register for free to continue reading
Registration is a free and easy way to support our truly independent journalism
By registering, you will also enjoy limited access to Premium articles, exclusive newsletters, commenting, and virtual events with our leading journalists
Already have an account? sign in
Register for free to continue reading
Registration is a free and easy way to support our truly independent journalism
By registering, you will also enjoy limited access to Premium articles, exclusive newsletters, commenting, and virtual events with our leading journalists
Already have an account? sign in
Join our new commenting forum
Join thought-provoking conversations, follow other Independent readers and see their replies