University of Missouri: Police arrest suspect for death threats against black students
Ugly messages stoked fears of a school shooting and driving students — particularly minorities — from campus dorms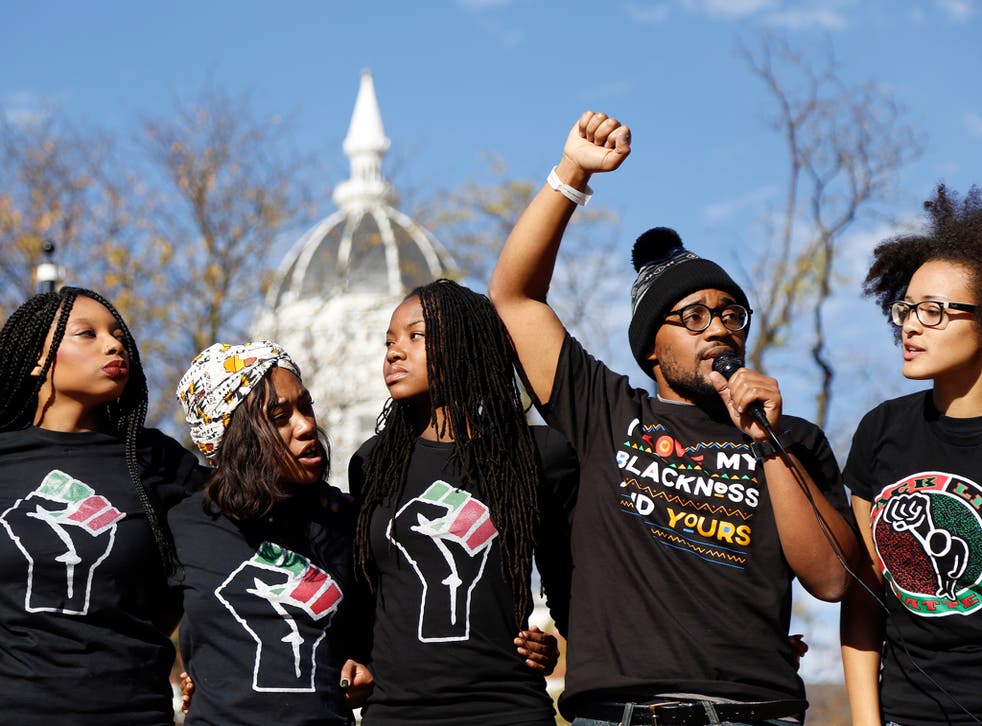 Barely a day after protesters buoyantly celebrated the resignation of top administrators, the University of Missouri's Mel Carnahan quadrangle was eerily quiet on Tuesday night. The tents gone. Campus empty.
A storm is headed towards Columbia.
Students are praying it only delivers bad weather.
As thunderstorms approached from the west, Mizzou was shaken by another menace on Tuesday as anonymous threats were directed towards students of color.
As members of the Missouri Legislative Black Caucus met with student activists at a closed meeting Monday morning, an anonymous caller phoned in a threat to MU's Oldham Black Culture Center.
"There was a call made to the Black Culture Center today a little before noon," MU Police Maj. Brian Weimer told the Columbia Missourian. "It was perceived as threatening and we're looking into it."
As the day progressed, however, the threats turned to social media. Though their source and credibility were questionable, their ugliness was not and they stoked fears of a school shooting and driving students — particularly minorities — from campus dorms.
USA: Media students block media after Missouri Uni President resigns over racism
"I'm going to stand my ground tomorrow and shoot every black person I see," read one post on the anonymous message app Yik Yak.
"Some of you are alright," began another post. "Don't go to campus tomorrow."
"We're waiting for you at the parking lots," read a third anonymous post. "We will kill you."
On Wednesday morning, campus police said they had caught the person responsible for the online threats.
"University of Missouri Police have apprehended the suspect who posted threats to campus on YikYak and other social media," the department announced on its Web site. "The suspect is in MUPD custody and was not located on or near the MU campus at the time of the threat."
Up until the announcement of the arrest, the response from the university had been mixed. Campus police said Tuesday that they were investigating the anonymous threats, but also warned students not to "spread rumors."
In an echo of their recent demonstrations, protest leaders criticized the administration for not doing more to protect minority students.
"Death threats are being made to Black students and NO ADMINISTRATORS are responding effectively," tweeted Jonathan Butler, the Mizzou grad student whose hunger strike helped drive university system president Tim Wolfe from office on Monday.
"There are no credible threats to campus MUPD and campus officials are on the scene," replied the university's official Twitter account.
Although concrete information was hard to come by Tuesday night, many students described real fear at the threat of an incident on campus Wednesday. Some vowed to stay home.
When a white professor challenged his students to come to class and "defeat" the "bullies" making threats on social media by "standing up to them" and coming to class, his e-mail drew a harsh reaction from students of color.
"If you don't feel safe coming to class, then don't come to class," wrote Dale Brigham in an e-mail to his Nutritional Science 1034 class. "I will be there, and there will be an exam administered in our class.
"If you give into bullies, they win. The only way bullies are defeated is by standing up to them. If we cancel the exam, they win; if we go through with it, they lose.
"I know which side I am on," Brigham wrote. "You make your own choice."
Brigham's e-mail drew anger from several of his students.
Brigham confirmed to The Washington Post that he had sent the e-mail.
"Students can come to class and take the exam tomorrow if they wish. My duty is to hold the class. If they choose otherwise, they can take a make up exam," he wrote in an e-mail. "By the way, the university has not cancelled classes or put out any other official statement regarding these rumors. If they confirm any of these threats, I will follow through appropriately."
Another one of his students, however, said she felt her professor wasn't taking the threats seriously.
"That's our lives in danger," said Triniti, 19, who asked The Post not to use her full name for fear of retaliation. "It's very scary.
"I don't want to even touch campus," she said. "I don't even want to leave my house, let alone go to campus. Just for the fact that… I know we are in the South and I know that we are the minority and racial tensions are really high."
Triniti said Brigham was "a great professor" and "an amazing person" who cares deeply about his students. "Which is why I was surprised by his statement," she said.
"He is just doing his job," she said, "but as a student of color, I am torn."
Triniti said that she supported the Concerned Student 1950 movement but had attended her classes rather than the protests. She was in French class when she found out that Wolfe had resigned.
She said her hopes of change on campus had quickly soured as Monday's celebratory atmosphere ebbed, exposing deep racial divides on campus.
"There has been a lot of tension and animosity between students of color and the majority students," she said. "So today there were lots of dirty looks. I know that students were also being called the N-word."
The Yik Yak posts had terrified her.
"Someone said they will be shooting any black students they see on campus tomorrow," she said. "Since it's Yik Yak and it's anonymous, there is no face [to the threat]. Any white student that I pass, it could be them."
Other students of color took to social media to express their fears. Several described harrowing experiences on campus Tuesday night, although their accounts could not be independently confirmed and they did not respond to interview requests from The Post.
Several videos posted to Twitter appeared to show a white man walking around Speaker's Circle, screaming about race and the KKK. Whatever their intentions or authenticity, they upset a number of students.
Bradley J. Rayford, a St. Louis-based photographer in town to cover the protests, wrote on Twitter that he had seen white men in a truck yell the N-word at students. It's unclear if it was the same truck as described by the female student.
Rayford later wrote that university police had questioned the truck's occupants and let them go.
Several rumors appeared to be unsubstantiated, however, including reports of gunshots off campus and a brick being thrown through a fraternity window.
Social media fears reached a boiling point on Tuesday night when Missouri Student Association president Payton Head wrote on Facebook that "the KKK has been confirmed to be sighted on campus." Head later apologized for the post, saying he was "sorry about the misinformation that I have shared through social media."
The fear, however, was real. And as the night wore on, campus police offered to escort frightened students around campus.
By then, the tents protesters had set up in Mel Carnahan quad were long gone, dismantled ahead of the coming storm.
© Washington Post
Join our new commenting forum
Join thought-provoking conversations, follow other Independent readers and see their replies