Uranium firm urged Donald Trump to shrink Bears Ears area to ease access to radioactive ore
The US President announced the protected area would be scaled down by 85 per cent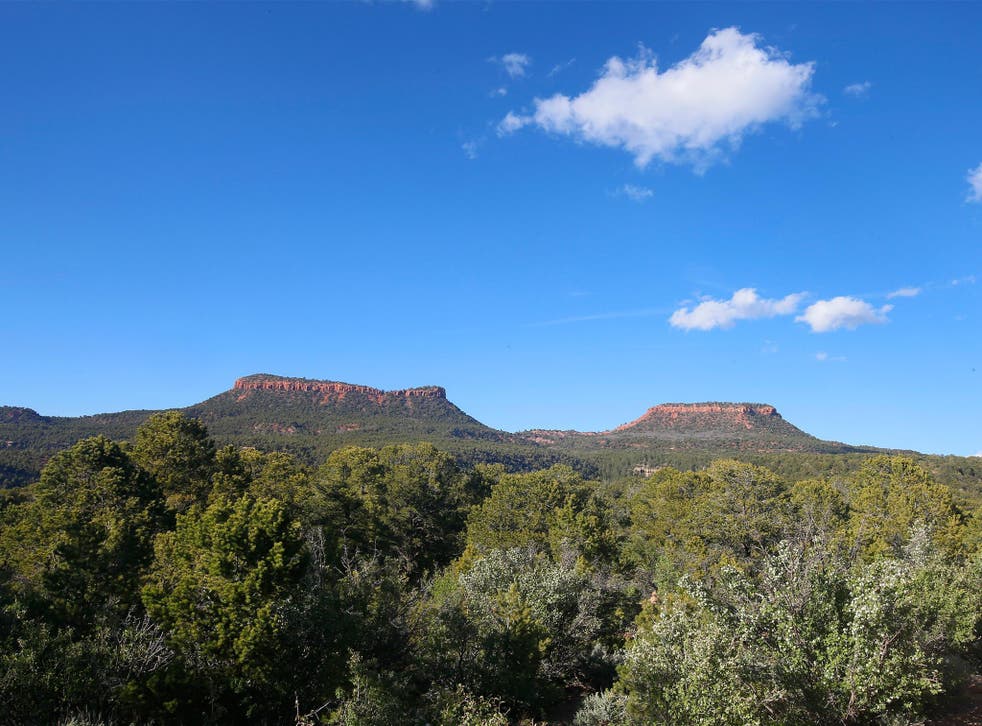 A uranium company launched a concerted lobbying campaign to scale back Bears Ears National Monument, saying such action would give it easier access to the area's uranium deposits and help it operate a nearby processing mill, according to documents obtained by The Washington Post.
Interior Secretary Ryan Zinke and top Utah Republicans have said repeatedly that questions of mining or drilling played no role in President Donald Trump's announcement on Monday that he was cutting the site by more than 1.1 million acres, or 85 per cent. Mr Trump also signed a proclamation nearly halving the Grand Staircase-Escalante National Monument, which is also in southern Utah and has significant coal deposits.
"This is not about energy," Mr Zinke told reporters Tuesday. "There is no mine within Bears Ears."
But the nation's sole uranium processing mill sits directly next to the boundaries that President Barack Obama designated a year ago when he established Bears Ears. The documents show that Energy Fuels Resources, a subsidiary of a Canadian firm, urged the Trump administration to limit the monument to the smallest size needed to protect key objects and areas, such as archaeological sites, to make it easier to access the radioactive ore.
In a 25 May letter to the Interior Department, Chief Operating Officer Mark Chalmers wrote that the 1.35 million-acre expanse Obama created "could affect existing and future mill operations." He later noted, "There are also many other known uranium and vanadium deposits located within the [original boundaries] that could provide valuable energy and mineral resources in the future."
Mr Trump instructed Mr Zinke in April to assess 27 monuments designated under the 1906 Antiquities Act, which gives presidents wide latitude to protect federal lands and waters under threat. Conservationists, tribal officials, ranching groups and other interests sought to influence the review's outcome, unsuccessfully in the case of the two Utah sites.
Governor Gary Herbert, addressed the energy considerations in an interview on Monday. "The only thing that smacks of energy is the uranium," he said. "The uranium deposits are outside the monument now."
Energy Fuels Resources did not just weigh in on national monuments through public-comment letters. It hired a team of lobbyists at Faegre Baker Daniels - led by Andrew Wheeler, who is awaiting Senate confirmation as the Environmental Protection Agency's deputy secretary - to work on the matter and other federal policies affecting the company. It paid the firm $30,000 between 1 January and 30 September, according to federal lobbying records, for work on this and other priorities.
The company's vice president of operations, William Paul Goranson, joined Mr Wheeler and two other lobbyists, including former congresswoman Mary Bono to discuss Bears Ears in a 17 July meeting with two top Zinke advisers.
Mr Goranson said on Friday that the session with Downey Magallanes, who oversaw the monuments review and serves as Mr Zinke's deputy chief of staff for policy, and Vincent De Vito, his energy policy counsellor, was focused on fairly narrow issues.
Company officials "were trying to get a sense of what was going on" with the review because some of their air and water quality monitoring stations and a road leading to the now-dormant Daneros mine all lay within the original monument, Mr Goranson explained.
"The goal of the meeting . . . was not to go and advocate on the boundaries," he said, adding that the lobbying for that was "on a separate track." Still, the officials proposed small boundary adjustments to accommodate the monitoring stations as well as the mine, he acknowledged. And they emphasised that the company had cut its workforce by more than half since 2015 because of low uranium prices.
"They heard what we had to say about the job losses, etc.," he said. Mr Zinke's deputies "were pretty positively disposed to" the idea of spurring future domestic uranium production.
The Interior Department did not respond to a request for comment Friday.
The price of uranium has recently hovered between $20 and $25 per pound. To justify mining activity, it needs to approach $40 to $50. Michael Heim, a securities research analyst at Noble Capital Markets, said Friday that the current amount "is not a sustainable price" for firms such as Energy Fuels Resources. Given today's price, Mr Heim said, "the idea of creating more areas to mine wouldn't have much impact."
But Mr Goranson said he and other company officials are "confident" that the construction of nuclear plants in Asia and elsewhere, along with other factors, will eventually push prices higher and justify reopening the Daneros mine.
Greg Zimmerman, deputy director of the Center for Western Priorities, a conservation and advocacy group, said the Energy Fuels Resources effort shows the extent to which industry interests influenced the monuments review.
"You listen to the rhetoric about how this was all really about taking special interests out of the equation," Mr Zimmerman said. "They're doing this on behalf of special interests. When you look in terms of public access to recreation areas, there's not a hunter or angler or outdoor recreationist who wants to be out and around an uranium mine."
Call of the wild: Hitting the heights in Utah's most dramatic national park

Show all 4
The idea of uranium mining is particularly sensitive among members of the Navajo Nation, who have a reservation near Bears Ears and played a key role in pressing for its creation. More than 500 uranium mines have been left near or on their lands, and most of these designated Superfund sites have not been cleaned up. Contamination still affects drinking-water wells, springs and storage tanks.
Navajo Nation Council delegate Amber Kanazbah Crotty, who represents several communities near Bears Ears, said on Friday that the nation opposes any additional uranium development. "We felt the full brunt of uranium contamination and lost a whole generation of men who were mining or milling uranium," she said.
The Navajo Nation and other tribes are challenging Trump's Bears Ears proclamation in federal court, and Navajo President Russell Begaye expressed confidence in an interview that the move will be overturned.
Yet "there is a definite door that's been opened" with its signing, he said. "With this proclamation, it's an open invitation for mining companies to come in and start mining uranium and other minerals in the area."
Washington Post
Join our new commenting forum
Join thought-provoking conversations, follow other Independent readers and see their replies