Bomb-sniffing dogs mistreated by US Army after returning from service in Afghanistan
Several animals had to be rescued by their former handlers, according to official report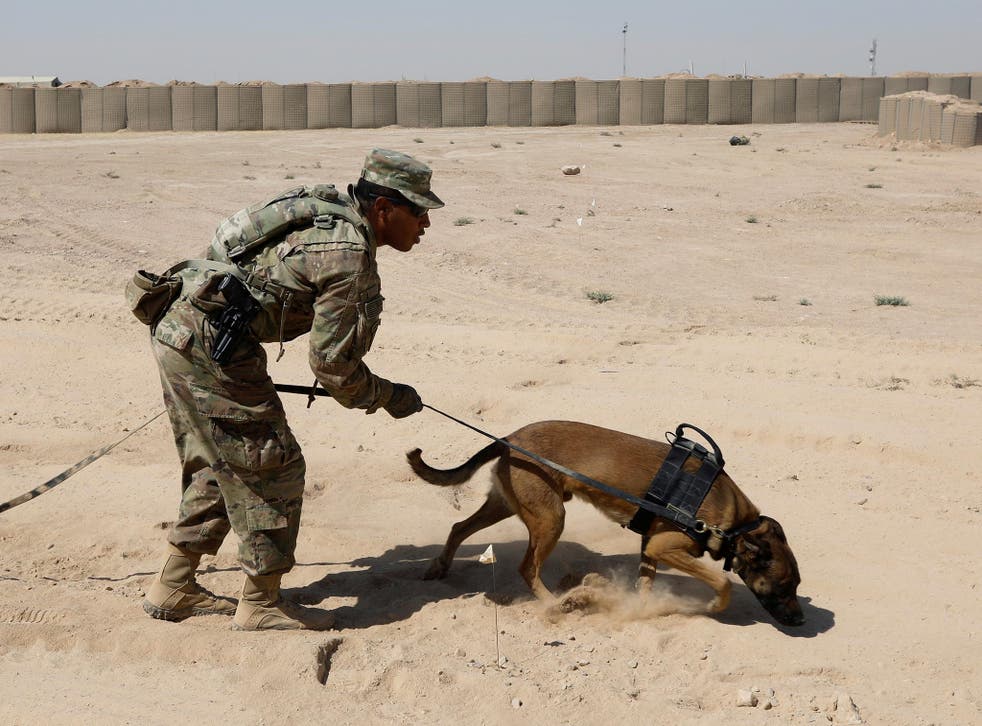 Bomb-sniffing dogs were mistreated by the US Army after returning from duty in Afghanistan, according to an official report.
The canines which saved countless lives between 2010 and 2014 were not given proper care and attention, left in kennels for nearly a year and possibly even put down.
Several dogs had to be rescued by the soldiers they served with during Operation Enduring Freedom.
There was also no screening of people who offered to adopt the animals, according to a report from the US Department of Defense's Inspector General.
The Army allowed one dog described as having canine PTSD and another which may have received bite training to go to families with children.
Staff members described the adoption process as "organised chaos" and that some people interested in adoption "were not capable of handling these types of dogs".
Thirteen animals were left at a kennel in Virginia by a private company for over a year before the US War Dogs Association and Mission K9 Rescue charities intervened to reunite them with former handlers.
The Tactical Explosive Detection Dog (TEDD) program was set up in 2010 to train and field dogs to detect Improvised Explosive Devices (IEDs).
When the contract ended in February 2014 the Army should have evaluated the dogs and "disposed" of them according to regulations.
An investigation was launched after soldiers complained about the fate of their dogs.
The report by the Inspector General found that of the 232 dogs discharged by the Army, 27 were transferred to Law Enforcement Agencies, five to Federal agencies, three to military units, 13 to a private company and seven to civilians.
"We found that Department of Defence policy did not prioritise applications for transfer or adoption of TEDDs," said the Office of the Inspector General (OIG).
"The Secretary of the Air Force, as the Executive Agent for the military working dog (MWD) program, did not provide sufficient management and oversight of the Army's plan and process to dispose of its TEDDs.
World news in pictures

Show all 50
"The Department of the Army did not allot sufficient time to dispose of TEDDs when the program ended. As a result, the Army's Office of the Provost Marshal General did not ensure accuracy in the tracking of some TEDDs through final disposition."
The OIG recommended that the Secretary of the Army ensure unit commanders enforce the army regulations for military working dogs.
Join our new commenting forum
Join thought-provoking conversations, follow other Independent readers and see their replies