US-Cuba relations: Fidel Castro backs restoring diplomatic ties between the two nations – but still doesn't trust them
A letter published in the state-owned newspaper was the former leader's first acknowledgment of last month's move to normalise relations after more than half a century of hostility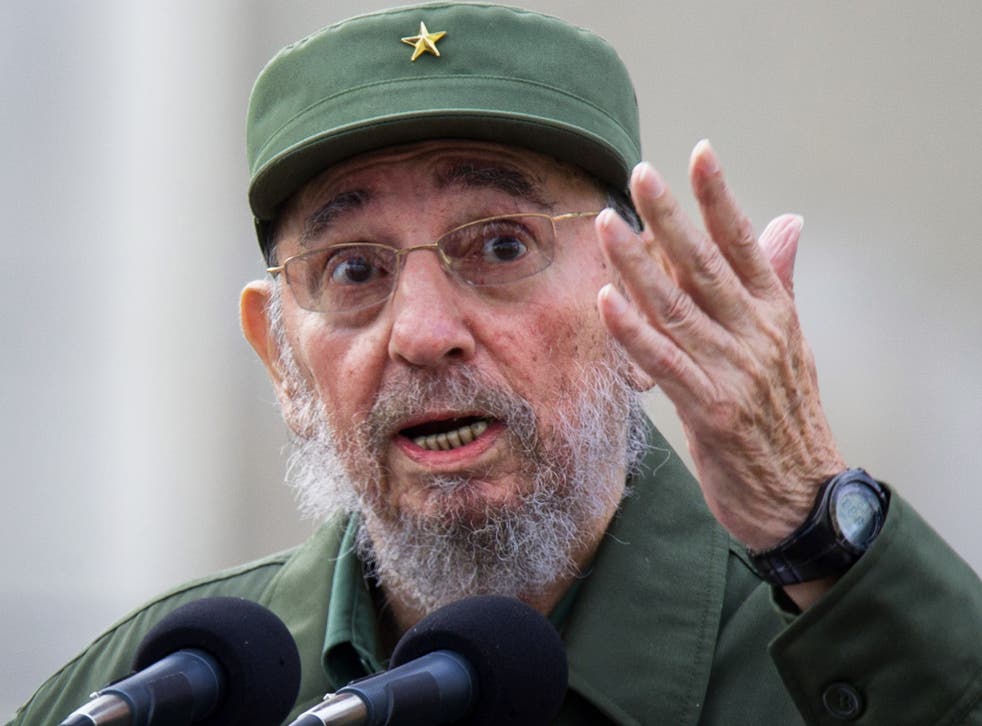 The former Cuban leader, Fidel Castro, has given his qualified endorsement to the restoration of diplomatic relations between his country and the US. In a letter to the Cuban Student Federation, published in the state-owned newspaper Granma, he wrote, "I don't trust the policy of the US, nor have I exchanged a word with them, but this does not mean I reject a peaceful solution to conflicts."
The 88-year-old, who has not been seen in public for more than a year, said in the letter, dated Monday 26 January: "We will always defend cooperation and friendship with all the people of the world, including with our political adversaries."
The letter was Castro's first acknowledgment of last month's move by the US and Cuba to normalise relations after more than half a century of hostility. Following a prisoner exchange in December, officials from both sides met last week in Havana for high-level negotiations about establishing economic ties and re-opening embassies in each other's capitals. Neither Fidel Castro nor his brother Raul, the current Cuban President, was involved in the talks.
Though the long-standing US trade embargo is still in force, President Barack Obama said he would lift certain sanctions and loosen the travel restrictions on US citizens visiting Cuba. Both sides said the meeting was productive, but talks reportedly stalled over Cuba's call for the US to stop funding dissident rivals to the island's Communist regime, and over US demands that Cuba give up American fugitives hitherto sheltered by the Havana government.
In pictures: Timeline of US and Cuba relations

Show all 19
The US cut off diplomatic ties with Cuba in 1961, as the Castro regime's Cold War sympathies became clear. Two years later, the Kennedy administration backed a disastrous attempt to invade the island at the Bay of Pigs. Castro survived multiple assassination attempts and outlived many of his US presidential enemies, remaining in power until 2008, when he stepped down due to illness after 49 years in power and ceded leadership to Raul, who is now 83.
Despite his equivocal response to recent developments, it is widely believed that Fidel must have given his approval to the discussions with the US before Havana agreed to them. In his letter, he appeared to praise his brother's decision to engage with the US, saying the Cuban president had "taken the pertinent steps in accordance with his prerogatives and the powers given to him by the National Assembly the Communist Party of Cuba."
The former leader has often commented on Cuban affairs in letters since he stepped down, and this week's 1,200-word missive contained familiar references to his revolutionary idols such as Lenin and Mao. Until its publication, Castro's silence regarding restored US-Cuban relations had been seen either as opposition to the news, or as a sign that he was in increasingly poor health.
A fortnight ago, apparently to quell rumours of his death, Castro wrote a letter to his friend, the retired Argentinian footballer Diego Maradona, which was read on Venezuelan state television.
Join our new commenting forum
Join thought-provoking conversations, follow other Independent readers and see their replies