US demands Twitter release Assange details
Court in Virginia secretely subpoenas information relating to accounts of four WikiLeaks associates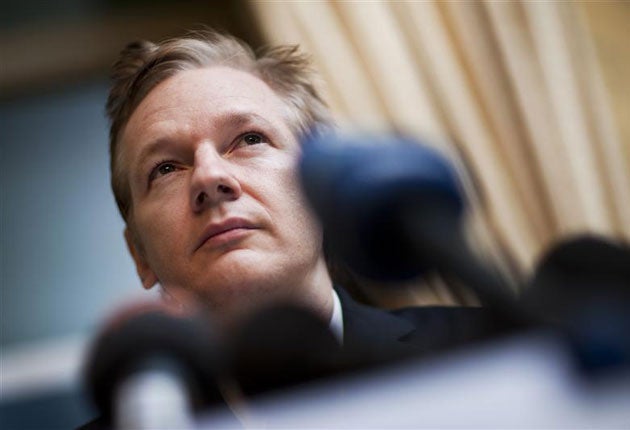 Staff at the whistleblowing website WikiLeaks were last night preparing a legal challenge after discovering that US officials had issued a subpoena on their Twitter account to demand private messages, billing addresses and other details.
The group suspects that other social networking sites and email providers will also have been asked to reveal their private conversations.
The site's founder, Julian Assange, was one of four people associated with the group to have a subpoena on their account. He said: "If the Iranian government was to attempt to coercively obtain this information from journalists and activists of foreign nations, human rights groups around the world would speak out."
The revelation suggests that an investigation ahead of a possible US grand jury hearing is likely to have begun trawling for details of any WikiLeaks communications with Bradley Manning, the US army intelligence analyst suspected of handing classified information to the site. Also targeted were a high-profile Icelandic MP, Birgitta Jonsdottir, Dutch hacker Rop Gonggrijp and US programmer Jacob Appelbaum, all of whom have collaborated with WikiLeaks.
A court order issued on 14 December ordered Twitter not to disclose the existence of the subpoena to any of those targeted because it was part of an ongoing criminal investigation. Only after legal action by Twitter was the order made public.
Mark Stephens, Mr Assange's lawyer, said WikiLeaks will challenge the order in a court in Virginia, where it was first registered. "We are in the process of implementing a challenge to the subpoenas and flushing out any others. We think there are subpoenas for Facebook, Skype, internet service providers and other official media."
They have 10 days to challenge the subpoena from the moment they are first informed of it. Mr Assange has not yet been given formal notice of his, but Ms Jonsdottir received hers last Friday. Posting on Twitter, she said she had "no intention to hand my information over willingly".
Mr Gonggrijp said of the order: "It appears that Twitter, as a matter of policy, does the right thing in wanting to inform their users when one of these comes in. Heaven knows how many places have received similar subpoenas and just quietly submitted all they had on me."
Twitter has declined to comment, saying only that its policy is to notify its users, where possible, of government requests for information.
The US government has been furious with WikiLeaks since it published classified military documents on the Iraq and Afghanistan wars. The site's later release of tens of thousands of US embassy cables has not made them any more popular with US officials, who are now looking at what charges they can bring against the group.
Neither Google's London office nor Facebook returned calls and emails seeking comment.
Although relations with the US government have been ugly, WikiLeaks staff have relied on American internet and finance companies to raise funds, disseminate material and get their message out. WikiLeaks's frequently updated Facebook page, for example, has 1.5 million fans and its Twitter account has a following of more than 600,000. Until recently, the group raised donations via PayPal, MasterCard and Visa, and hosted material on Amazon.com's servers.
But the group's use of US companies has come under increasing pressure as it continues to reveal the country's diplomatic secrets – with PayPal and the credit card companies severing their links with the site. Amazon.com booted WikiLeaks off its servers last month.
The subpoena news comes as WikiLeaks and Mr Assange are in the final stages of hiring a public relations adviser to deal with the media attention. A team of four press officers are expected to start work next week and will hold weekly press briefings.
Mark Borkoswki, whose public relations company is tipped to be the one hired by WikiLeaks, said: "I'm trying to create a press office that can deal with the incredible interest there is on this."
Mr Assange will appear in a London court this week for the next stage of the hearing into Sweden's extradition request. Prosecutors there want to interview him about alleged sex offences against two women.
Join our commenting forum
Join thought-provoking conversations, follow other Independent readers and see their replies