US election 2016: Paul Ryan suggests he would not stand in the way of a rebellion against Donald Trump
Republicans appalled by reaction of party's presumptive nominee to Orlando shootings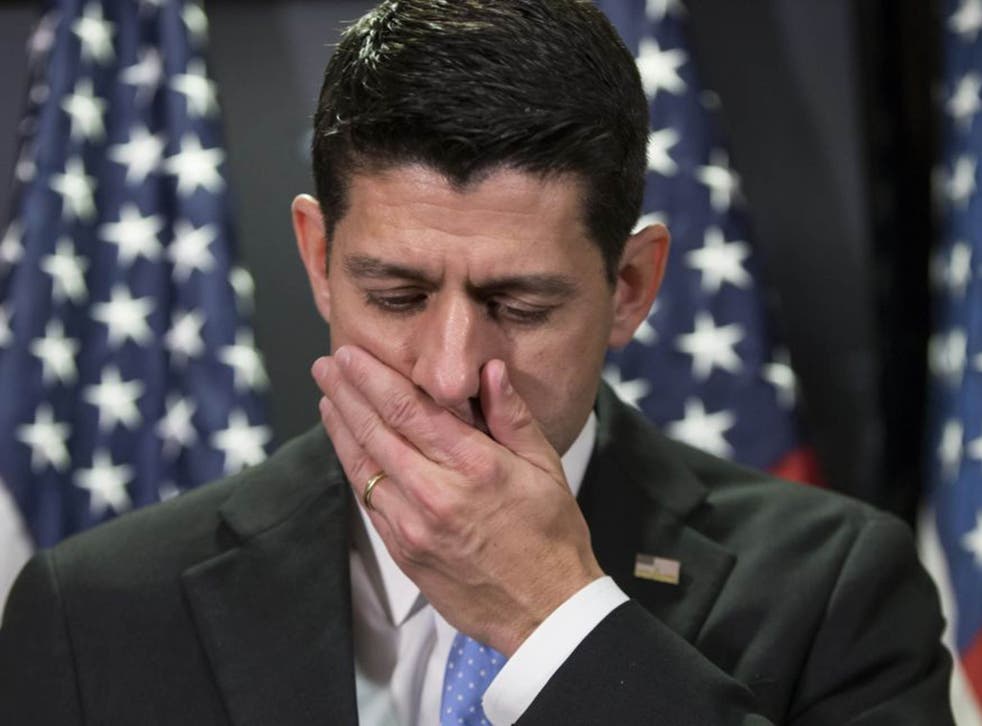 The most senior Republican in the US has suggested the party might yet select an alternative to Donald Trump as its nominee for President amid outrage over his comments after the Orlando shooting.
Paul Ryan, the Speaker of the House of Representatives, said he would not stand in the way of a rebellion against Mr Trump after the business tycoon appalled many with his call for "racial profiling" in the wake of the 49 deaths at the Pulse gay night club.
Mr Ryan is the highest-ranking Republican in Congress and will serve as the chairman of the party's convention in late July, where delegates won through primaries formally elect a nominee.
"The last thing I would do is tell anybody to do something that's contrary to their conscience," he told NBC's Meet the Press.
Mr Ryan said he would not be leading a revolt against Republican presumptive nominee himself, but had been pressing Mr Trump to change his tune and "run a campaign we can all be proud of, that is inclusive and aspirational".
Mr Trump's plans for racial profiling come amid plots by party officials to block his nomination at next month's showcase convention in Cleveland, and an "anyone but Trump" campaign. Recent polls have shown 70 per cent of voters had a negative view of the candidate following his recent remarks.
People who will flee America if Donald Trump wins

Show all 8
Following the mass shooting in Orlando, the worst in US history, Mr Trump renewed his plans for America to consider racial profiling in what he described as a bid to prevent terrorism. He cited Israel as a successful example.
"I think profiling is something that we're going to have to start thinking about as a country," the presumptive Republican nominee told CBS's Face The Nation.
"You look at Israel and you look at others, and they do it and they do it successfully. And you know, I hate the concept of profiling, but we have to start using common sense," he said when asked if he supported increased profiling of Muslims in America.
"It's not the worst thing to do," he added.
Mr Trump has also renewed his suggestion to ban Muslims entering the US from countries with a "proven history of terrorism". The Orlando killer, Omar Mateen, who pledged allegiance to Isis, was born in the US. Officials believe he was self-radicalised.
Mr Trump also said the Muslim community had to "cooperate with law enforcement and turn in the people who they know are bad". He said people should look for "red flag" warning signs which he said were evident in Mateen – who had been investigated twice by the FBI – and Syed Farook and Tashfeen Malik, who carried out the San Bernardino killings.
He also renewed his idea to place mosques under surveillance. He said: "If you go to France right now, they're doing it in France. In fact, in some instances they're closing down mosques." Following the Paris attacks, where 130 people were killed in November, police closed some mosques in the city.
Mr Ryan said a ban on Muslims was not in the US interests.
However, billionaire Mr Trump brushed off the criticism, claiming he would put his own money into the campaign if needed. "It would be nice if the Republicans stuck together," he told ABC. "I can win, one way or another," he added.
Join our new commenting forum
Join thought-provoking conversations, follow other Independent readers and see their replies