Long lines at US polling stations called 'undemocratic' and 'inaccessible' as people wait hours to vote
Harvard researcher says US needs 'more voting machines. More poll workers. More voting locations. More funding for running elections' to beat the queues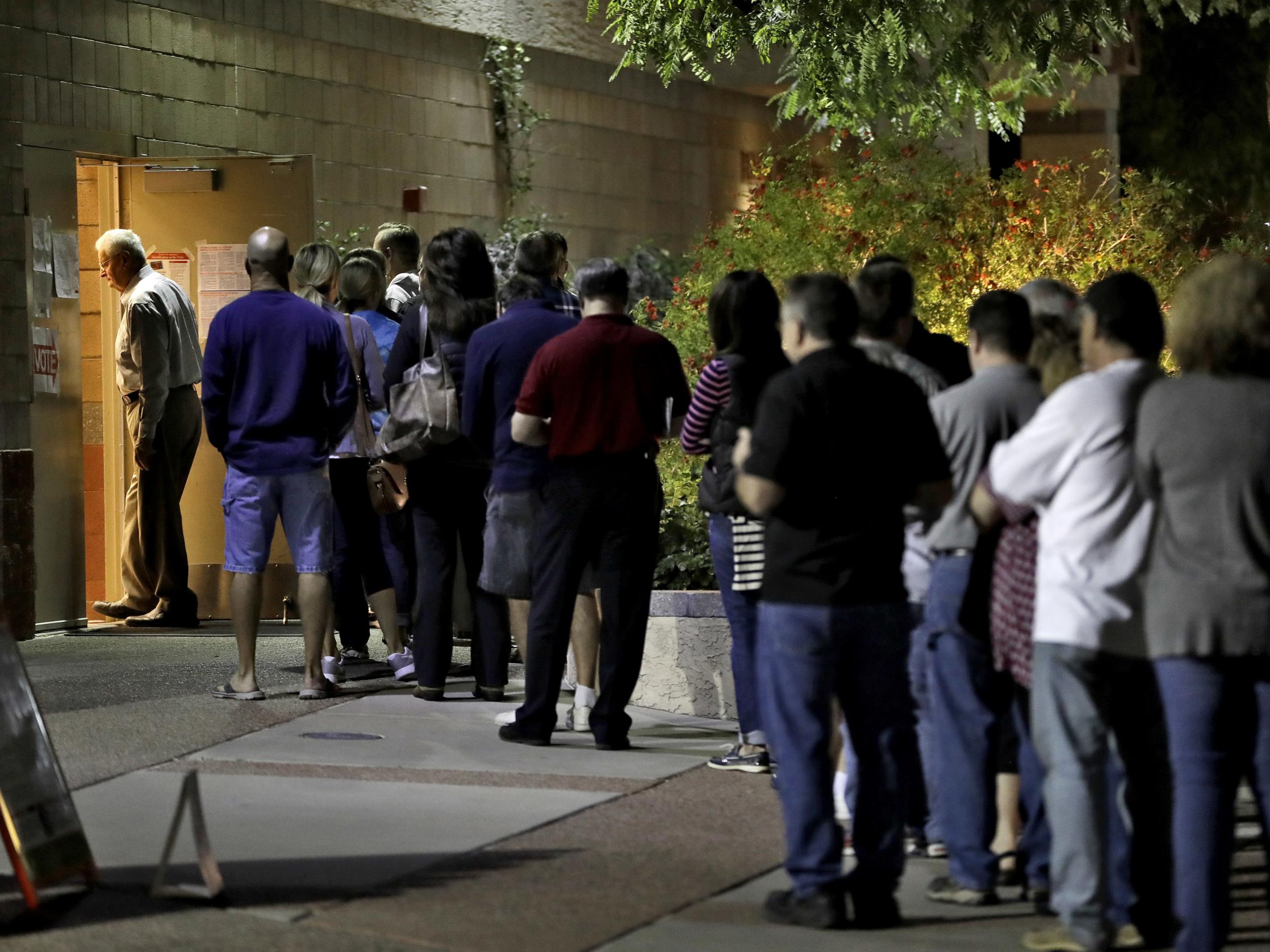 Voters in parts of the US have had to stand in long lines outside polling stations for hours, with some criticising the significant discrepancies in wait times between areas.
Campaigner Josselyn Berry told The Independent she had heard reports of three-hour lines in Arizona's Maricopa County region, home to state capital Phoenix.
She said she was glad so many people had turned out to vote, but warned that queues of two or three hours "makes voting more inaccessible."
"People don't have the luxury of waiting in line that long. The longest people should have to wait in line should be 30 to 45 minutes."
Problems at polling places across the country, including long lines, machines not working properly and issues with ballots or voter rolls, were also experienced during the 2012 presidential election.
But experts have expressed concern over the number of people in minority communities most affected by long lines who could lose earnings and be discouraged from voting in future, with a number of social media users calling the waits "undemocratic".
Ridiculously long voting line in New York
Voters waited up to 90 minutes at one polling station in Detroit, reported the Washington Post.
And in North Hollywood in California, some people brought beach chairs to wait outside a polling station before dawn.
"I waited two hours in line to vote. So what? Others fought, bled and died for the right to vote. I owe them," wrote Harold Itzkowitz on Twitter.
Ms Berry, Interim Executive Director of policy campaign group Progress Now Arizona, said election machines had been breaking down "because they're old and not used much."
"We had one man who was first in line at a polling place in Maricopa County this morning and none of the machines were working."
Harvard PhD student Stephen Pettigrew, who studies polling lines, told the New York Times that while long queues did "give some indication of the health of our democracy," they could also suggest problems in some areas.
Mr Pettigrew has found lines are around twice as long in areas with mostly minority communities compared to in predominantly white areas, with minority voters six times more likely to wait more than an hour to vote.
He told the newspaper this could be because election officials may have reacted slowly to changes in voting demographics.
In 2012, the turnout of black voters was higher than that of white voters for the first time in history, according to CNN.
"It is undemocratic for people to wait in long lines to vote. What can we do to fix this?" wrote Sarah Cowan on Twitter.
"More of everything. More voting machines. More poll workers. More voting locations. More funding for running elections," wrote Mr Pettigrew in reply.
Joel Frenzer, who filmed a long line outside his local polling station in Brooklyn, New York and created a timelapse video, said he had encountered "problems" when he finally entered the station.
US Presidential election: key moments in pictures
Show all 12
"The booths and tables were in shoddy condition, the lines were confusing and intersecting each other, and there was no indication where to exit after you were done," he told The Independent.
"This is a largely minority area. People were in good spirits, but [...] the wealthier Manhattan polling places were a breeze. Friends who voted in those places were shocked by my video."
Mr Frenzer, 40, said while the volunteers at the site were "very patient and helpful", early voting should be allowed in New York to avoid similar gridlock in future.
In response to the long lines at polling stations across the US, a group of friends set up a website that allows people to deliver pizza to voters waiting in line.
"We're on track to raise $45k to $50k for the effort and send out out over 2,000 pizzas to hungry patriots across the country," Scott Dumcombe, who set up Pizza to the Polls, told The Independent.
Join our commenting forum
Join thought-provoking conversations, follow other Independent readers and see their replies