'Historically illiterate imbecile' Trump mocked for forgetting Nixon in bizarre claim about election
Trump was corrected by thousands of Twitter users who called out the false information
Stuti Mishra
Thursday 10 December 2020 06:54 Comments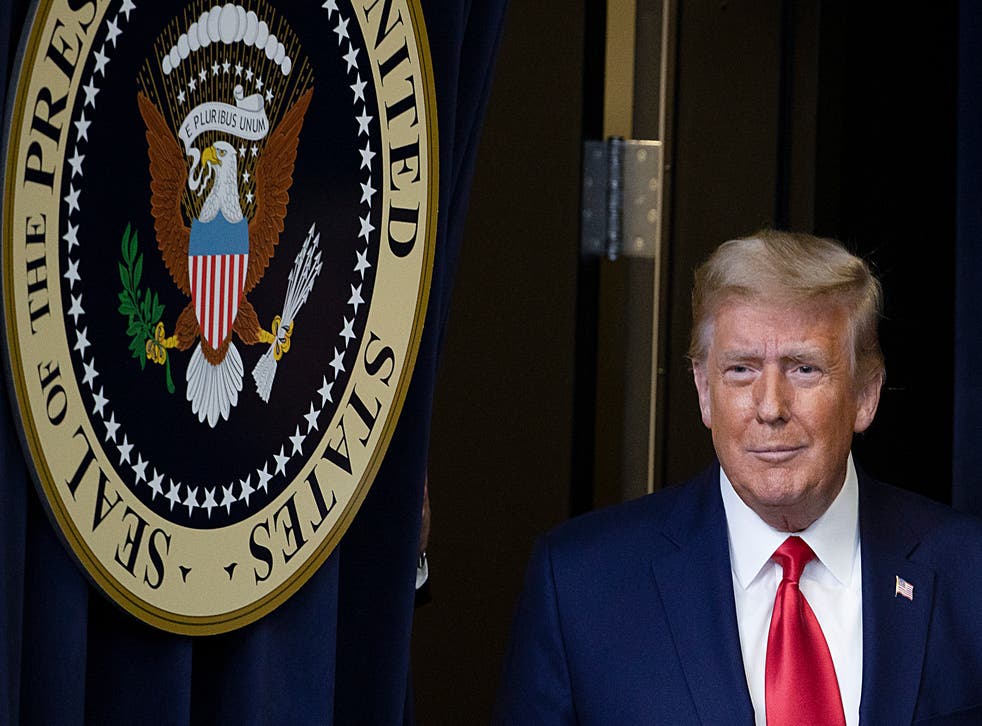 Leer en Español
President Donald Trump met with an immediate backlash on Twitter on Wednesday for another outright false claim about the elections, after he wrote that no other presidential candidate had won the states of Ohio and Florida and still lost the election.
"No candidate has ever won both Florida and Ohio and lost. I won them both, by a lot! #SupremeCourt," Mr Trump tweeted as part of a series of claims about "election fraud".
Within minutes, however, people responded to point out his claim was incorrect and, in fact, Richard Nixon had won both Ohio and Florida in 1960 but went on to lose the presidency to John F Kennedy.
Nixon won 26 states while Kennedy only bagged 22 in that election, but the number of popular votes won by Kennedy was 100,000 more than his rival and his electoral votes stood at 303 compared to Nixon's 219.
The president received a strong rebuttal in response to his claims, with some correcting him and many users mocking him. The tweet was not marked by Twitter, however, as it did not make a specific claim about last month's vote, and despite its inaccuracy it remains available to read on Mr Trump's Twitter feed.
Historian Kevin M Kruse posted the result of the 1960 election in response to correct Mr Trump. Another Twitter user wrote: "Weren't you alive in 1960 when Nixon won both Florida and Ohio but lost the election to JFK? Don't you at least have google on your phone? Come on."
Others lashed out at the president more forcefully, with one user calling him a "historically illiterate imbecile" while pointing out the misinformation.
"I will forever be flabbergasted that someone has access to the best intelligence and kitchen in the world and he prefers Fox News and KFC," one Twitter user said.
Some users also took Mr Trump's side although still called out the misinformation.
"Not since 1960 you mean. And we all know what happened in that election. Fraud. BIGLY. The 2020 election has a major 1960 vibe." a Twitter user said.
"By my calculations too, Mr. President. You won all the swing States. The Democrats must be held accountable for cheating. They must be the ones to suffer a severe loss," another user wrote.
Mr Trump won 232 electoral votes, including 29 from Florida and 18 from Ohio. Mr Biden won 306 electoral votes and the presidency. However, this isn't the first time a similar claim was made from the president's side. In a legal filing to the Supreme Court submitted on Wednesday, an attorney for Mr Trump repeats the same false claim that no candidate has won the presidency while losing Florida and Ohio, along with several other claims to question the integrity of the election system.
Over 50 lawsuits filed by the Trump team have not yielded any positive result for them as the president continues to make unsubstantiated claims about the election.
Register for free to continue reading
Registration is a free and easy way to support our truly independent journalism
By registering, you will also enjoy limited access to Premium articles, exclusive newsletters, commenting, and virtual events with our leading journalists
Already have an account? sign in
Join our new commenting forum
Join thought-provoking conversations, follow other Independent readers and see their replies