New Hampshire Democratic debate: Who won and lost as Sanders and Buttigieg clash
In the lead out of Iowa, the night was Mr Sanders's and Mr Buttigieg's to lose — and they seemed to sense that gravity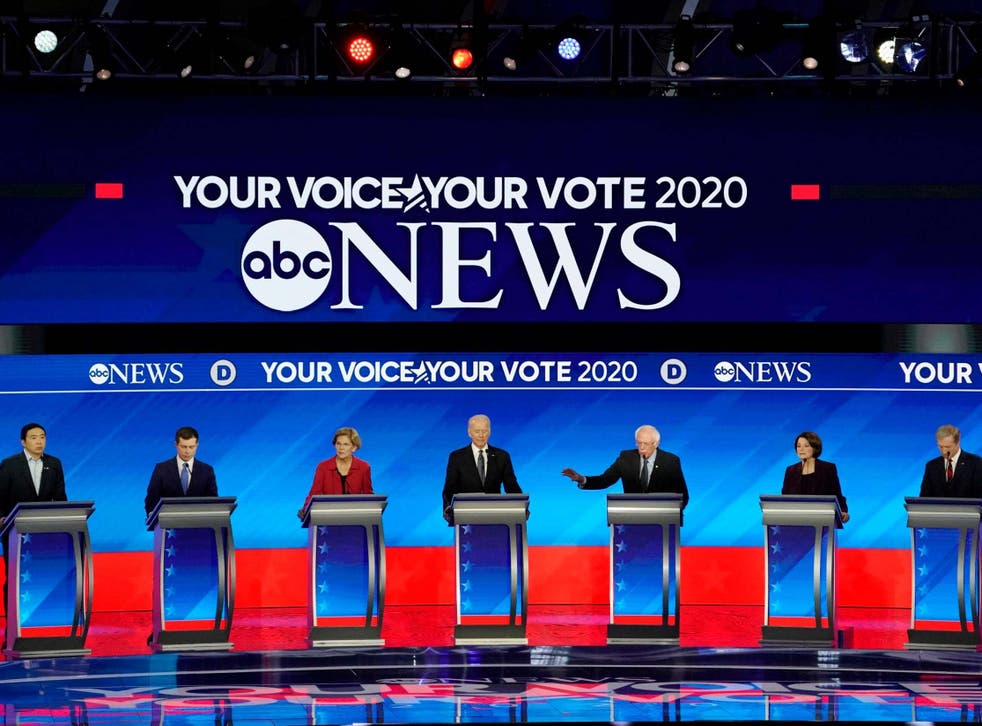 Democrats in New Hampshire faced off on a debate stage one last time before the state votes next week, with high stakes for even the leading candidates in the race.
With strong finishes in Iowa just days ago, it was Bernie Sanders and Pete Buttigieg who found themselves at the front of the heard, followed close behind by a strong set of candidates including Joe Biden, Elizabeth Warren, Amy Klobuchar, Andrew Yang and Tom Steyer.
But if it was theirs to lose, the two seemed to sense the importance of the night.
For his part, Mr Buttigieg put together the kind of debate performance that the mayor of South Bend, Indiana, has come to be known for.
While taking on attacks for his fundraising tactics — Mr Sanders and Ms Warren have relished in noting his proximity to billionaires — as well as his relative lack of experience — Mr Biden, Ms Klobuchar and Mr Steyer all projected that lack of federal experience could be a liability — the youngest candidate on the stage largely stayed on message, preaching a pragmatic approach to the presidency in contrast to the perceived flaws of a progressive agenda.
Mr Sanders, too, gave a strong performance, staying true to his message as he always does, and using attacks to pivot to an assault on Donald Trump that would cast him as the natural opponent of the president.
Democratic candidates compete on the campaign trail: In pictures

Show all 18
After them, Ms Klobuchar appeared to have a very strong night, managing to insert herself into several of the more memorable moments of the debate, including through those attacks on Mr Buttigieg's experience.
Ms Klobuchar sought to elevate her experience as a senator from a midwestern state with DC experience, casting that line on her resume as a strength instead of a weakness as she seeks to improve in her fifth place finish in Iowa.
"What you said, Pete, as you were campaigning through Iowa as three of us were jurors in the impeachment hearing, you said it was exhausting to watch and that you wanted to turn the channel and watch cartoons," she said of the impeachment trial of Mr Trump that has just concluded, drawing a direct contrast with the mayor's experience and connection to one of the most watched political issues of the past three years.
Mr Biden, for his part, gave a strong performance during the over two hours of debating, showing his eagerness to fight for his political life after the loss in Iowa, which he called a "gut punch" this week on the campaign trail in New Hampshire. But, given Mr Buttigieg's strong support, it is unclear if the former vice president's performance will be enough to put him back on track to winning the nomination, which seemed nearly inevitable just months ago.
For Mr Sanders and Ms Warren, the two progressives stayed largely on message, and refused to go after one another this time around as they did during the last debate when the Massachusetts senator accused her Vermont colleague of saying that a woman cannot be president.
But with Mr Sanders being considered by many in the media as a the leader among progressives in the field, the pressure is on for Ms Warren to pull off a strong performance in New Hampshire on Tuesday, when voters in the state — which neighbors both of their home states — head to the polls.
Finally, the debate once again highlighted Andrew Yang's alternative view of the race, and his amiable side when he spent several minutes just after the debate walking the stage and laughing with various attendees. Mr Yang has commanded an almost cult-like following on the internet, as he has mounted a campaign that he has forced political pundits to take seriously in spite of his non-traditional ideas like establishing a universal basic income.
Tom Steyer, the final presidential candidate on the stage, sought to steer the campaign into a discussion about race, which it ultimately became. But, with the outsized personalities on the stage, it remains to be seen if he can make a dent, even with his major spending in the state.
Register for free to continue reading
Registration is a free and easy way to support our truly independent journalism
By registering, you will also enjoy limited access to Premium articles, exclusive newsletters, commenting, and virtual events with our leading journalists
Already have an account? sign in
Register for free to continue reading
Registration is a free and easy way to support our truly independent journalism
By registering, you will also enjoy limited access to Premium articles, exclusive newsletters, commenting, and virtual events with our leading journalists
Already have an account? sign in
Join our new commenting forum
Join thought-provoking conversations, follow other Independent readers and see their replies