US immigration courts told to focus on deportation hearings as Donald Trump ramps up border controls
Chief judge MaryBeth Keller sends memo ordering quick hearings for detainees as top priority in bid to relieve pressure on overcrowded jails
Alicia Caldwell
,
Amy Taxin
Thursday 02 February 2017 11:21 Comments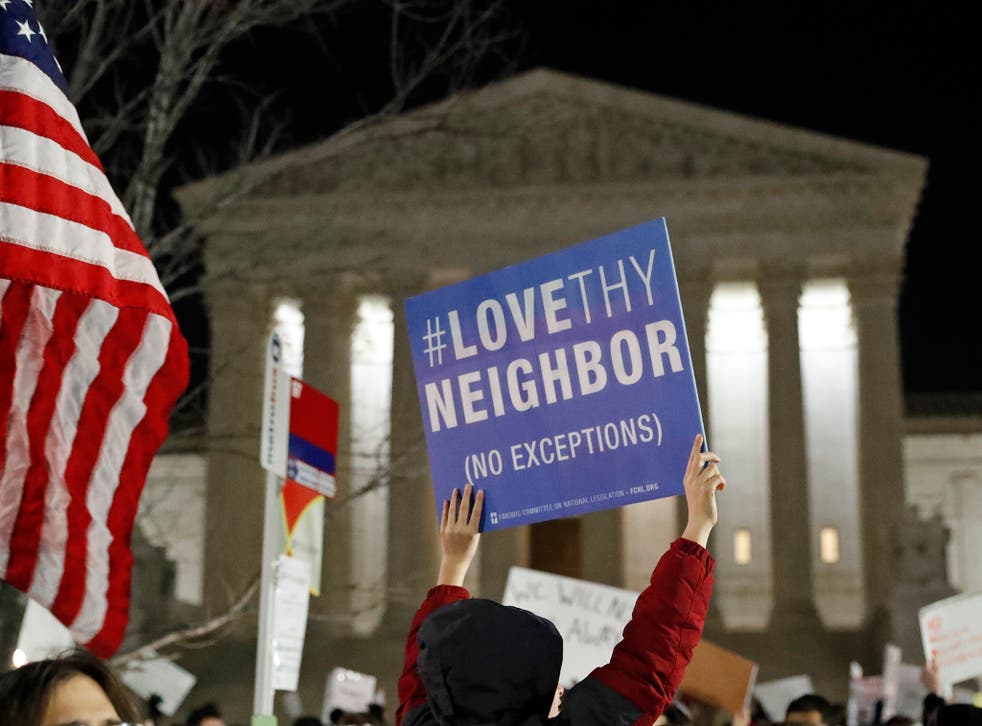 US immigration courts are making a change to focus more on deportation hearings for immigrants jailed by the federal government.
Chief Immigration Judge MaryBeth Keller said in a memo Tuesday that the top priority for immigration judges will be scheduling quick hearings for anyone who is detained, potentially freeing up space in an immigrant jail system that is already well beyond capacity.
While immigrants in jail have always been a priority, the Obama administration also had judges focus on children and families stopped on the US-Mexico border in an attempt to deter more people from coming.
The move comes as President Donald Trump has announced plans to ramp up immigration enforcement and lock up more immigrants. By making the change in the courts, the government will be able to more swiftly deport jailed immigrants to free up room in the detention system.
Amid a wave of tens of thousands of immigrants arriving on the border in recent years, the immigration court docket has grown to more than 533,000 cases. The backlog effectively means that many immigrants may not have a final court ruling for several years.
Immigration lawyers said it's too soon to know whether cases will move faster or the backlog of jailed immigrants waiting for their day in court will simply swell.
Lauren Alder Reid, a spokeswoman for the Executive Office for Immigration Review, said the immigration courts have always made those cases a priority and must "adapt as the landscape changes."
The order to refocus the system's priorities comes just days after Trump signed an executive order directing immigration agents to focus enforcement efforts on far more immigrants living in the country illegally, including anyone arrested on a criminal charge or with a criminal history.
A second order directed Homeland Security officials to detain immigrants caught crossing the border illegally and hold them until they can be deported or a judge rules on their fate.
"He's going to keep everybody detained," said Annaluisa Padilla, an immigration attorney in California. "There is nothing about speeding here or having people have due process in court."
Trump's call to detain more border crossers comes with a need for more jail space. The government has enough money to jail 34,000 people at any given time, though thousands more people have been held in recent months.
The government is looking for more jail beds, acting Immigration and Customs Enforcement Director Thomas Homan said Tuesday.
The controversial orders Donald Trump has already issued

Show all 9
A message left for the Department of Homeland Security on Wednesday was not immediately returned.
Padilla said she worries the change means unaccompanied children with strong cases might get stuck in the backlog.
Immigration attorney Meeth Soni said she believed immigration authorities want the court to move quicker on detention cases to free up more jail space.
"In anticipation of more increased detention, and those proceedings, they're going to have to basically make that a priority for the court," said Soni, an attorney at the Immigrant Defenders Law Center in Los Angeles.
AP
Register for free to continue reading
Registration is a free and easy way to support our truly independent journalism
By registering, you will also enjoy limited access to Premium articles, exclusive newsletters, commenting, and virtual events with our leading journalists
Already have an account? sign in
Join our new commenting forum
Join thought-provoking conversations, follow other Independent readers and see their replies