US immigration: President Obama pushes ahead with plans to protect nearly 5 million illegal immigrants from deportation
In what may prove his last major initiative, the President is set to act on the hugely contentious issue of America's 11 million illegal immigrants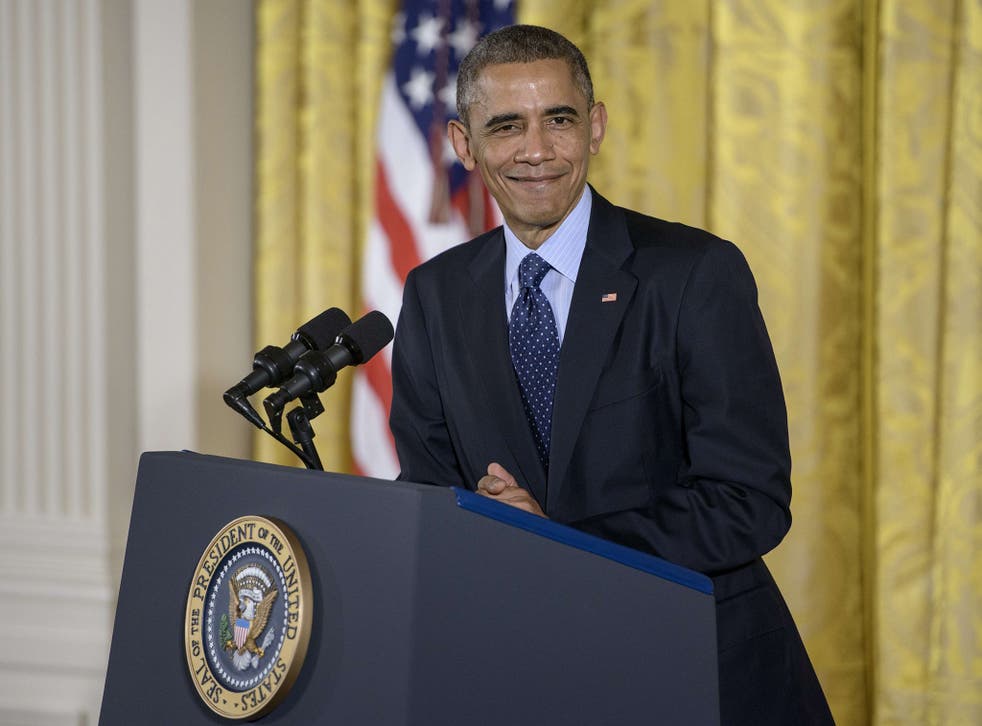 With two years left to secure his political legacy, and with congressional Republicans determined to stymie him, Barack Obama has vowed to press ahead with his long-promised plan to overhaul the enforcement of America's immigration laws.
In a televised address to the nation, Mr Obama unveiled executive orders protecting as many as five million undocumented immigrants from the threat of deportation. But the move will also set off a battle between the White House and the GOP that could overshadow the remainder of his presidency.
"To those members of Congress who question my authority to make our immigration system work better, or question the wisdom of me acting where Congress has failed, I have one answer: Pass a bill," Mr Obama said in his address.
Republicans were united in opposing the President's move but divided on how to respond. Politicians have raised options including lawsuits, a government shutdown and even impeachment. Party leaders are seeking to avoid a government shutdown, say such moves could backfire and anger voters ahead of the next presidential election in two years.
An estimated 11 million people live undocumented in the US. Of those, some four million who have been in the country for five years or more, including parents of US-born children, are now expected to be eligible for a programme that shields them from deportation and permits them to work, provided they have no criminal record. A further one million will gain protection from deportation under parts of Mr Obama's plan.
Mr Obama, whose approval ratings have sagged, insisted that his actions did not amount to amnesty.
"Amnesty is the immigration system we have today — millions of people who live here without paying their taxes or playing by the rules, while politicians use the issue to scare people and whip up votes at election time," he said.
In pictures: Midterms 2014

Show all 14
The President hosted a dinner for congressional Democrat leaders on Wednesday at the White House, where he outlined his intentions. Following his broadcast address, he was due to fly to Nevada to roll out the plans at a rally in Las Vegas on Friday; Nevada has the highest proportion of undocumented immigrants in the US.
In 2012, Mr Obama used his executive power to issue a memorandum, known as Deferred Action for Childhood Arrivals, which offered a reprieve from deportation to around 1.2 million undocumented immigrants. The administration's new orders could expand that protection to a further 700,000 people.
Jorge-Maria Cabrero, a spokesman for the advocacy group Coalition for Humane Immigrant Rights of Los Angeles, applauded the President's plan, but also pointed to the millions of undocumented immigrants who remain unaffected by the proposals.

"We are talking about workers who have spent their lives contributing positively to this nation but have no children of their own here," Mr Cabrero said. "And yet we recognise the strength it takes for President Obama to take this measure, so we're going to celebrate it and continue to fight for a permanent solution, which is immigration reform."
Republican leaders, who will take control of both houses of Congress following this month's US midterm elections, have warned Mr Obama against acting unilaterally. Mitch McConnell, the new Senate Majority Leader, has said such action would be like "waving a red flag in front of a bull", while the House Speaker John Boehner claimed this week that it would "poison the well" for co-operation between the White House and the Republican-led Congress for the remainder of the President's tenure.
Mr Boehner, who has refused to have his Republican members vote on broad immigration legislation passed by the Senate last year, said Mr Obama's decision to go it alone "cemented his legacy of lawlessness and squandered what little credibility he had left."
In an article for Politico published on Tuesday, the Republican Senator Ted Cruz accused the President of using "the tactics of a monarch" to impose his agenda. House Republicans are reportedly considering several strategies to block the President's plan, though Mr McConnell has said they would not use the threat of another government shutdown. In a letter to the President, Republican Congressmen Michael McCaul and Bob Goodlatte threatened "to use the tools afforded to Congress by the Constitution to stop your administration from successfully carrying out your plan".
Mr Obama has repeatedly expressed frustration at the lack of congressional movement on the issue, and said he hoped his executive action would spur politicians to pass a bill. But the GOP is split, with some members opposing any expansion of rights to undocumented immigrants, meaning the party has so far been unable to agree on an alternative to the proposals. For Democrats, meanwhile, immigration reform is thought to be crucial in keeping Latino voters on their side.
Though Republican candidates swept the board at the midterms, a CNN exit poll conducted on election day found that 57 per cent of voters believed undocumented immigrants ought to be given the chance to apply for legal status, while 71 per cent believed they should be allowed to stay in the country legally if they meet certain criteria.
With Congress apparently incapable of action, the White House press secretary Josh Earnest told reporters on Wednesday, "The President is willing to use every element of that law to make progress. If that is something that Republicans are critical of, then that's a criticism that the President wears [as] a badge of honour."
The outgoing Senate Majority Leader, the Democrat Harry Reid, said in a statement, "Immigration reform is an economic issue we must address. That's why I have been so disappointed that Republicans have dodged taking up legislation."
Join our new commenting forum
Join thought-provoking conversations, follow other Independent readers and see their replies