US intelligence agencies probing Russian attempts to disrupt election with cyber-attacks
Despite claims of ties between the Trump campaign and the Kremlin, the Russian objective is not necessarily to sway the election in the Republican's favour, but to sow chaos and confusion
Tim Walker
US Correspondent
Monday 05 September 2016 22:08 Comments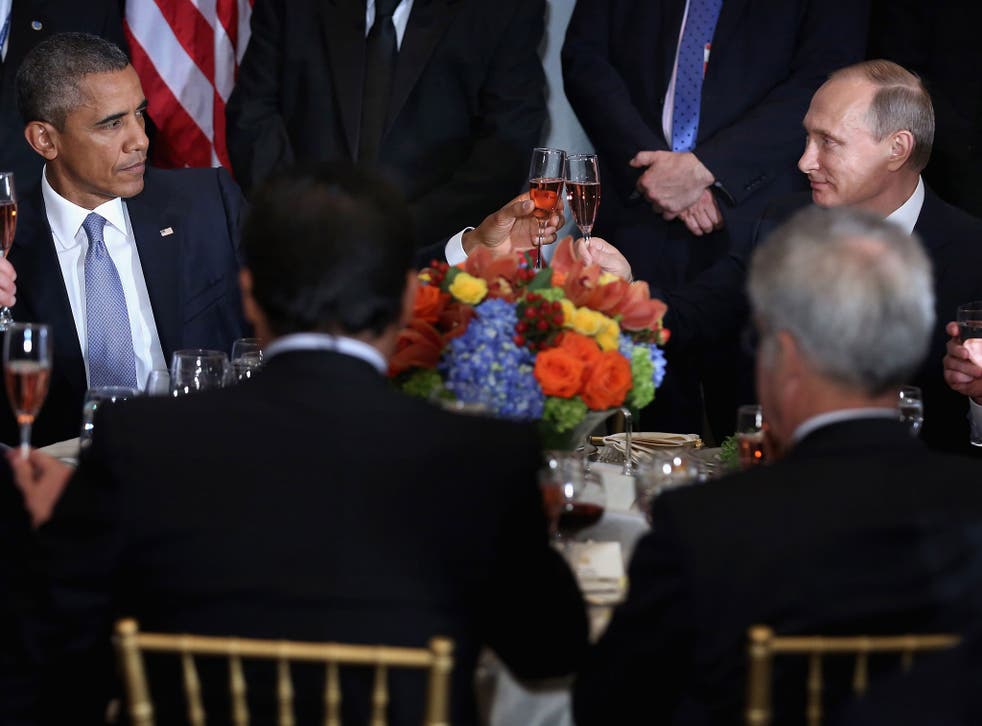 US intelligence agencies are investigating Russian attempts to disrupt the November elections with cyber-attacks designed to damage American political institutions and foster public distrust in the political process, it has been reported.
According to a report by the Washington Post, the FBI, CIA, NSA and Department of Homeland Security are all involved in the probe of what officials say is an "ambitious" Russian cyber-operation to influence both national and local politics in the US.
A top intelligence official told the newspaper that the agencies do not yet purport to have "definitive proof" of Russian interference. "But even the hint of something impacting the security of our election system would be of significant concern," the unnamed official said.
Despite previous allegations of ties between Donald Trump's campaign and the Kremlin, officials said the objective of the Russian operation is not necessarily to sway the presidential election in the Republican's favour.
Rather, they suggested, the Russians would like to sow chaos and confusion sufficient to dent American global leadership, disrupting US efforts to spread democracy and western influence, specifically in Eastern Europe and the countries of the former Soviet Union. The effort is not confined to the US, but "seems to be a global campaign", a congressional aide told the Post.
The recent hack of the Democratic National Committee (DNC), which experts blamed on Russian government hackers, led to the release of some 20,000 DNC emails by Wikileaks and the subsequent resignation of DNC Chairwoman Debbie Wasserman Schultz.
The Republican party is also said to have been targeted by hackers, while the FBI is reportedly investigating attempts to hack digital election systems in US states including Arizona and Illinois.
The director of US national intelligence, James Clapper, is overseeing the multi-agency probe. The Obama administration has so far declined to accuse Russia publicly, despite the entreaties of representatives from both political parties.
On Monday, Mr Obama and Russian leader Vladimir Putin met privately on the side-lines of the G20 conference in Hangzhou, China, for discussions that the US president described afterwards as "candid, blunt [and] business-like."
Mr Obama said afterwards that the US had "had problems with cyber intrusions from Russia in the past" but declined to comment on "specific investigations that are still live and active"
Nonetheless, he cautioned against allowing the web to become "the wild, wild west, where countries that have significant cyber capacity start engaging in unhealthy competition or conflict through these means."
And in an apparent warning to the Kremlin, Mr Obama added that the US has "more capacity than anybody, both offensively and defensively," in the cyber realm.
Register for free to continue reading
Registration is a free and easy way to support our truly independent journalism
By registering, you will also enjoy limited access to Premium articles, exclusive newsletters, commenting, and virtual events with our leading journalists
Already have an account? sign in
Join our new commenting forum
Join thought-provoking conversations, follow other Independent readers and see their replies