US Justice Department has no federal prosecutors after dismissing Obama administration attorneys
Jeff Sessions currently without a single lawyer in place to enact Trump administration's 'tough on crime' policies
Sari Horwitz
Wednesday 19 April 2017 15:52 Comments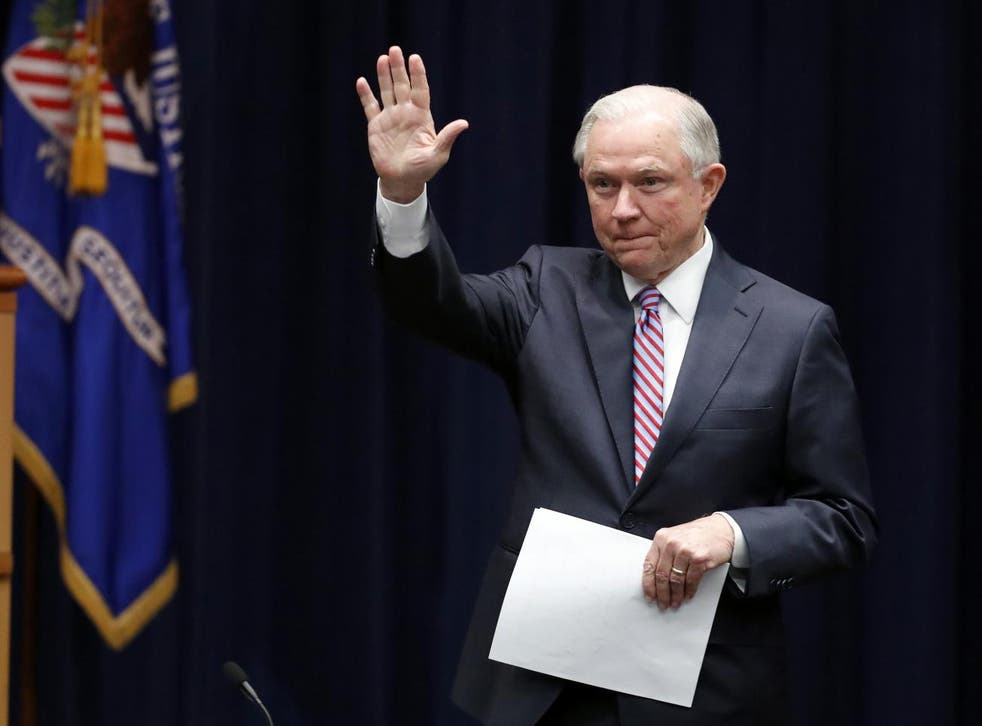 Attorney General Jeff Sessions is making aggressive law enforcement a top priority, directing his federal prosecutors across the country to crack down on illegal immigrants and "use every tool" they have to go after violent criminals and drug traffickers.
But the Attorney General does not have a single US attorney in place to lead his tough on crime efforts across the country. Last month, Sessions abruptly told the dozens of remaining Obama administration US attorneys to submit their resignations immediately – and none of them, or the 47 who had already left, have been replaced.
"We really need to work hard at that," Sessions said when asked on Tuesday about the vacancies as he opened a meeting with federal law enforcement officials. The 93 unfilled US attorney positions are among the hundreds of critical Trump administration jobs that remain open.
Sessions is also without the heads of his top units, including the civil rights, criminal and national security divisions, as he tries to reshape the Justice Department.
US attorneys, who prosecute federal crimes from state offices around the nation, are critical to implementing an attorney general's law enforcement agenda. Both the George W. Bush and Barack Obama administrations gradually eased out the previous administration's US attorneys while officials sought new ones.
Sessions said that until he has his replacements, career acting US attorneys "respond pretty well to presidential leadership".
But former officials from the Justice Department say that acting US attorneys do not operate with the same authority when interacting with police chiefs and other law enforcement executives.
"It's like trying to win a baseball game without your first-string players on the field," said Ronald Welch, a former assistant attorney general, who ran the Justice Department's legislative affairs division during Obama's first term.
"There are human beings occupying each of those seats," Weich, now the dean of the University of Baltimore School of Law, said of the interim officials. "But that's not the same as having appointed and confirmed officials who represent the priorities of the administration. And the administration is clearly way behind in achieving that goal."
Filling the vacancies has also been complicated by Sessions not having his second-highest-ranking official in place. Rod Rosenstein, nominated for deputy attorney general – the person who runs the Justice Department day to day – is still not on board, although he is expected to be confirmed by the Senate this month. Traditionally, the deputy attorney general helps to select the US attorneys.
Rosenstein has been designated, upon his confirmation, to take on the responsibility of overseeing the FBI's investigation into Russian meddling in the 2016 election and any links between Russian officials and Trump associates after Sessions was forced to recuse himself. He has previously served as a US attorney for Maryland.
Rachel Brand has been nominated for the department's third-highest position as associate attorney general. She has also not been confirmed.
By March of Obama's first year in office, the Senate had confirmed the deputy and associate attorneys general, along with the solicitor general. The Senate had also confirmed an assistant attorney general for the national security division.
When Obama's first Attorney General, Eric Holder Jr., launched an ambitious plan to reform the criminal-justice system, it was the US attorneys on the ground who were in charge of carrying out his plan to stop charging low-level nonviolent drug offenders with offences that imposed severe mandatory sentences. Now, Sessions is taking steps toward reversing that policy – without his top prosecutors nominated or confirmed.
Sessions has also created a task force on crime reduction, and one of his first actions was to send a memo last month to his acting US attorneys and assistant US attorneys directing them to investigate and prosecute the most violent offenders in each district. On April 11, he travelled to Nogales, Arizona, where he directed his 5,904 federal prosecutors to make illegal immigration cases a higher priority and work to bring felony charges against those who cross the border illegally.
This week, the Attorney General flies to Texas and California to meet with law enforcement officials about his priorities. But, until he gets his US attorneys on board, Sessions will be hampered in moving forward with new policies, former Justice Department officials say.
"An acting US attorney doesn't speak with the same authority to a police chief or to a local prosecutor as a Senate-confirmed US attorney does," said Matthew Miller, a former Justice Department spokesman in the Obama administration. "If you're a Democrat, you're probably happy to have these positions filled by career officials because they're less likely to pursue some of the policies that Jeff Sessions supports. But if you're a supporter of the president, you probably want them to move on those positions."
The controversial orders Donald Trump has already issued

Show all 9
The US attorney process could be delayed many more months because of what is known as the "blue slip" process in Congress, which dates to the early 1900s. Traditionally, the administration consults with the senators of each state before choosing US attorneys. Sessions said the Justice Department will ask for help from Congress and "a number of [names] are going over now." The Senate Judiciary Committee sends a blue piece of paper to each senator to voice their approval or disapproval of a US attorney nominee from their home state.
The Attorney General said Tuesday that the US attorney process "does take some months and has traditionally". Sessions himself was asked to resign as the US attorney for Alabama in March 1993 by President Bill Clinton's Attorney General, Janet Reno, who, like Sessions, asked all her US attorneys to resign and didn't begin replacing them for a few months.
The Washington Post
Register for free to continue reading
Registration is a free and easy way to support our truly independent journalism
By registering, you will also enjoy limited access to Premium articles, exclusive newsletters, commenting, and virtual events with our leading journalists
Already have an account? sign in
Join our new commenting forum
Join thought-provoking conversations, follow other Independent readers and see their replies