US government lawyer could face criminal charges for stopping to help three asylum seekers on Texas highway
Trump administration has stepped up punitive measures targeting citizens who provide compassionate assistance to migrants
Manny Fernandez
Saturday 11 May 2019 13:19 Comments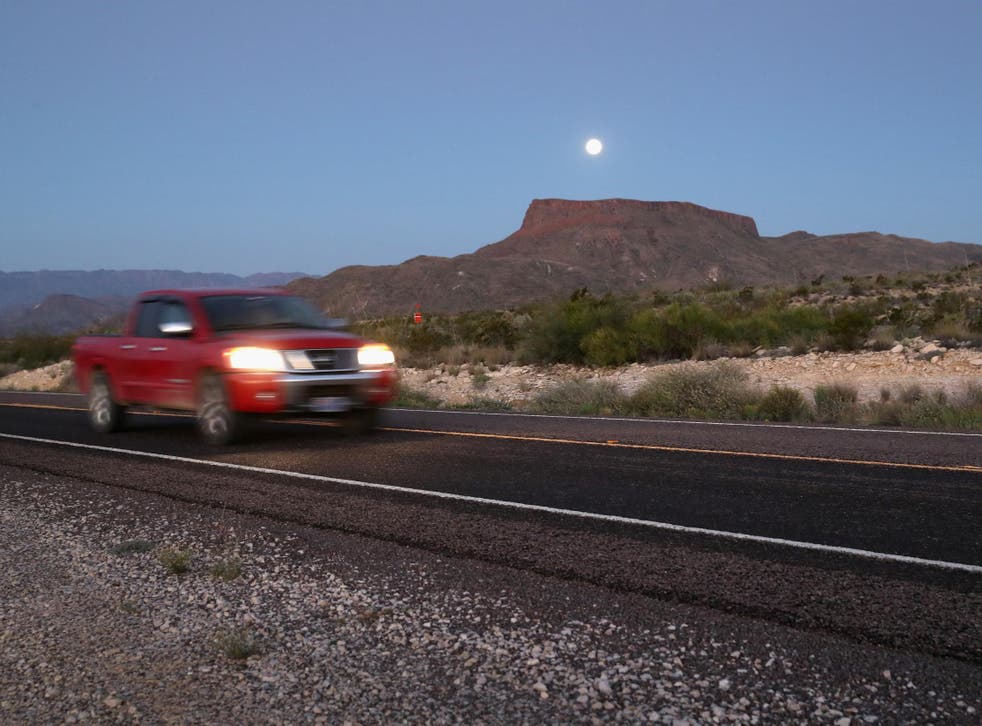 Teresa Todd pulled over one recent night on a dark West Texas highway to help three young Central American migrants who had flagged her down.
Ms Todd - an elected official, government lawyer and single mother in a desert border region near Big Bend National Park - said she went into "total mum mode" when she saw the three siblings, one of whom appeared to be very ill.
Struggling to communicate using her broken Spanish, Ms Todd told the three young people to get out of the cold and into her car.
She was phoning and texting friends for help when a sheriff's deputy drove up, followed soon by the Border Patrol.
"They asked me to step behind my car, and the supervisor came and started Mirandising me," said Ms Todd, referring to being read her Miranda rights.
The US-Mexico border: where the drugs war has soaked the ground blood red

Show all 4
"And then he says that I could be found guilty of transporting illegal aliens, and I'm, like, 'What are you talking about?'"
Ms Todd spent 45 minutes in a holding cell that night.
Federal agents obtained a search warrant to examine her phone, and she became the focus of an investigation that could lead to federal criminal charges.
As the Trump administration moves on multiple fronts to shut down illegal border crossings, it has also stepped up punitive measures targeting private citizens who provide compassionate help to migrants — "good Samaritan" aid that is often intended to save lives along a border that runs through hundreds of miles of remote terrain that can be brutally unforgiving.
Earlier this year, federal agents raided the home of a volunteer who provides meals, housing and other aid to migrants in the Texas border city of Brownsville.
In Arizona, four volunteers with No More Deaths, a nonprofit based in Tucson, were convicted on misdemeanour criminal charges after leaving water and canned food for migrants hiking through the Cabeza Prieta National Wildlife Refuge.
Five other volunteers also faced charges, including one felony case now pending in US District Court in Tucson.
"I honestly don't feel like I ever did anything wrong: I stopped to help some kids," said Ms Todd, 53, who serves as both the city attorney of Marfa, Texas, and the county attorney of Jeff Davis County, an elected position.
"It's been pretty transformative for me, to be perfectly honest. To have devoted my life to public service, and then to be Mirandised, detained and investigated as if I'm a human smuggler. The whole thing was really, really, very surreal. It was like a 'Twilight Zone'."
'These are desperate people!' Republican Geraldo Rivera gives criticises migrant caravan coverage on Fox News
Federal agents at the border in some cases work closely with non-profit shelters and volunteers to co-ordinate housing and transportation logistics for migrants in border cities who have recently been released from Border Patrol custody.
But often, volunteers who aid illegal border crossers before they are in custody are treated far differently.
For Ms Todd, it started at about 10pm on 27 February, just outside the funky desert community of Marfa.
Ms Todd was busy that night: she had attended a planning and zoning meeting at Marfa City Hall, had a late dinner at the Hotel Saint George and was driving back home to nearby Fort Davis.
Trump compares US-Mexico border to Disneyland and calls end to family separations a disaster
Suddenly, a young man in a white shirt ran out of a ditch and started waving at her.
"I have two teenage boys," Todd said. "I have a 17-year-old and a 15-year-old, and he looks about the same size as my 15-year-old son, and so I literally think, 'oh my God, it's like this kid on the side of the road.' I turn around and go back, because I can't leave a kid on the side of the road."
He was a bit older than a teenager, she learned, as he and his siblings started telling her what had happened.
They were originally from El Salvador - Carlos, 22, his brother, Francisco, 20, and their sister, Esmeralda, 18.
They had fled their home country years ago and were living with an aunt in Guatemala.
Worsening gang violence forced them to leave — two of Carlos' friends were murdered, and a gang leader wanted Esmeralda to be his girlfriend, according to court documents.
The trio headed for the United States and crossed the US-Mexico border in a remote stretch of desert with a group of migrants and smugglers. But Esmeralda became sick and had trouble keeping up.
The others in the group pushed ahead, but her brothers stayed by her side.
The three of them became lost as they hiked north, and they ran out of food and water, according to statements they provided to the federal public defender's office. Esmeralda's condition had worsened by the time they flagged down Todd.
"I can tell she needs immediate medical attention," Ms Todd recalled. "She's having a really hard time walking."
She had the siblings get in her car and started to contact friends - one who works for a refugee services non-profit and another who is a lawyer for the Border Patrol.
Moments later, a sheriff's deputy from neighbouring Presidio County pulled up behind her, lights flashing.
The deputy and Ms Todd know one another, but he was immediately suspicious, she said, asking whether she thought the migrants' backpacks smelled like dope.
The deputy alerted Border Patrol, whose agents read Ms Todd her rights.
Armed vigilantes 'illegally' detain hundreds of migrants on US border
Ms Todd, who routinely puts misdemeanour lawbreakers behind bars as a county attorney, was put in a holding cell at a nearby Border Patrol station. Her purse and other personal items were confiscated.
Days later, back at work at Marfa City Hall, she was visited at her office by an agent with federal Homeland Security Investigations and a Texas Ranger.
The federal agent handed her a search warrant for her phone, and she surrendered it. One of the friends she had texted that night told Ms Todd that agents had also questioned her and examined her phone.
Ms Todd has not been charged with a crime, though the three migrants from El Salvador were held for some time as material witnesses, suggesting that federal prosecutors were contemplating using them in a criminal case against her.
They are now in an Immigration and Customs Enforcement facility in El Paso and could face deportation.
"All three remain in ICE custody pending disposition of their immigration cases," an ICE spokesperson said in a statement.
A spokesperson for the Border Patrol said the incident remains "an active case," but declined further comment, as did the US attorney's office.
The episode has both angered and perplexed Ms Todd and her friends and co-workers in Jeff Davis County.
William Kitts, the Jeff Davis sheriff and a county government colleague of Ms Todd's, said numerous residents have assisted migrants, providing them with water or giving them a ride to his office. None have been prosecuted, and Mr Kitts said Ms Todd shouldn't be tried, either.
The sheriff said he believes that Esmeralda would have died had Ms Todd not stopped to help her.
Trump administration 'denied Muslim detainee's green card application after Border Patrol fed him pork for days'
According to court records, she was taken by Border Patrol agents to Big Bend Regional Medical Centre in Alpine, Texas, and was treated for four days for starvation, dehydration, infected wounds from cactus spines and rhabdomyolysis, a serious condition that can lead to kidney failure.
"Harbouring is a big jump for them to make in my book," Mr Kitts said of the threatened criminal charges against Ms Todd. "There's a human component to this. We'll let Congress and the politicians fight it out, but if somebody's hungry or thirsty or needs some help, we're going to help them."
Kenneth Magidson, who served as the top federal prosecutor in Houston and in the South Texas border region from 2011 to 2017, said the government has begun taking "a harsher approach" to prosecuting such cases since Donald Trump took office.
"Providing drinks of water or someone needs immediate medical assistance and you take them to a hospital - you're stretching it," he said.
"You have to look at the entire context of the case. Was it at the person's house? Were they spending the night? It's more than just giving somebody on the side of the road some water."
Ms Todd said she plans to work with her congressional representatives on legislation exempting good Samaritans from federal prosecution.
"There is something bigger at stake than just me here, because this does send a message to try to chill people from helping others," she said.
One day last week, she received one good surprise: the authorities returned her iPhone.
"They took it at 11:30 in the morning and said I would have it back by 3 in the afternoon, 5 at the latest," she said. "And 53 days later, I got my phone back."
The New York Times
Register for free to continue reading
Registration is a free and easy way to support our truly independent journalism
By registering, you will also enjoy limited access to Premium articles, exclusive newsletters, commenting, and virtual events with our leading journalists
Already have an account? sign in
Join our new commenting forum
Join thought-provoking conversations, follow other Independent readers and see their replies