War between US and North Korea is 'not unimaginable', says chairman of Joint Chiefs of Staff
Marine General Joseph Dunford admits conflict would be 'horrific' and involve more deaths than any since Second World War
Benjamin Kentish
Saturday 29 July 2017 15:55 Comments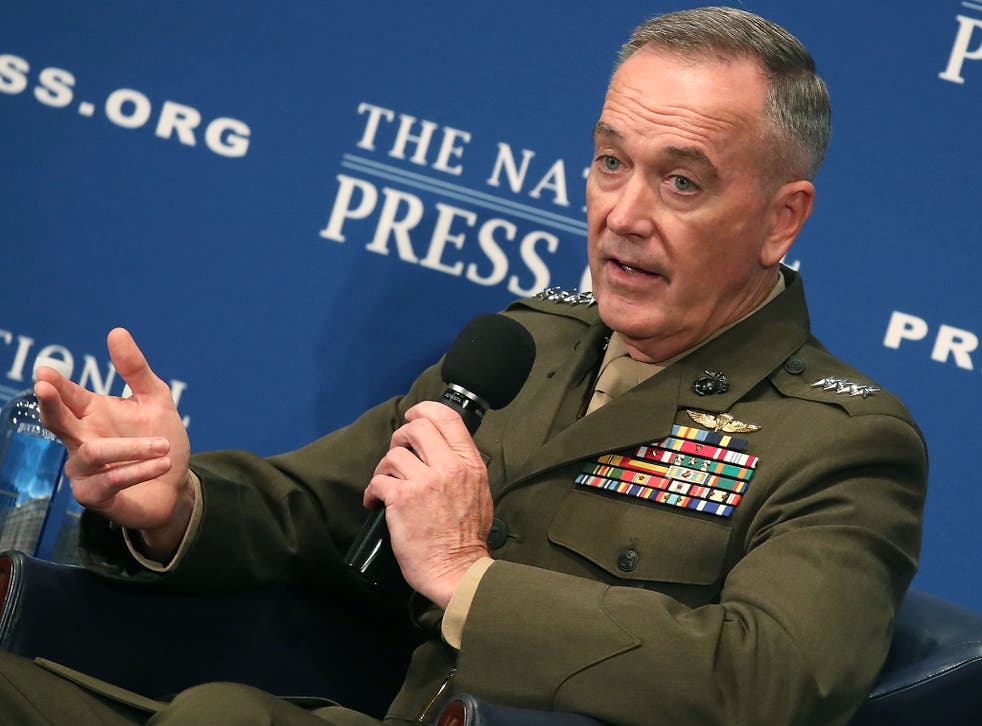 War between the US and North Korea is "not unimaginable", America's most senior military officer has said.
Marine General Joseph Dunford, the Chairman of the Joint Chiefs of Staff, did not rule out the possibility of a "horrific" conflict.
Although admitting that such a war would involve massive loss of life, General Dunford said it was his duty to prepare military options in order to protect US citizens.
"Many people have talked about military options with words like 'unimaginable,'" he said. "I would probably shift that slightly and say it would be horrific, and it would be a loss of life unlike any we have experienced in our lifetimes, and I mean anyone who's been alive since the Second World War has never seen the loss of life that could occur if there's a conflict on the Korean Peninsula.
"But as I've told my counterparts, both friend and foe, it is not unimaginable to have military options to respond to North Korean nuclear capability. What's unimaginable to me is allowing a capability that would allow a nuclear weapon to land in Denver, Colorado. That's unimaginable to me. So my job will be to develop military options to make sure that doesn't happen."
General Dunford was speaking at the Aspen Security Forum of intelligence and national security officials.
North Korea has continued to test long-range ballistic missiles in recent weeks and is believed to be have developed several nuclear warheads, despite threats of severe consequences from the US and its Western allies.
It is thought Pyongyang does not currently have the technology required to launch a nuclear weapon at the US but Donald Trump has vowed to take strong action against the communist state.
North Korea trading despite nuclear sanctions - Inside the country's special economic zone

Show all 13
On Tuesday, the state-run Korean Central News Agency (KCNA) quoted a North Korean foreign ministry spokesman threatening to launch a nuclear attack to "the heart of the US" should the Trump administration attempt to remove President Kim Jong-un from power.
"Should the US dare to show even the slightest sign of attempt to remove our supreme leadership, we will strike a merciless blow at the heart of the US with our powerful nuclear hammer, honed and hardened over time," the spokesman is reported to have said.
The threat was a response to Mike Pompeo, the CIA Director, hinting that US intelligence agencies were considering trying to overthrow the dictator.
Mr Pompeo told the Aspen conference that the US wanted to "separate" North Korea's nuclear weapons from "the character who holds control over them today".
"The North Korea people — I'm sure are lovely people — and would love to see him go as well," he added.
It comes as US defence officials warned that North Korea is planning another inter-continental missile test to coincide with the 27 July anniversary of the end of the Korean War.
Donald Trump has promised to deal "very strongly" with North Korea and said the US is considering "severe things" in response to the missile tests.
Register for free to continue reading
Registration is a free and easy way to support our truly independent journalism
By registering, you will also enjoy limited access to Premium articles, exclusive newsletters, commenting, and virtual events with our leading journalists
Already have an account? sign in
Join our new commenting forum
Join thought-provoking conversations, follow other Independent readers and see their replies