US police killed or injured more than 55,000 people in one year
In the absence of reliable, federal data, researchers and journalists are filling in the gaps
Rachael Revesz
New York
Tuesday 26 July 2016 20:19 Comments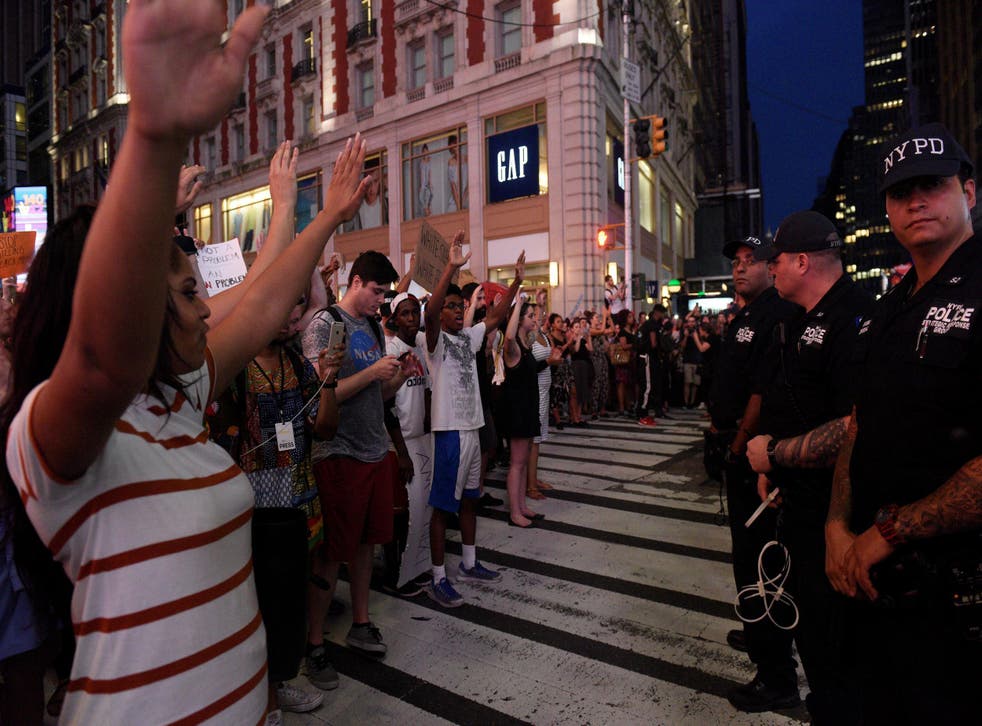 American police officers killed or injured more than 55,000 people during "legal interventions" in 2012, according to damning new research on excessive police force.
An estimated 55,400 people were harmed in one year as a result of stop and search incidents and arrests, according to the data published in the Injury Prevention journal.
In 2012, there were an estimated 12.3 million arrests, around 2.8 million stop and searches, as well as around 1 million traffic stops.
During these incidents, US police fatally injured an estimated 1,000 people.
Another 54,300 required hospital treatment for their injuries.
The numbers show that members of ethnic minorities were much more likely to be victim to injury at the hands of law enforcement.
Black people, Native Americans and Hispanics were found to have higher stop and search and arrest rates per 10,000 of the population than white people and Asians.
Out of all groups, black people were by far the most likely to be stopped, and more likely than white people to die from police contact.
Beyonce pauses performance to honour black victims of police violence
One significant discrepancy found by the researchers is that when black people are stopped or arrested by US police, they are "no more likely" than white people to be killed during that incident.
Ted Miller, author of the report, told The Independent, said this particular result was "surprising".
"Once a stop is in progress, the likelihood of that injury or death at that stop is dependent on what happens and not on the race of that person," he said.
"But we did find that younger people were less likely to be seriously injured than older people. The big question is why. Are young people less likely to carry guns? Is there more mental illness and substance abuse among the older generation? We don't know why."
Texas police body-slam black teacher
The answer to that question and the one about the likelihood of black people being killed in the hands of police during "legal interventions" is marred by the availability of accurate data to researchers.
This deficiency includes the lack of reporting on the income levels of those affected, and the fact that over 50 per of coroner and medical examiner records do not report police involvement in a death.
"There are many questions to ask, including who is getting stopped and who is arrested once they are stopped?" said Mr Miller.
Unarmed black care worker shot by US police while he was calming autistic patient
Some of the findings - particularly that the likelihood of death while being searched or arrested is not dependent on race - may be hard to swallow, especially in the light of such public killings of black men this year and heightened racial tensions.
The killing of black men Alton Sterling and Philando Castile in Louisiana and Minnesota sparked large protests. One such peaceful protest in Dallas turned sour when five white police officers were killed and seven more were wounded - by a black man who was not affiliated to the protest. Three police officers were also killed a week later in Baton Rouge.
Police officers killed by sniper at protests in Dallas

Show all 20
Another recent and high profile example of police violence is against Charles Kinsey, a black behavioral therapist who was shot in July while he was lying on the ground in a car park, his arms raised, after he had tried to calm one of his autistic patients.
He was hit in the leg and is expected to make a full recovery. When he asked the officer why he was shot, the officer reportedly replied: "I don't know".
"Police's use of undue force - this isn't a new problem which is exploding," said Mr Miller. "This has been going on for ever."
Protests and outrage across the US following killings by police

Show all 19
The biggest drawback in the new data, according to Marjorie Cohn, professor emerita at the Thomas Jefferson School of Law, is the definition of the police's so-called "legal interventions", otherwise known as arrests and searches.
"There is no information on whether these "legal interventions" are supported by warrants of 'probable cause' or 'reasonable suspicion'," she said.
"If not, they are not legal. It is racial profiling. Racism affects who is stopped, who is arrested, what they are charged with, what the sentencing is and who gets the death sentence."
As it exists today, there is no current federal watchdog for the police, and there is no federal mandate that requires officers to submit their reports following a stop and search or an arrest.
Why you should care about #BlackLivesMatter
There are two reporting systems from the Federal Bureau of Investigation - one is voluntary and other is reportedly mandatory, yet both systems have recorded different sets of deaths, suggesting the number of fatalities is much higher than either system has reported.
State systems also vary, which results in either late, inaccurate or a complete absence of reporting.
A new system reporting - similar to what newspapers and researchers have done - is likely to be set up at a federal level due to a current investigation by Attorney General's office. The new system, which would be unlikely to cover new ground compared to newspaper reporting, is "outrageous", according to Mr Miller.
Mr Miller's research used national data from various sources including the Vital Statistics Mortality Census, the 2012 Healthcare Cost and Utilization Project nationwide inpatient and emergency department samples, two newspaper censuses of deaths, FBI reports for 2012 and 2014 arrests as well as the 2011 Police Public Contact Survey.
Kristian Williams, author of "Our Enemies in Blue: Police and Power in America", argued that American police officers use force at higher and deadlier levels than the citizens they are serving. The book was published in 2004.
Is there any evidence, according to Mr Miller's research, that the number of people being killed in the US will decline in the future, or already has done so since 2012?
"No," he said. "Not at all."
Register for free to continue reading
Registration is a free and easy way to support our truly independent journalism
By registering, you will also enjoy limited access to Premium articles, exclusive newsletters, commenting, and virtual events with our leading journalists
Already have an account? sign in
Join our new commenting forum
Join thought-provoking conversations, follow other Independent readers and see their replies