Donald Trump has now fired three of the people investigating him
The president's critics say there is a 'troubling pattern'
Andrew Buncombe
New York
Wednesday 10 May 2017 17:38 Comments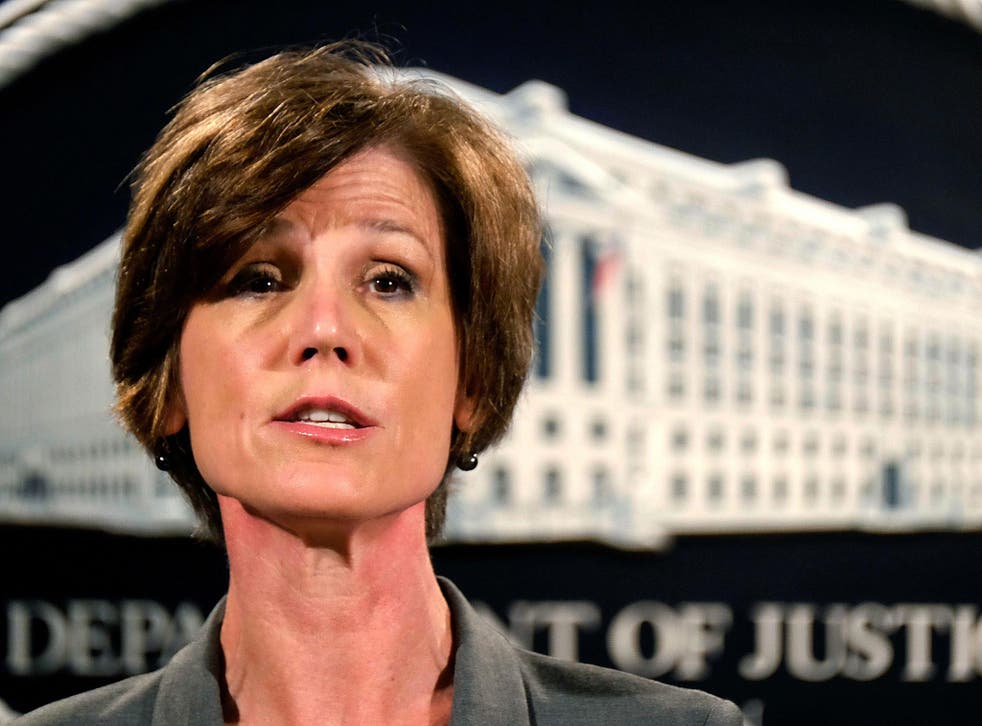 Donald Trump has now fired three people who were carrying out investigations linked to either him or his campaign - something the president's critics have said represents "a troubling pattern".
Before the president dismissed FBI Director James Comey, claiming that he had been obliged to act because of the way he handed an investigation into Hillary Clinton, he had previously fired Deputy Attorney General Sally Yates and Preet Bharara, the New York US Attorney for the Southern District of New York.
"They fired Sally Yates. They fired Preet Bharara. And they fired James Comey, the very man leading he investigation. This does not seem to be a coincidence," said Senate Minority leader Chuck Schumer.
"Any person who he appoints to lead the Russian investigation will be concerned that he or she will meet the same fate as Director Comey."
Senate Democratic Whip Dick Durbin took to the Senate floor on Tuesday evening to urge the White House to clarify whether the FBI investigation of Russian interference in the presidential campaign would continue now that Comey has been fired.
"Any attempt to stop or undermine this FBI investigation would raise grave constitutional issues," Mr Durbin said. "We await clarification by the White House as soon as possible as to whether this investigation will continue."
Those Mr Trump has fired - and why:
James Comey:
When was he fired: Mr Comey was fired by a four-line letter dispatched by Mr Trump on May 9 2017. He had actually seen the news breaking on television while speaking in Los Angeles.
What was he investigating: The FBI Director had testified before congress that he was probing possible collusion between Mr Trump's election campaign and Russia's alleged meddling in the 2016 election.
What was the official reason: Mr Trump claimed he was "not doing a good job". His senior law officials issued memos criticising Mr Comey's handling of an investigation into Hillary Clinton and that it was time to restore confidence in the FBI.
Sally Yates:
When was she fired: Ms Yates served as Acting Attorney General for just ten days, from January 20 2017, until she was dismissed by Mr Trump on January 30 2017.
What was she investigating: While investigating possible collusion between Russia and Trump campaign, Ms Yates told the Trump administration that then-National Security Advisor Michael Flynn had not told the truth about his meeting with Russian ambassador Sergey Kislyak and was vulnerable to blackmail.
What was the official reason: It seems she was dismissed for failing to defend and implement the first of Mr Trump's executive orders relating to a Muslim travel ban. The White House said: "The acting Attorney General, Sally Yates, has betrayed the Department of Justice by refusing to enforce a legal order designed to protect the citizens of the United States."
Preet Bharara:
When was he fired: Mr Bharara was reportedly told by Mr Trump that his job as a US Attorney General was safe, even though the president intended to fire the other 45 individuals appointed by Barack Obama. As it was, he was also fired, on March 11 2017.
What was he investigating: Mr Bharara's office had several ongoing investigations, including one of Fox News, and a probe into claims made by Mr Trump that Mr Obama had wiretapped Trump Tower.
What was the official reason: The White House said he was being fired as part of a wholesale replacement of Mr Obama's appointments. Senator Hillary Warren said at the time that he was removed in part because "he had authority over Trump Tower".
Register for free to continue reading
Registration is a free and easy way to support our truly independent journalism
By registering, you will also enjoy limited access to Premium articles, exclusive newsletters, commenting, and virtual events with our leading journalists
Already have an account? sign in
Join our new commenting forum
Join thought-provoking conversations, follow other Independent readers and see their replies