Donald Trump meets Russian foreign secretary day after sacking FBI Director investigating Russia ties
Mythili Sampathkumar
New York
Wednesday 10 May 2017 22:12 Comments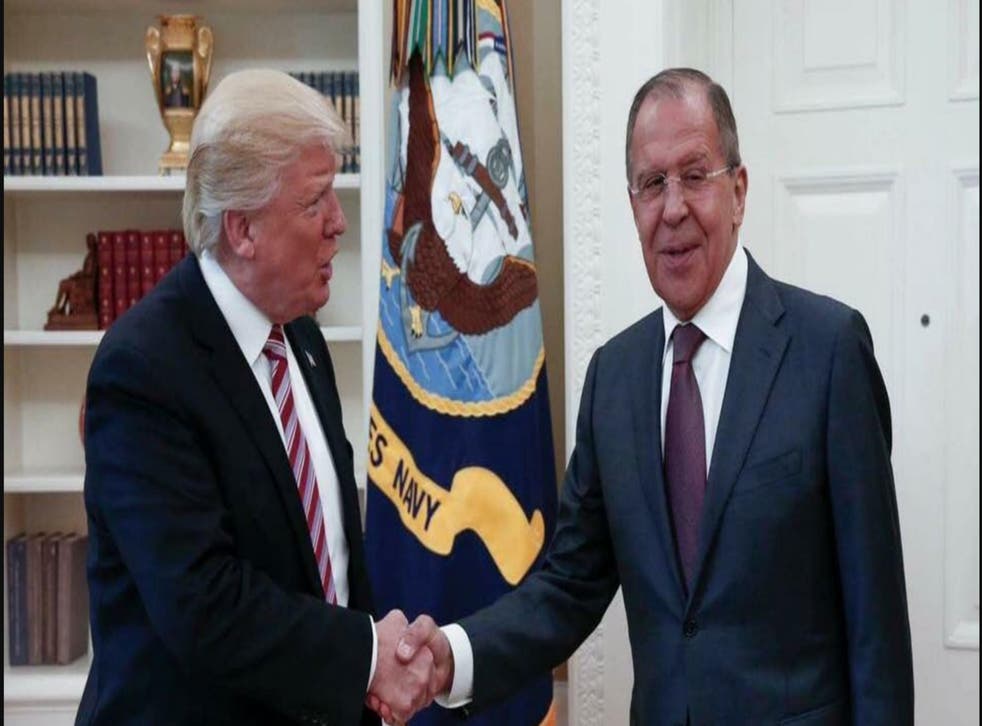 President Donald Trump has met with Russian Foreign Minister Sergei Lavrov against the backdrop of a developing drama over the countries alleged involvement in the US Presidential election, and potential ties to Mr Trump's team.
FBI Director James Comey, the man leading an investigation to potential Russian meddling in the election, was unceremoniously sacked by Mr Trump the day before the meeting, and the suprise move undoubtedly cast a shadow over Mr Lavrov's visit.
Both sides sought to praise the meeting, which is the highest level face-to-face contact with a Russian official since Mr Trump took. The US President called the meeting "very good" and when asked whether the Comey dismissal affected the meeting, he said "not at all."
The Russian diplomat steadfastly refused to weigh in on the firing during the meeting with Mr Trump.Mr Lavrov called it a US decision, echoing Russian President Vladimir Putin, who said Russia had nothing to do with Mr Comey's dismissal.
IBut while it may not have made that meeting, but Mr Lavrov also met earlier with US Secretary of State Rex Tillerson earlier and couldn't resist the opportunity to mock the firing on camera. "He was fired? You're kidding, you're kidding," Mr Lavrov said.
Mr Trump said last month that relations with Russia were at an "all-time low" but speaking after the meeting in the Oval Office, Mr Lavrov sought to blame the previous administration for that, describing the discussion with Mr Trump as "free of ideology, which hampered ties with the Obama White House." He also referred to Mr Trump's aides as "people of action."
Mr Lavrov said Russia wants to "play a decisive role" with the US in Afghanistan, with Mr Trump's administration recently signalling that the President was thinking about sending an additional 1,500 to 5,000 US troops to the country.
Donald Trump's first 100 days: in cartoons

Show all 33
The US has been fighting in Afghanistan for 16 years and currently have 8,400 troops in the country.
There have been reports that senior US military officials have been concerned that Russia may possibly be arming members of the Taliban terror group.
Mr Lavrov also briefly discussed the United Nations Security Council and said he hopes to see a "political solution." US Ambassador to the UN Nikki Haley has not minced words in her criticism of Russia, who have vetoed any resolutions to end the conflict in Syria eight separate times.
The Foreign Minister also mentioned several times that Russia hopes to remove "barriers" to their relationship with the US but did not elaborate further on what those were.
Mr Trump expressed his interest in pursuing "business-like relations" with Russia, according to Mr Lavrov.
Still, the overlap between the FBI Russia investigation and Mr Trump's diplomatic efforts could not be brushed aside. Russia's Foreign Ministry tweeted a photo of Mr Trump shaking hands with Mr Lavrov and the Russian Embassy posted another of the president greeting another participant in the meeting: Ambassador Sergei Kislyak, a central character in various Russia-related investigations because of his contacts with several individuals close to Mr Trump.
Mr Lavrov chalked up the controversy to "noise" and to "false news" — invoking Mr Trump's frequent references to the Russia allegations as "fake news."
On Syria, where Russia has backed President Bashar al-Assad's forces and the US has supported anti-Assad rebels, the talks appeared to indicate a slight narrowing of differences.
Russia, Turkey and Iran last week agreed on a plan for four "de-escalation zones" in the Arab country to quell a civil war that has killed some 400,000 people and contributed to global refugee and terror crises since erupting in 2011. The US isn't party to the deal and has reacted cautiously, especially given its misgivings about Iran's role.
But Mr Lavrov said he detected a U.S. willingness to participate, especially with a zone being formed in Syria's south, near the border with Israel and Jordan.
The zones would not cover areas where the US-led coalition is fighting Isis, but enforcement and other questions remain unanswered.
Mr Trump and Mr Lavrov also talked about Ukraine, but not the sanctions surrounding Russia's actions in the country. However, In his earlier meeting with Mr Lavrov, Mr Tillerson emphasised the US wouldn't lift sanctions on Russia related to Ukraine until Moscow reverses the actions that triggered the punishment — namely, its Crimea annexation.
Moscow wants the elimination of those and election-related sanctions imposed by Obama. Nevertheless, Mr Lavrov struck a conciliatory tone and said Russia isn't intending to retaliate.
"Putin doesn't want to follow the lead of those who are trying to poison our relations to the point of no return," he said.
Register for free to continue reading
Registration is a free and easy way to support our truly independent journalism
By registering, you will also enjoy limited access to Premium articles, exclusive newsletters, commenting, and virtual events with our leading journalists
Already have an account? sign in
Join our new commenting forum
Join thought-provoking conversations, follow other Independent readers and see their replies