UN shocked by level of poverty in Alabama: 'We haven't seen this in the first world'
'The hope is that we'll bring attention to these problems just like we bring attention to people who are being tortured'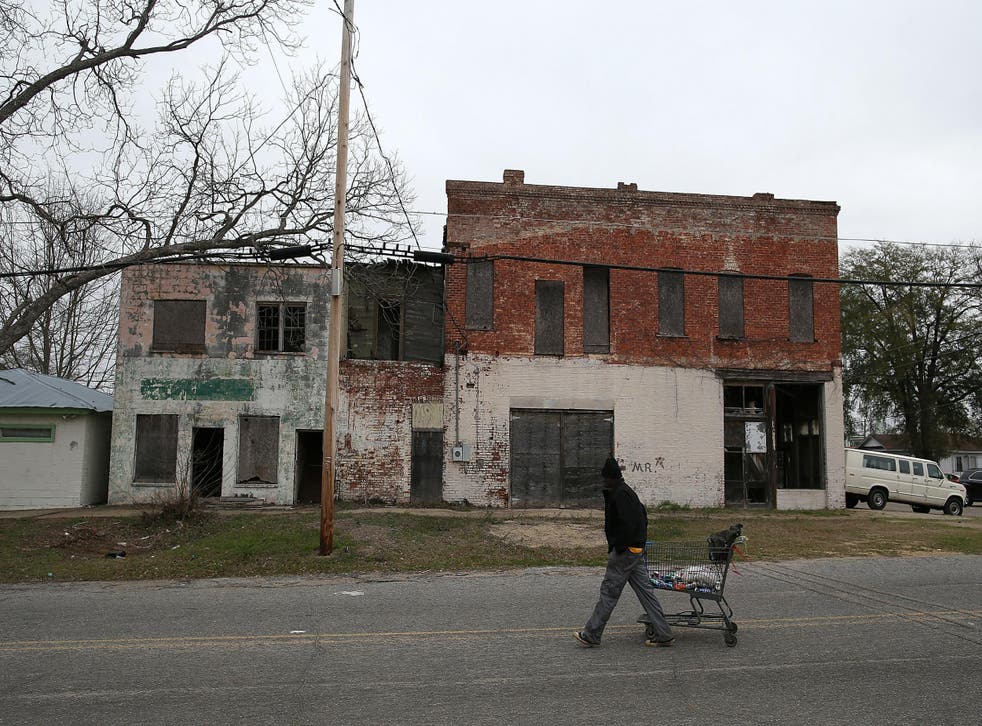 The US state of Alabama - which is holding a much-watched special election - has some of the worst conditions of poverty in the developed world, according to a visiting United Nations official.
Philip Alston, whose job takes him around the planet to look at conditions of extreme poverty, said some of the things he saw in parts of Alabama so-called Black Belt, particularly in regard to sewage disposal, were unprecedented in the West.
"I think it's very uncommon in the first world. This is not a sight that one normally sees," said Philip Alston, the UN's Special Rapporteur on extreme poverty and human rights. "I'd have to say that I haven't seen this."
Mr Alston made his comments to AL.com while touring parts of Butler County and Lowndes County, where he met a man who had unreliable electricity and a septic tank that no longer worked.
People in the region frequently suffer from E. Coli and hookworm, a disease associated with extreme poverty and which was thought to have been eradicated in the US more than 100 years ago but which was recently found to persist in pockets of Lowndes County, located just 20 miles from the state capital, Montgomery, where many residents are too poor to afford a septic system and make their own sewer lines using PVC piping. The lines run from the people's homes some 30ft above the ground before emptying into ditches or waste ground.
"This seems safe to [the residents]," Rojelio Mejia, a pediatrician and infectious disease specialist at the Baylor College of Medicine who led the study that discovered the continued existence of hookworm in Alabama, told NPR.
Roy Moore's wife claims he can't be antisemitic because 'one of our attorneys is a Jew'
"But Alabama is very hilly and any drizzle of rain causes flooding, so whatever they delivered to the site spreads to the entire area, including their neighbours' area."
Across the world, hookworm infects a total of 740m people
The Black Belt of Alabama was originally named for its rich top soil but took on another meaning after the establishment of slave plantations. It has long suffered from poverty and racial discrimination.
World news in pictures

Show all 50
Mr Alston, whose is carrying out a 15-day tour of the US to produce a report on poverty and human rights, was also taken to a property in Lowndes County where five people, including two youngsters and a teenager with Down Syndrome, live in a home where the sewage is discharged into open pools that flood when it rains.
In Butler County, Mr Alston reportedly told one resident: "The hope is that we'll bring attention to [these problems], just like we bring attention to people who are being tortured."
The special election, being held to fill the senate seat vacated by Attorney General Jeff Sessions when he joined Donald Trump's cabinet, has featured debate about poverty, jobs and economic growth in the state.
However, the contest between Democrat Doug Jones and Republican Roy Moore, has been largely dominated by allegations of sexual abuse and assault levelled at Mr Moore by a series of women. He has adamantly denied the claims.
Register for free to continue reading
Registration is a free and easy way to support our truly independent journalism
By registering, you will also enjoy limited access to Premium articles, exclusive newsletters, commenting, and virtual events with our leading journalists
Already have an account? sign in
Register for free to continue reading
Registration is a free and easy way to support our truly independent journalism
By registering, you will also enjoy limited access to Premium articles, exclusive newsletters, commenting, and virtual events with our leading journalists
Already have an account? sign in
Join our new commenting forum
Join thought-provoking conversations, follow other Independent readers and see their replies