The 'Swamp' is trying to hijack Donald Trump's presidency, claims Sarah Palin
'The swamp is trying to steal the victory we worked so long and hard for'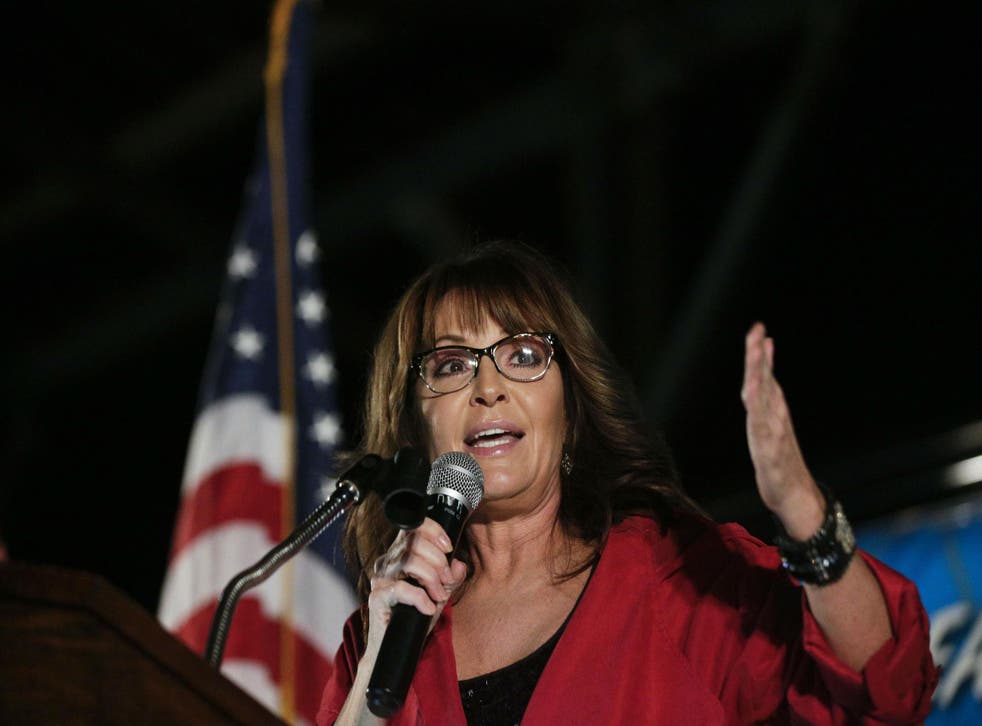 Former vice presidential candidate Sarah Palin - previously a vociferous supporter of Donald Trump - has claimed his anti-establishment candidacy is being "hijacked by the swamp".
The former Alaska governor, who was John McCain's Republican running mate in 2008, has thrown by her high-profile support behind an "insurgent" candidate in an Alabama senate race who is challenging the candidate supported by Mr Trump.
Ms Palin, a powerful figure within the Tea Party movement that predated Mr Trump's anti-mainstream candidacy, claimed she was not challenging Mr Trump. But she, former White House strategist Steve Bannon and former Trump administration security adviser Sebastian Gorka, are all supporting former senior judge Roy Moore, while Mr Trump is supporting Luther Strange, a state politician and prosecutor.
"A vote for Judge Moore isn't a vote against the President, it is a vote for the people's agenda that elected the President," Mr Palin said at a raucous Thursday night rally in Montgomery which followed a debate between Mr Strange and Mr Moore.
In a reference to Hillary Clinton's description of Mr Trump's supporters, she added: "He was deplorable before being deplorable was cool…..The forgotten man and woman in this country, they stood up, and we beat the swamp. But, alas, 10 months later, guys, the swamp, it's trying to hijack this presidency."
According to the Washington Post, she added: "The swamp is trying to steal the victory that we worked so long and hard for - to steal the victory that a lot of us put our reputations on the line for. We voted to put America first, not the political elite that had ignored us for decades."
Steve Bannon says the firing of James Comey was the biggest mistake in modern political history
Mr Moore has a long and controversial as one of the most influential and outspoken judges in the state. More than a decade ago, he sparked international headlines over his attempt to have a 5,000lb statue containing the Ten Commandments installed in the Alabama Supreme Court building.
After the Supreme Court in 2015 secured for same sex couples the right to marry, Mr Moore told state judges to ignore the decision and was subsequently suspended as the state's chief justice. Earlier this month, he suggested the attacks of 9/11 may have been caused by a lack of godliness.
Since Mr Bannon was fired from the White House, he has made clear his intention to support insurgent candidates across the country, in what he has framed as a challenge to the mainstream Republicanism of senate majority leader Mitch McConnell.
Donald Trump's international Presidential trips

Show all 22
Using the leverage of his powerful conservative news site, Bretibart News, and millions of dollars in funds from billionaire conservative donor Robert Mercer, Mr Bannon is hoping to have a major impact on the 2018 midterm elections.
CNN said that earlier this week, Mr Bannon ordered staff at Breitbart to step up what has already been its overwhelmingly positive coverage of Mr Moore and its negative coverage of Mr Strange.
The network said that Matthew Boyle, Breitbart's Washington editor, told staff: "The only story that matters until next week is Alabama."
"As of now, everyone is working on the Alabama race," Mr Boyle wrote in a message obtained by CNN from the company's internal Slack channel. "If anyone has any questions please let me know."
Mr Moore's team have also sought to highlight that Mr Strange was appointed to fill Mr Sessions slot on a temporary basis by then Governor Robert Bentley, who was being investigated by Mr Strange. Mr Bentley resigned in April amid an ethics scandal
At the rally on Thursday, Mr Gorka said: "You have a man in Judge Moore who has been endorsed by not just myself but Steve Bannon, Sean Hannity, Laura Ingram, Governor Palin - that should be enough. But just think who you have on the other hand? A man endorsed by Mitch McConnell - enough said."
Mr Moore is currently around eight points ahead of Mr Strange. Some experts believe, if Mr Moore wins, it may not mean Mr Bannon's other projects would see similar success.
"If Roy Moore wins, I don't think Bannon can take credit. Moore was ahead when the race started. Strange was disadvantaged because his appointment to the Senate was associated with Governor Bentley's scandal," Carol Cassel, a professor of politics at the University of Alabama, told The Independent.
"Strange was Alabama's Attorney General and wanted to investigate Bentley. However, Strange has gained some ground, and if he wins, I think Trump can take credit. Trump is very popular here."

Register for free to continue reading
Registration is a free and easy way to support our truly independent journalism
By registering, you will also enjoy limited access to Premium articles, exclusive newsletters, commenting, and virtual events with our leading journalists
Already have an account? sign in
Register for free to continue reading
Registration is a free and easy way to support our truly independent journalism
By registering, you will also enjoy limited access to Premium articles, exclusive newsletters, commenting, and virtual events with our leading journalists
Already have an account? sign in
Join our new commenting forum
Join thought-provoking conversations, follow other Independent readers and see their replies