Trump says Andrew Brunson 'will be home soon' as US pastor freed from Turkey prison after two years
Turkey's government had faced threats of further US sanctions over its treatment of the preacher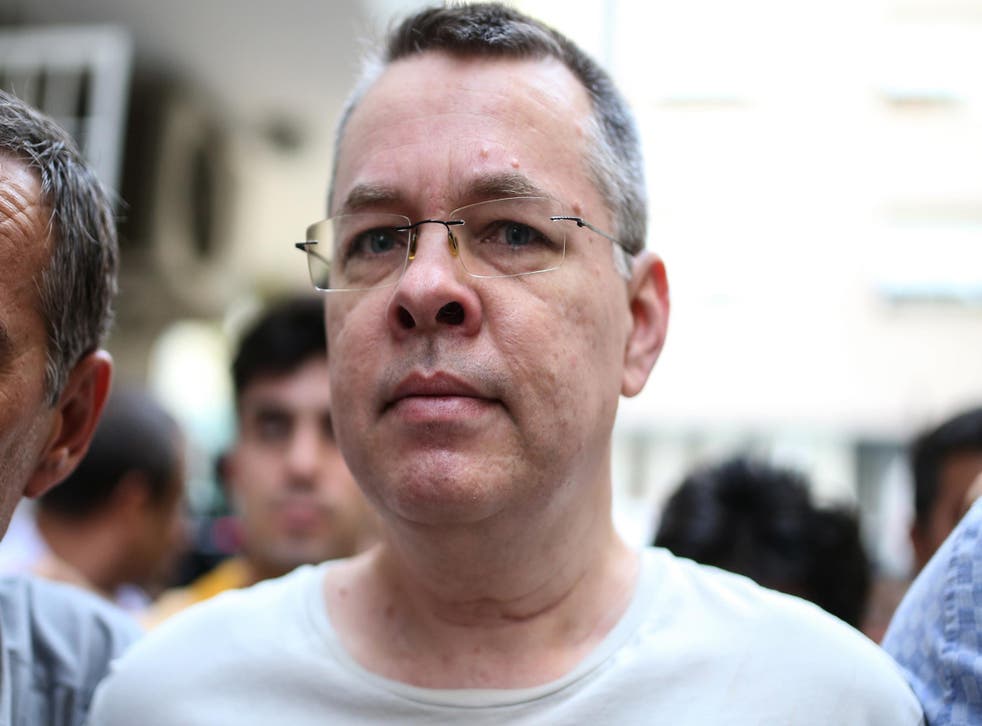 US pastor Andrew Brunson has been freed two years after he was imprisoned over allegations he was helping to plot a coup against President Recep Tayyip Erdogan.
A Turkish court sentenced the preacher to three years and one month in prison on charges related to terrorism and espionage, but suspended the rest of his jail time based on his time already served.
Mr Brunson was charged with links to Kurdish militants and supporters of Fethullah Gulen, the cleric blamed by Turkey for a failed coup attempt in 2016.
In July, after nearly two years in prison, Mr Brunson was moved to house arrest.
"His house arrest and ban on leaving the country has also been lifted," the privately-owned NTV news channel reports.The ruling paves the way for the 50-year-old's return to the United States.
Before the judge's ruling, the evangelical pastor is reported to have told the court: "I am an innocent man. I love Jesus, I love Turkey."
Mr Brunson, who has lived in Turkey for more than 20 years, preached in Izmir, a city on Turkey's Aegean coast near some of the sites of Christianity's first communities.
His detention was widely condemned and led to the US placing tariffs on Turkey's ailing economy and a bitter diplomatic row between the two nations.
Sarah Sanders 'We've seen no evidence that Pastor Brunson has done anything wrong'
President Donald Trump said via Twitter that Mr Brunson would be "back soon". He later added that his release was "good news" and that the pastor had "suffered greatly".
Mr Trump said that Mr Brunson would likely visit the White House on Saturday and that there had been "no deal" made with Turkey over his release.
This was followed soon after with a message from the president seeming to confirm the information, reading: "Pastor Brunson just released. Will be home soon!"
Mr Trump's evangelical base is likely to welcome the victory ahead of his mid-terms and the release will also help smooth relations between Ankara and Washington.
Aaron Stein, of US international affairs think tank the Atlantic Council, said that the move "buys goodwill" between Ankara and Washington, but that "if what I am hearing is correct, Turkey capitulated to American pressure".
And, he added, "I think the story is still incomplete and the difficulties, ranging from detained Americans to Syrian cities to Russian missiles, will continue to simmer."
But for now, Turkey won't be hit with more sanctions, he said.
World news in pictures

Show all 50
The Turkish presidency's communications director said the ruling was proof of the independence of Turkey's judiciary and that it was a democratic country with the rule of law.
"It is with great regret that we have been monitoring US efforts to mount pressure on Turkey's independent court system for some time. During this period, our country has been subjected to various threats of sanctions," Fahrettin Altun said in a statement.
He added that president Erdogan "has repeatedly stressed that Turkey would not bow to those threats and noted that there could be no guardianship over the independent and impartial judiciary. He urged all parties to respect the court's final decision."
"We would like to remind him once again that Turkey is a democratic country with the rule of law, and that Turkish courts are independent."
Register for free to continue reading
Registration is a free and easy way to support our truly independent journalism
By registering, you will also enjoy limited access to Premium articles, exclusive newsletters, commenting, and virtual events with our leading journalists
Already have an account? sign in
Register for free to continue reading
Registration is a free and easy way to support our truly independent journalism
By registering, you will also enjoy limited access to Premium articles, exclusive newsletters, commenting, and virtual events with our leading journalists
Already have an account? sign in
Join our new commenting forum
Join thought-provoking conversations, follow other Independent readers and see their replies