Anthony Scaramucci's expletive laden rant about Trump team colleagues in full and uncensored
Warning: this article contains strong swearing and foul language, uttered during an on-the-record phone call by the White House Communications Director
Caroline Mortimer
Friday 28 July 2017 08:51 Comments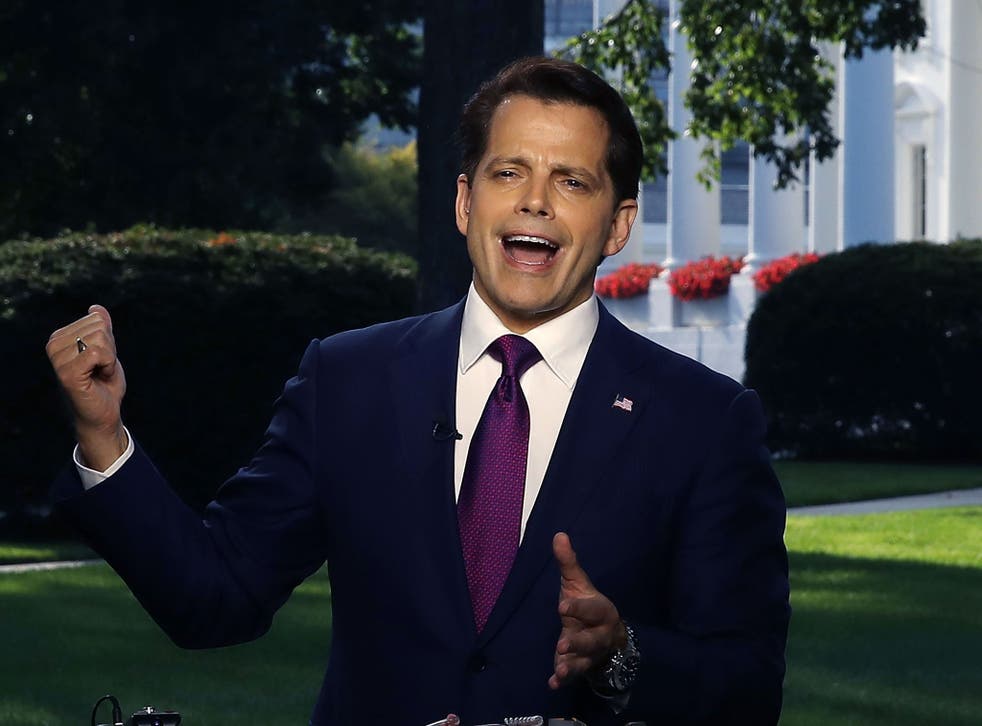 The newly installed Communications Director of the White House, Anthony Scaramucci, has landed himself in hot water after an on-the-record rant to a New Yorker journalist in which he attacked Chief of Staff Reince Priebus and threatened to fire his entire communications team.
He was angry about a story which revealed Mr Trump had had dinner with Fox presenter Sean Hannity.
The comms chief said he had been installed to route out leaks from the Trump administration and called journalist Ryan Lizza to insist he reveal his sources – something Mr Lizza refused to do.
The extraordinary nature of the rant, coupled with Mr Scaramucci's seniority in the US government, has put editors in a difficult position over how to cover the developing public row at the heart of the White House. The Independent has chosen to publish Mr Scaramucci's words in full in this article so that readers can see for themselves the language Mr Trump's top advisers are using about each other.
Here is what he said in full (Warning: Bad language):
On leaks
"Who leaked that to you? What I'm going to do is, I will eliminate everyone in the comms team and we'll start over.
"I ask these guys not to leak anything and they can't help themselves.
"You're an American citizen, this is a major catastrophe for the American country. So I'm asking you as an American patriot to give me a sense of who leaked it."
"Is it an assistant to the President?
"OK, I'm going to fire every one of them, and then you haven't protected anybody, so the entire place will be fired over the next two weeks."
"I've asked people not to leak things for a period of time and give me a honeymoon period. They won't do it."
"They'll all be fired by me.
"I fired one guy the other day. I have three to four people I'll fire tomorrow. I'll get to the person who leaked that to you. Reince Priebus—if you want to leak something—he'll be asked to resign very shortly."
"What I want to do is I want to fucking kill all the leakers and I want to get the President's agenda on track so we can succeed for the American people,"
On Reince Priebus
"Reince is a fucking paranoid schizophrenic, a paranoiac.
"'Oh, Bill Shine is coming in. Let me leak the fucking thing and see if I can cock-block these people the way I cock-blocked Scaramucci for six months.'
"He didn't get the hint that I was reporting directly to the President.
"And I said to the President here are the four or five things that he will do to me."
On leaks about his financial interests
Insisting that Mr Priebus's leaked his financial disclosure form as he entered the White House, he called it a "felony".
"I've called the F.B.I. and the Department of Justice.
"The swamp will not defeat him.
"They're trying to resist me, but it's not going to work. I've done nothing wrong on my financial disclosures, so they're going to have to go fuck themselves.
The biggest names involved in the Trump-Russia investigation

Show all 17
"OK, the Mooch showed up a week ago.
"This is going to get cleaned up very shortly, OK? Because I nailed these guys.
"I've got digital fingerprints on everything they've done through the F.B.I. and the fucking Department of Justice.
Well, the felony, they're gonna get prosecuted, probably, for the felony. The lie detector starts—"
On Chief of Staff Steve Bannon
"I'm not Steve Bannon, I'm not trying to suck my own cock.
"I'm not trying to build my own brand off the fucking strength of the President. I'm here to serve the country."
On Donald Trump's involvement
"Well, he doesn't know the extent of all that, he knows about some of that, but he'll know about the rest of it first thing tomorrow morning when I see him."
On how he will respond
"Yeah, let me go, though, because I've gotta start tweeting some shit to make this guy crazy."
Register for free to continue reading
Registration is a free and easy way to support our truly independent journalism
By registering, you will also enjoy limited access to Premium articles, exclusive newsletters, commenting, and virtual events with our leading journalists
Already have an account? sign in
Join our new commenting forum
Join thought-provoking conversations, follow other Independent readers and see their replies