AOC trolls Amazon with its own email scolding drivers for pooping in bags
'This you?' congresswoman tweets at retailer, attaching disturbing company email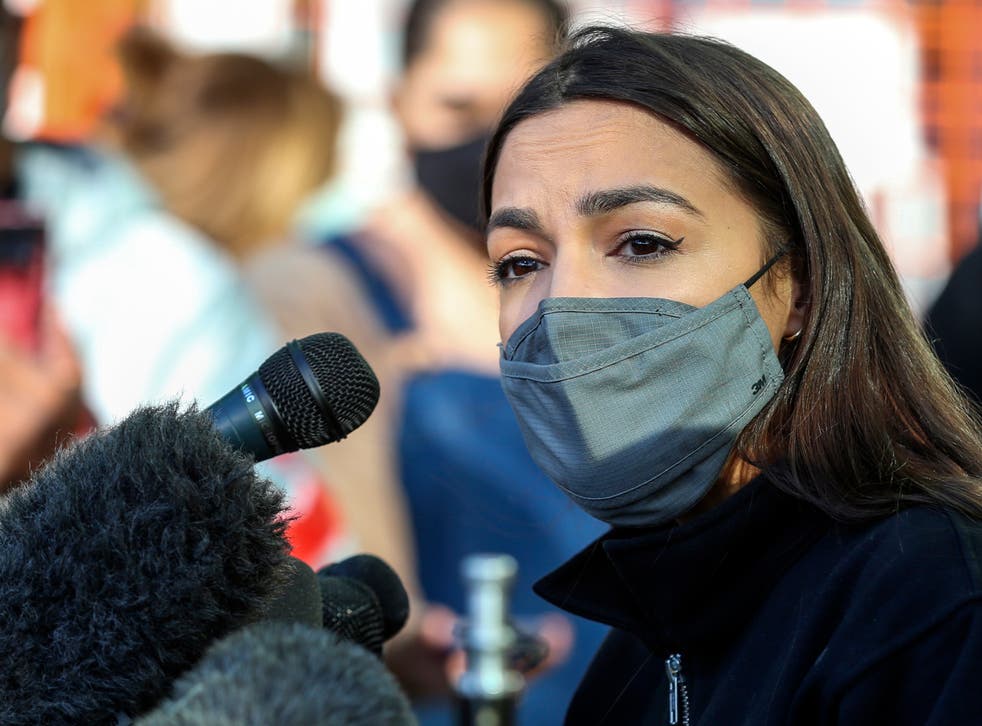 Leer en Español
After Amazon sparred with a US congressman on Twitter about its labour policies, Representative Alexandria Ocasio-Cortez weighed in with some of the company's own graphic words.
"DA's [driver associates] cannot, MUST NOT, return bags to station with poop inside," an Amazon manager scolded employees in a company email, which Ms Ocasio-Cortez attached to her tweet.
"This you?" the congresswoman asked the online retailer.
Over the past few years, Amazon has been repeatedly accused of leaving its overworked employees no time to go to the bathroom. That allegation came up in a Twitter exchange between Wisconsin representative Mark Pocan and Dave Clark, Amazon's chief of consumer business, who was extolling the corporation's "progressive" policies.
"If you want to hear about $15 an hour and health care, Senator Sanders will be speaking downtown," Mr Clark tweeted. "But if you would like to make at least $15 an hour and have good health care, Amazon is hiring."
Read more:
Rep. Pocan disputed that rosy picture of Amazon's labor policies.
"Paying workers $15/hr doesn't make you a 'progressive workplace' when you union-bust and make workers urinate in water bottles," the congressman wrote.
Amazon News, an official Twitter account for the retailing giant, then leapt to Mr Clark's defense.
"You don't really believe the peeing in bottles thing, do you?" the account asked incredulously. "If that were true, nobody would work for us."
That's when Ms Ocasio-Cortez posted the no-defecating email.
Amazon has denied that it leaves its employees no time for bathroom breaks, calling such allegations "misinformation". But the idea that the company is unaware of the problem seemed to be undercut by the email, which mentioned multiple occasions of drivers defecating or urinating in their vehicles.
"This is the 3rd occasion in the last 2 months when bags have been returned to station with poop inside," the email chided. "We've noticed an uptick recently of all kinds of unsanitary garbage being left inside bags: used masks, gloves, bottles of urine."
"These behaviours are unacceptable, and will result in Tier 1 Infractions going forward," the email went on to warn.
Ms Ocasio-Cortez also linked to a report by The Intercept regarding the issue. According to that report, multiple Amazon employees and documents indicated that Amazon knows its workers relieve themselves in bottles and bags, but treats these incidents more as misbehaviours to be punished than as evidence of overwork.
"In the morning, you must check your van thoroughly for garbage and urine bottle," a company email obtained by The Intercept told employees. "If you find urine bottle(s) please report to your lead, supporting staff or me. Vans will be inspected by Amazon during debrief, if urine bottle(s) are found, you will be issue an infraction tier 1 for immediate offboarding."
Amazon has not yet responded toThe Independent's request for comment.
Join our new commenting forum
Join thought-provoking conversations, follow other Independent readers and see their replies