AOC defends time spent on Twitter: 'Not all politics is envelopes to corporate CEOs for money'
Congresswoman's comments appear to be a swipe at her colleague, senator Joe Manchin
Matt Mathers
Wednesday 02 December 2020 16:34 Comments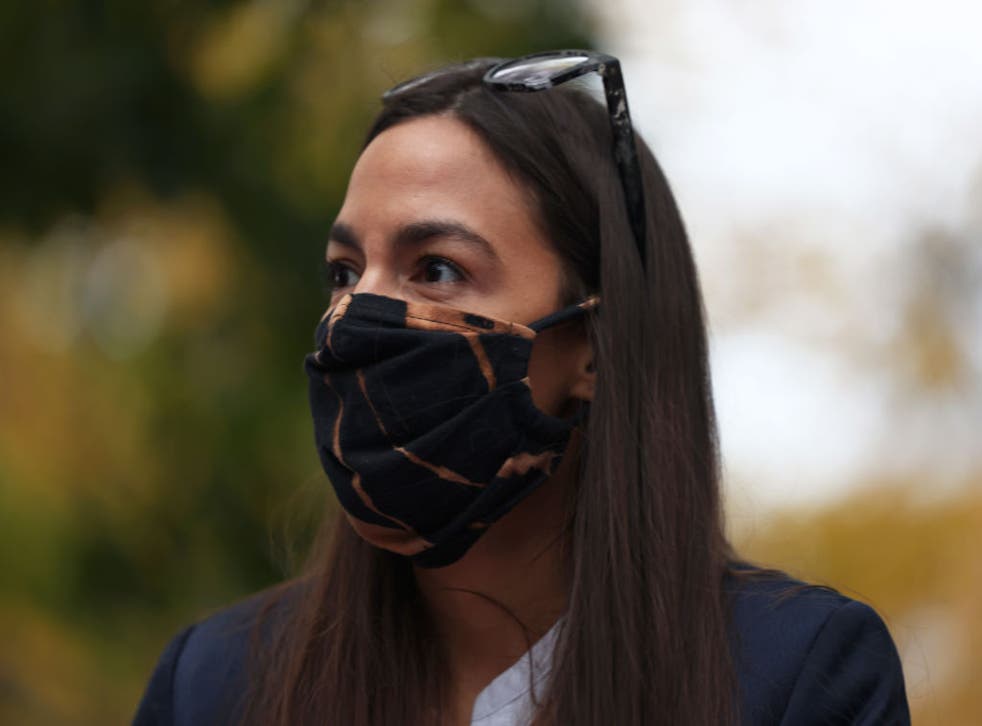 Democrat lawmaker Alexandria Ocasio-Cortez on Wednesday defended the time she spends on Twitter, saying that not all politics is about "envelopes to corporate CEOs for money".
Ms Ocasio-Cortez, representative for New York's 14th congressional district, said she finds it "amusing" when fellow politicians attempt to diminish "the seriousness of our policy work".
Those comments appear to be a swipe at her Democrat colleague Joe Manchin, a West Virginia senator, who in an interview published earlier this week claimed Ms Ocasio-Cortez is "more active on Twitter" than in Congress.
It is the latest escalation in a war of words between the pair and the two wings of the Democrat Party more broadly, as the left and centre battle it out over the future direction of the party under Joe Biden, president-elect.
"I find it amusing when politicians try to diminish the seriousness of our policy work, movement organizing & grassroots fundraising to 'she just tweets,'" Ms Ocasio-Cortez said in response to Mr Manchin's Twitter jibe.
"...As though 'serious' politics is only done by begging corporate CEOs for money through wax-sealed envelopes delivered by raven," she added in an early morning tweet.
Ms Ocasio-Cortez's spokeswoman Lauren Hitt previously countered Mr Manchin's Twitter claims, telling the New York Times that the congresswoman, 31, has submitted more amendments than 90 per cent of her freshman colleagues.
Mr Manchin, who describes himself as a "proud West Virginia Democrat", had initially been commenting on a photo Ms Ocasio-Cortez shared to Twitter in November.
In the image, she can be seen giving Mr Manchin, 73, "the evils" during president Donald Trump's State of the Union address in February.
The photo was attached to a quote by Mr Manchin in which he said, "Defund the police? Defund, my butt," while responding to questions on whether he supported such a move.
The spat between the two Democrat lawmakers is symbolic of a wider feud gripping the party following their poor showing in congressional election contests.
Despite four years of White House chaos under outgoing president Donald Trump, the Democrats saw their House majority slashed to just 12 in an election where they expected to make gains.
Democrats have so far lost nine House seats, while the Republicans gained nine and may well hang onto control of the Senate following Georgia's run-off elections.
Centrist Democrats such as Mr Manchin blame the party's left-wingers for the loss of seats.
Left-wingers like Ms Ocasio-Cortez say the poor showing is because the party isn't radical enough on health care, climate change and immigration.
Register for free to continue reading
Registration is a free and easy way to support our truly independent journalism
By registering, you will also enjoy limited access to Premium articles, exclusive newsletters, commenting, and virtual events with our leading journalists
Already have an account? sign in
Join our new commenting forum
Join thought-provoking conversations, follow other Independent readers and see their replies