Barack Obama is 'ready' to return to politics, Joe Biden says
'I'm ready to help raise money, recruit candidates, campaign – so is Barack – wherever you want, just let me know,' former Vice President tells Democrats
Katie Forster Comments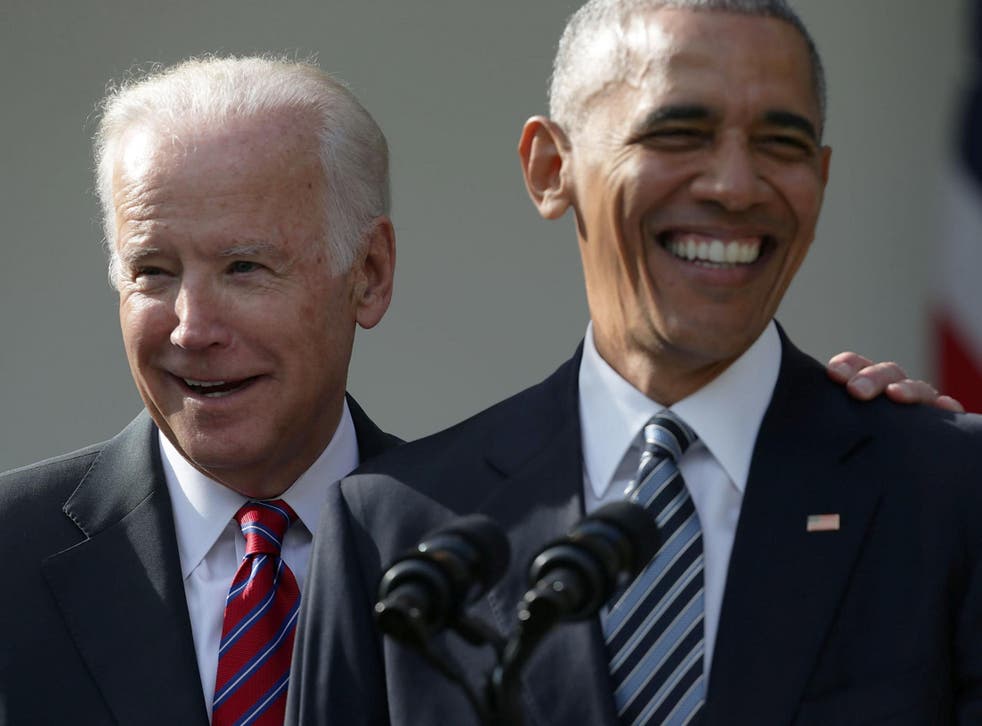 Barack Obama is willing to campaign for the Democratic Party, Joe Biden has said, indicating the former US President does not plan to retire from politics just yet.
At an annual party dinner, Mr Biden extinguished rumours he will run for President in 2020, but said he and Mr Obama would do whatever they can to "help shape the public debate".
"I'm ready to help raise money, recruit candidates, campaign – so is Barack – wherever you want, just let me know," he said, reported The Hill.
Since leaving the White House just over 100 days ago, Mr Obama has been spotted on holiday in the Caribbean and recently made his first post-presidency speech at a community youth event in Chicago, where he did not mention political events or his successor Donald Trump.
Crowds at the state Democratic Party dinner in New Hampshire booed when Mr Biden addressed suggestions he might run for President.
"When I got asked to speak, I knew it was going to cause speculation," he said to big applause, which transformed into boos and calls of "run, Joe, run" after he added: "Guys, I'm not running."
The former Vice President said he was "committed to do what I can do to help shape the public debate," including the "really, genuinely important" cause of helping more Democrats be elected.
Joe Biden had the best reaction when Obama awarded him the Presidential medal of freedom
Mr Obama has so far kept quiet about the prospect of a political comeback, telling the University of Chicago panel event: "I'm spending a lot of time thinking about what is the most important thing I can do for my next job.
"The single most important thing I can do is to help in any way I can to prepare the next generation of leadership to take up the baton and to take their own crack at changing the world".
Previous presidents have pursued other interests after leaving office: George W Bush has taken up painting, while Jimmy Carter founded a centre for democracy and human rights.
Joe Biden and Barack Obama through the years

Show all 15
Bill Clinton continued to campaign for the Democratic Party after his presidency ended, supporting his wife Hillary on the campaign trail last year.
Former attorney general Eric Holder hinted Mr Obama might return to politics in March, saying: "It's coming. [Presdient Obama is] coming. And he's ready to roll," reported the Daily Beast.
The 55-year-old has chosen to remain in Washington DC with Michelle Obama and their two daughters Sasha and Malia.
Register for free to continue reading
Registration is a free and easy way to support our truly independent journalism
By registering, you will also enjoy limited access to Premium articles, exclusive newsletters, commenting, and virtual events with our leading journalists
Already have an account? sign in
Join our new commenting forum
Join thought-provoking conversations, follow other Independent readers and see their replies