Ben & Jerry's Free Cone Day: Ice cream impresarios create new flavour to back Bernie Sanders' presidential bid
'Bernie's Yearning' was designed with the Democratic hopeful's socialist economic platform in mind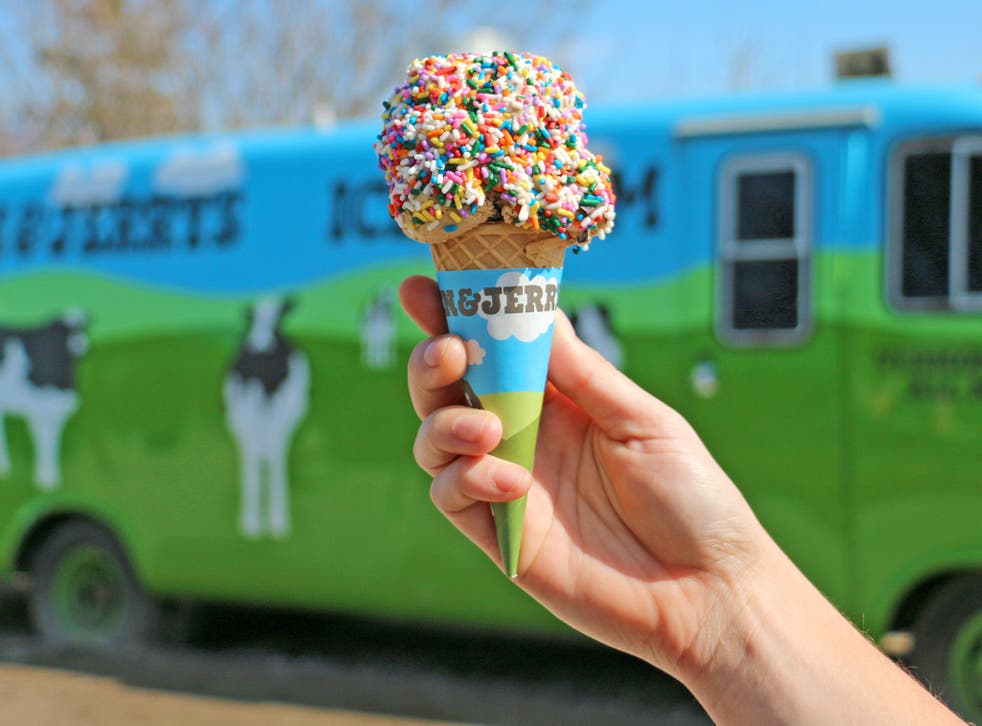 A Jewish kid from New York, who made his name in Burlington, Vermont – and who likes to give away free stuff? This may sound to some people like Senator Bernie Sanders, the Democratic presidential hopeful. But it's also a fair description of Ben Cohen and Jerry Greenfield, aka the ice cream impresarios Ben & Jerry.
Messrs Cohen and Greenfield, both 65, opened their first ice cream parlour in Burlington, Vermont, in 1978. The following year they held the company's first annual Free Cone Day. The tradition continues almost 40 years later: today, 12 April, customers at participating Ben & Jerry's locations can eat as many free scoops of ice cream as they're prepared to queue up for. Last year on Free Cone Day, Ben & Jerry's distributed more than a million free scoops.
The company founders also handed out free ice cream last month, when they gave away sundaes made with Mr Cohen's latest flavour, "Bernie's Yearning" to people in Union Square in New York. The flavor was created in support of Mr Sanders' presidential bid, and is made from mint ice cream covered with a thick disc of dark chocolate.
Unusual ice cream flavours

Show all 9
The flavour was designed with Mr Sanders's socialist economic platform in mind, Mr Cohen explained on his website. "The chocolate disc represents the huge majority of economic gains that have gone to the top one per cent since the end of the recession. Beneath it, the rest of us," he wrote. To eat it, Mr Cohen explained, diners should smash the chocolate into chunks with a spoon and mix them with the mint ice cream, so as to share the chocolate wealth more equally with the 99 per cent.
Ben & Jerry's is now owned by Unilever, and Mr Cohen and Mr Greenfield are prevented from profiting from any rival ice creams by a non-compete clause, so Bernie's Yearning was a limited batch given out for free, and is not an official Ben & Jerry's flavour.
Mr Sanders was elected mayor of Burlington in 1981, his first major public office. "He's our guy 'cause we've been his constituents for over 30 years," Mr Cohen recently told NPR. "We've never campaigned for another presidential candidate before because there's never been a presidential candidate worth campaigning for before."
Join our new commenting forum
Join thought-provoking conversations, follow other Independent readers and see their replies