Bernie Sanders claims 'landslide wins' in Washington and Alaska
The Vermont senator is trying to make up a sizeable lead held by Hillary Clinton
Andrew Buncombe
New York
Saturday 26 March 2016 22:16 Comments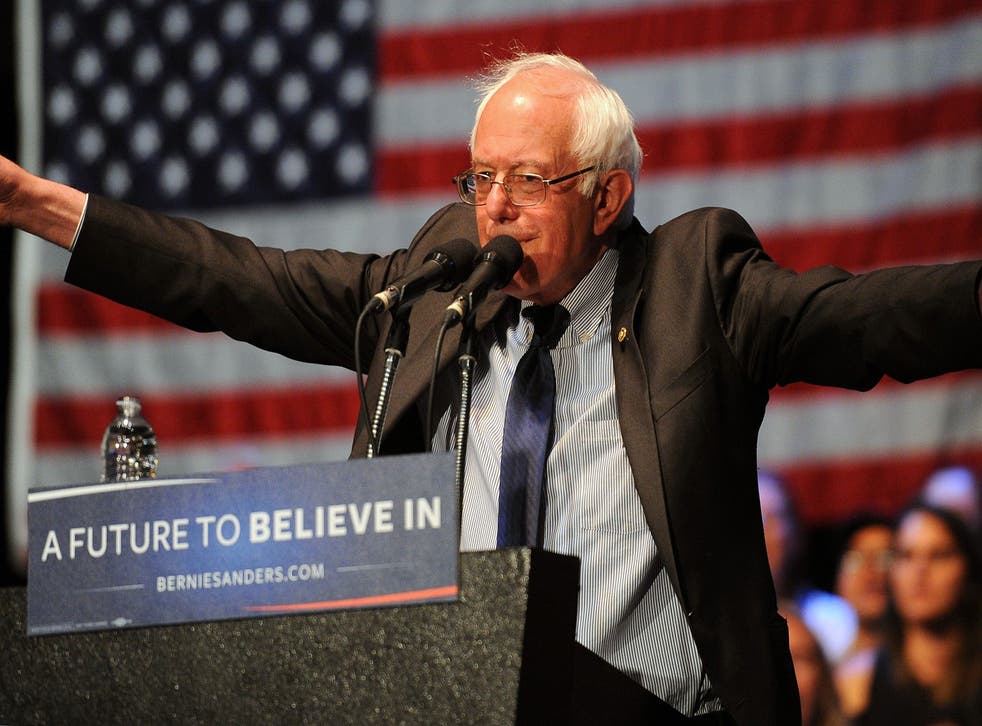 Smiling and grinning, Bernie Sanders has claimed two big wins as he pushed on with his attempt to make up ground on his Democratic rival Hillary Clinton in the battle to become the party's presidential nominee.
With most of the vote counted, CNN on Saturday evening projected that Mr Sanders had won the states of Washington and Alaska, adding to his delegate haul. Mr Sanders was leading on 71 per cent in Washington state while Ms Clinton was on 28 per cent.
In Alaska, the Vermont senator had an even bigger margin of victory. He secured 80 per cent, while the former secretary of state won 19 points. The state of Hawaii was holding its caucuses later on Saturday.
Speaking to supporters in Madison, Wisconsin, Mr Sanders said: "I knew that we were going to have a hard time in the Deep South, where people are more conservative. But we knew things were going to improve as we headed West."
To loud, raucous cheers, he added: "We are making significant inroads into Secretary Clinton's lead and we have a path towards victory."
Ms Clinton currently has a significant lead over Mr Sanders in the race for securing the Democratic nomination, going into so-called Western Saturday with 1223 pledged delegates compared to his 920. After the results in Washington and Alaska, Ms Clinton had increased her rally to 1,234 while Mr Sanders total had risen to 956.
Mr Sanders was trying to build on overwhelming victories earlier this week in caucuses in Idaho and Utah.
However, he also suffered defeat in Arizona, and although his delegate haul from the three states was 20 higher than that of Ms Clinton, he has failed to make major inroads into her lead.
Both candidates have been campaigning in Washington state. Ms Clinton told supporters in Everett: "We are on the path to the nomination, and I want Washington to be part of how we get there."
Washington was the biggest prize on Saturday, with 101 pledged delegates available. Hawaii has 25 delegates at stake and Alaska 16.
Register for free to continue reading
Registration is a free and easy way to support our truly independent journalism
By registering, you will also enjoy limited access to Premium articles, exclusive newsletters, commenting, and virtual events with our leading journalists
Already have an account? sign in
Join our new commenting forum
Join thought-provoking conversations, follow other Independent readers and see their replies