Bernie Sanders backs Clinton over Republican claims that she criticised his supporters as 'basement-dwellers'
The Vermont Senator said Ms Clinton's suggestion that some hard-up Millennials were stuck 'living in their parents' basement' was 'absolutely correct'
Tim Walker
US Correspondent
Sunday 02 October 2016 23:03 Comments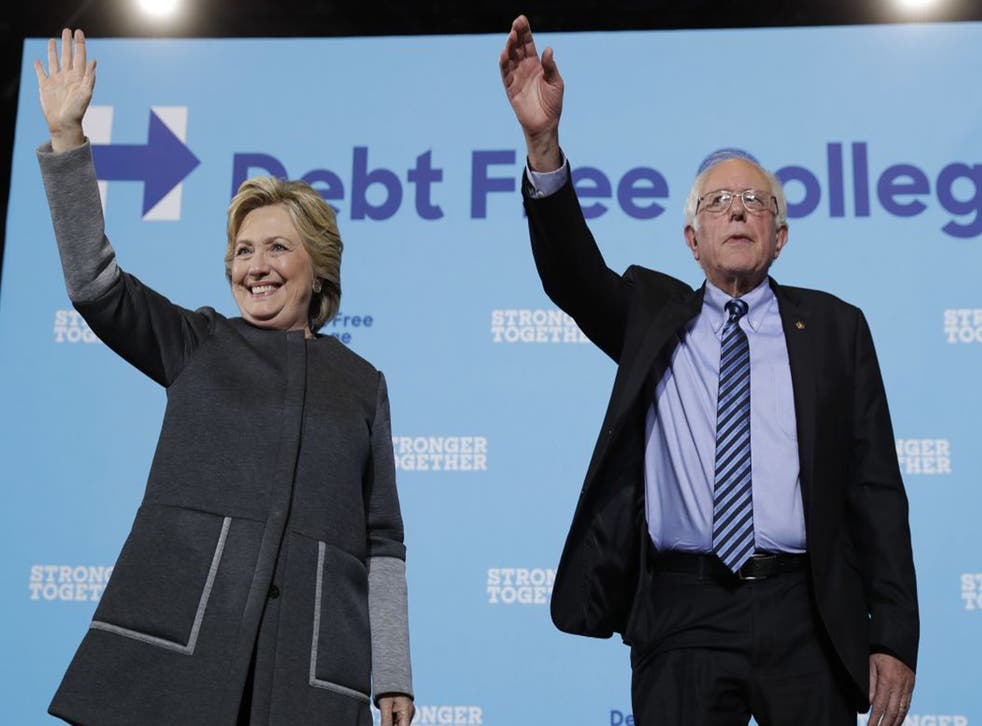 Bernie Sanders has defended Hillary Clinton over a leaked recording in which, Republicans claimed, the Democratic presidential nominee had demeaned young voters who supported him. The Vermont Senator, who endorsed Ms Clinton after a hard-fought Democratic primary, said on Sunday that her comments had in fact been "absolutely correct".
The audio recording in question came from a private fundraiser held in February, when Ms Clinton and Mr Sanders were still opponents. Published this week by conservative website the Washington Free Beacon, it featured Ms Clinton describing Millennials as "children of the great recession," some of whom were "living in their parents' basement."
For those who felt "consigned to being a barista some other job that doesn't pay a lot and doesn't have some other ladder of opportunity attached to it," she went on, "the idea that maybe, just maybe, you could be part of a political revolution is pretty appealing."
Thus the widespread support among young people for Mr Sanders' European-style socialism was hardly surprising, Ms Clinton said, adding: "I think we should all be really understanding of that and should try to do the best we can to not be a wet blanket on idealism."
While her full remarks suggest empathy for the challenges facing young people in the wake of the economic crisis, Republicans have seized on the speech as an example of the Democratic nominee's lack of empathy, claiming she had criticised Millennials as lazy "basement-dwellers".
Donald Trump's campaign manager, Kellyanne Conway, tweeted that Clinton had been "caught again mocking Americans; she hates coal miners, baristas, Sanders idealists."
Polls show the former Secretary of State has struggled to connect with young voters, and many former Sanders supporters have indicated they will cast their ballot for third-party candidates Gary Johnson or Jill Stein, of the Libertarian and Green parties respectively.
Speaking on ABC News, however, Mr Sanders said he agreed wholeheartedly with Ms Clinton's sentiments. "There are young people who went deeply into debt, worked very hard to get a good education – they are living in their parents' basements and that's the point," he said.
Acknowledging that he and Ms Clinton had "real differences", Mr Sanders nonetheless insisted they had found common ground on a range of issues including climate change, tax reform, equal pay for women and the influence of money in politics.
"The bottom line here is that since the [primary], Secretary Clinton has worked with me," he said, adding: "Clinton is far and away the superior candidate."
The leaked audio might have made a greater splash were it not for this weekend's revelations regarding Mr Trump's 1995 tax returns, published in part by the New York Times, which showed the property mogul declaring a loss of almost a billion dollars that year.
Meanwhile, Mr Trump was expected to make hay with the Clinton audio recording at a rally in Pennsylvania on Saturday, but instead used the speech to rant about Ms Clinton's recent bout of pneumonia, problems with his microphone at the first presidential debate, claims that Ms Clinton wasn't "loyal" to her husband and unfounded warnings of potential voter fraud.
Register for free to continue reading
Registration is a free and easy way to support our truly independent journalism
By registering, you will also enjoy limited access to Premium articles, exclusive newsletters, commenting, and virtual events with our leading journalists
Already have an account? sign in
Join our new commenting forum
Join thought-provoking conversations, follow other Independent readers and see their replies