Bernie Sanders returns to his childhood home in Brooklyn
The Vermont senator held two rallies in Brooklyn on Friday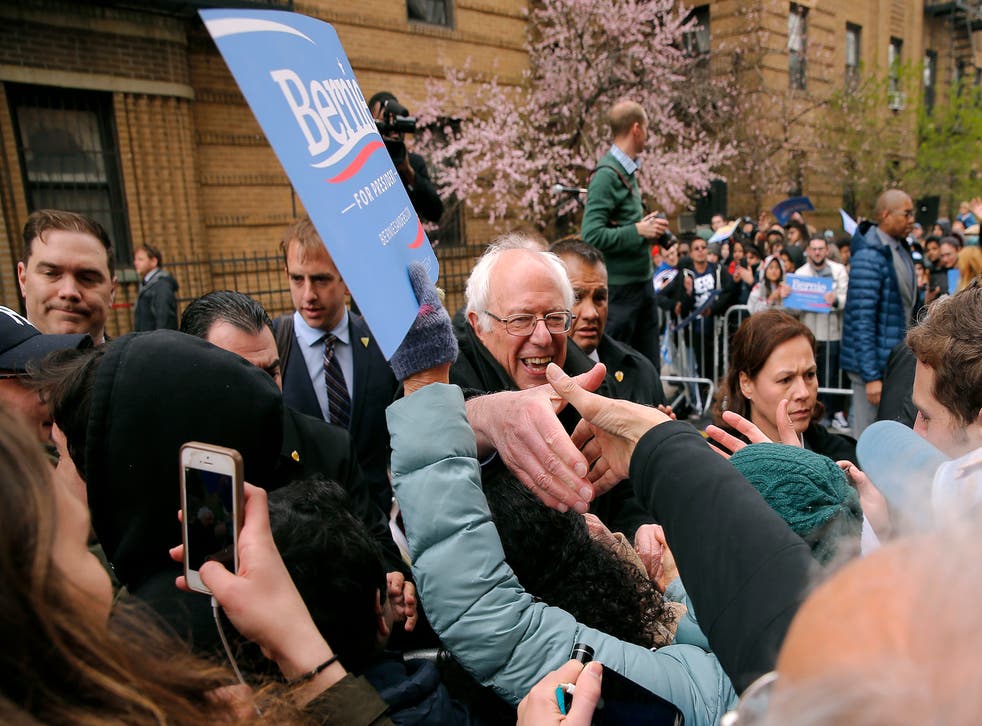 Bernie Sanders returned to his home borough of Brooklyn on Friday to campaign ahead of New York's April 19 primary.
The 74-year-old Vermont senator spoke to a diverse crowd outside the prewar, rent-controlled apartment building he grew up in with his family.
"This was a great community to grow up in, I thank all of you here today," Sanders told his supporters.
Sanders touched on all of his policy proposals including tuition free college, universal healthcare, $15 minimum wages and criminal justice reform.
"All over this state and all over this country, there is a movement developing that says it is too late for establishment politics and establishment economics."

The rally was the first of three New York City events planned for Sanders as he hopes to upend the Democratic front-runner Hillary Clinton who served eight years as a senator in New York.
Asher Kirsch, a 19-year-old film student, said that he showed up to Thursday's rally because Sanders is a "man of the people."
"He supports a lot of important issues: taking action on climate change, supporting the working class, raising minimum wage, and basically uplifting people who need a chance right now in this economy, and those who've really been left behind," he said.
Kirsch attended the rally with his friend Brian, a 22-year-old communications major at Farmingdale State College. Both students agreed that while it wouldn't be "ideal," they would shift their support behind Hillary Clinton if she secures the Democratic nomination.
"Donald Trump is Hitler," Brian said earnestly. "He's very racist. He's discriminating against many different types of people, and that's what Hitler did. But he's also a business man, he shouldn't be running for president, he should be running back to Trump towers."
On the other hand, "Bernie is a loving guy," Brian added. "He just gave me a wave over there! Yeah, he's a genuine guy, I like him."
Register for free to continue reading
Registration is a free and easy way to support our truly independent journalism
By registering, you will also enjoy limited access to Premium articles, exclusive newsletters, commenting, and virtual events with our leading journalists
Already have an account? sign in
Register for free to continue reading
Registration is a free and easy way to support our truly independent journalism
By registering, you will also enjoy limited access to Premium articles, exclusive newsletters, commenting, and virtual events with our leading journalists
Already have an account? sign in