Top Biden aide suspended for threatening to 'destroy' reporter over relationship story
Deputy press secretary TJ Ducklow was angry Politico asked him about Alexi McCammond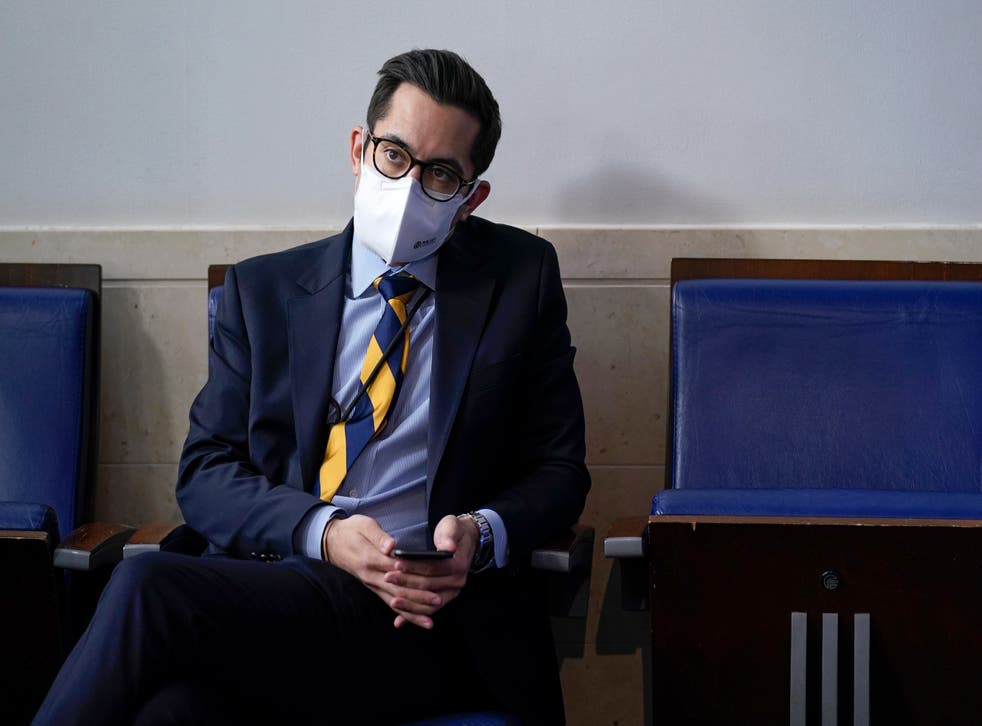 Leer en Español
A top Joe Biden aide has been suspended for a week without pay for threatening to "destroy" a reporter writing a story on his relationship.
White House deputy press secretary TJ Ducklow lashed out at journalist Tara Palmeri and tried to quash a story that he was dating Axios political reporter Alexi McCammond.
When he found out about the story Mr Ducklo reportedly called Politico's Ms Palmeri and told her "I will destroy you."
Now he has been suspended by the White House for falling below the standards "of behaviour set out by the President."
"TJ Ducklo has apologised to the reporter, with whom he had a heated conversation about his personal life," said White House press secretary Jen Psaki in a statement.
"He is the first to acknowledge this is not the standard of behaviour set out by the president.
"In addition to his initial apology, he has sent the reporter a personal note expressing his profound regret.
"With the approval of the White House Chief of Staff, he has been placed on a one-week suspension without pay.
"In addition, when he returns, he will no longer be assigned to work with any reporters at Politico."
Ms McCammond, 27, covered Joe Biden's presidential campaign in 2019 and 2020 but has now been reassigned to cover progressive lawmakers in Congress.
During his off-the-record call with Ms Palmeri, Mr Duckworth accused her of being "jealous" of his relationship with Ms McCammond, says Vanity Fair.
The confrontation reportedly resulted in a string of conversations between Politico and the White House to try and straighten out the matter.
Shortly after entering the White House the president publicly told his staff that he would not accept poor behaviour from them.
""I am not joking when I say this: If you are ever working with me and I hear you treat another colleague with disrespect, talk down to someone, I promise you I will fire you on the spot. No ifs, ands, or buts," said Mr Biden at a virtual swearing-in ceremony.
Mr Ducklow and Ms McCammond have now spoken publicly about their relationship.
"We both realized we both felt the same way. We're both really happy, and we wanted to do it the right way," Mr Ducklow told People magazine.
Join our new commenting forum
Join thought-provoking conversations, follow other Independent readers and see their replies