Black lawmakers urge Biden to protect voting rights during Oval Office meeting
Warnock says lawmakers told president: 'We can work on both infrastructure and the infrastructure of our democracy at the same time'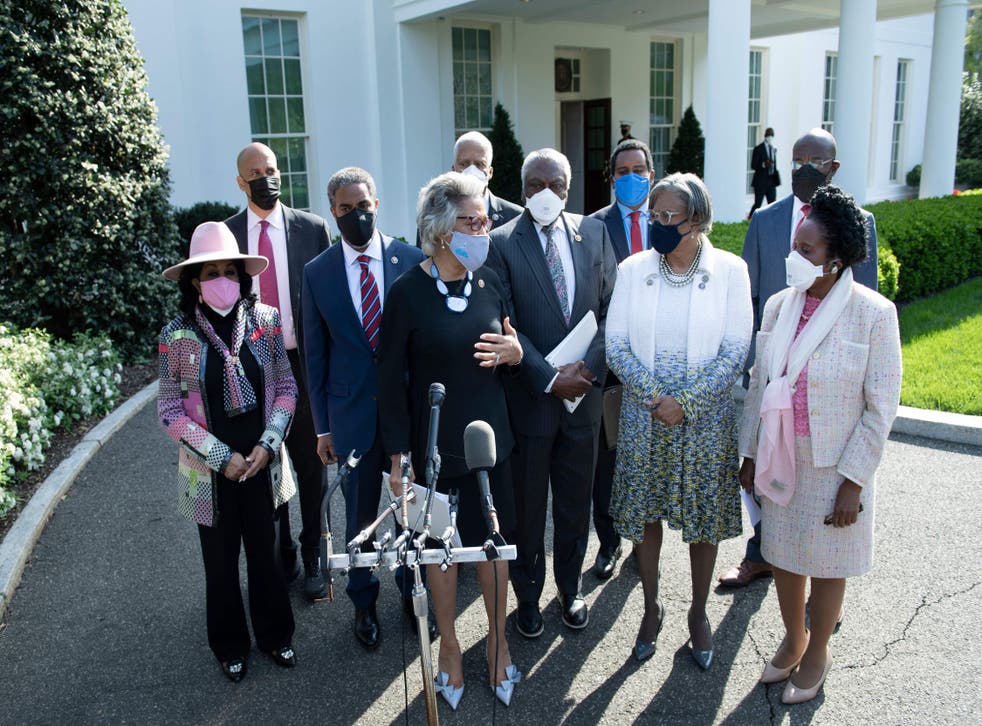 Following the police killing of an unarmed Black man in Minnesota, Joe Biden met with members of the Congressional Black Caucus to discuss a range of issues – from voting rights and healthcare to reparations for the descendants of enslaved people – as the White House centres racial equity initiatives across federal agencies.
Caucus chair Joyce Beatty of Ohio said that "all of this starts with voting rights".
"If we don't stop voter suppression, if we don't put something in place protect this democracy, then we can't go beyond that," she told reporters outside the White House on Tuesday after the meeting.
Her remarks follow dozens of Republican-sponsored bills filed in at least 47 states to restrict ballot access in a range of proposals that would disproportionately target communities of colour.
The House of Representatives has passed the White House-backed For The People Act, a sweeping voting rights proposal that aims to be an antidote to nationwide voter suppression efforts, but it faces GOP roadblocks in the Senate.
Senator Raphael Warnock of Georgia said lawmakers told Mr Biden that "we can work on both infrastructure and the infrastructure of our democracy at the same time" as the group pressed Mr Biden on voting rights protections.
Lawmakers also focused their discussion with the president on racial disparities in infrastructure, wages, Covid-19 vaccination efforts and healthcare, as well as police reform following the killing of Daunte Wright in Minnesota, which has revived nationwide demands to curb police violence.
Rep Beatty said lawmakers feel the "pain" among protesters and the victims of police violence "because many of us have witnessed the same pain, the same discrimination."
"It is not by accident that we are here now," she said. "We stand with them to use our power, and our message to bring about change, to bring about hope and we're going to do that through voting, through jobs and the economy."
House Majority Whip James Clyburn said lawmakers started the meeting by "certainly saying this has been a tough week for us".
"We wanted to emphasise the fact that we see his programmes as being significant to this county to get back to a better place," he said. "But we also want him to understand that we know the lessons of history."
He said lawmakers "want to make sure that this time around we do not repeat" historic inequities in recovery efforts, including "pockets of poverty" in the wake of the New Deal and the creation of "food deserts" in communities of colour.
US Rep Sheila Jackson Lee of Texas also said the president has renewed his support for the formation of a commission to study reparations for the families of enslaved people in the US. Her bill to create that commission will be discussed in the House Judiciary Committee this week. It is likely to receive a vote on the floor of the House.
Asked about vaccine "hesitancy" among Black Americans, Rep Beatty said that "hesitancy is not the number one issue in the African American community".
"We want to dispel this whole 'hesitancy'" narrative she said, pointing to the fact that the caucus members next to her are vaccinated. She stressed instead that equitable access to the vaccine must be a priority for the administration and nationwide inoculation efforts.
Caucus members announced plans to hold vaccine events in their districts to boost support for the shots.
Join our new commenting forum
Join thought-provoking conversations, follow other Independent readers and see their replies