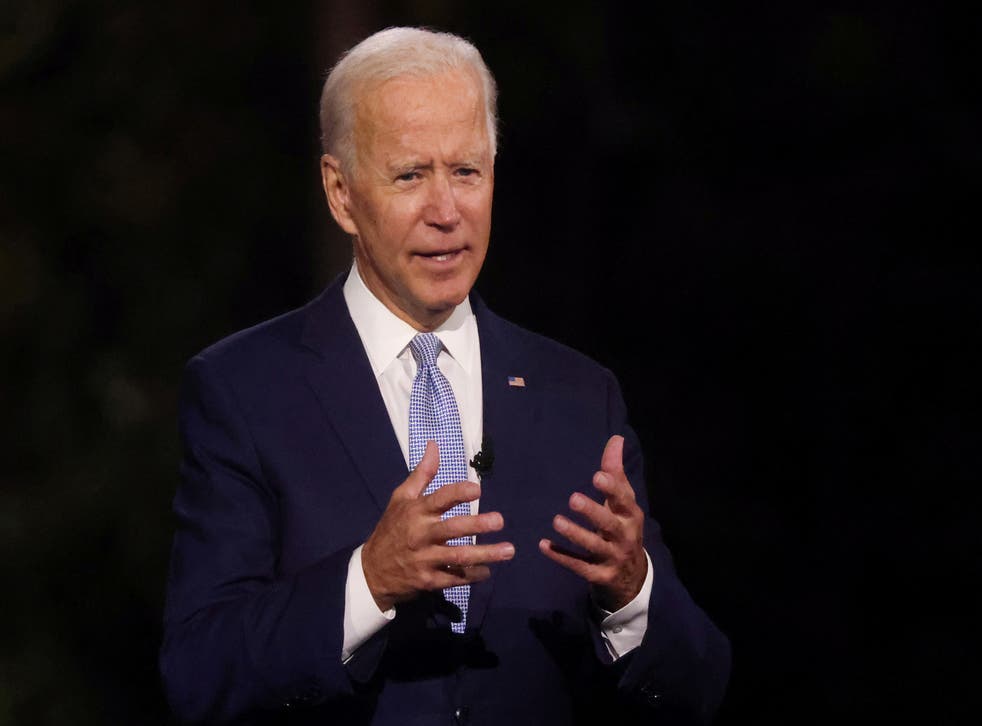 In dueling campaign stops with the president in Minnesota, Joe Biden mocked Donald Trump for repeatedly saying he will reveal an infrastructure plan that never seems to materialize.
Mr Trump took particular exception to his opponent's continued reference of a Columbia University study showing implementation of coronavirus guidelines a week earlier would have saved 36,000 lives.
It was the second campaign event in as many days for Mr Biden after his CNN town hall appearance on Thursday night, in which he was mocked for breaking social distancing rules with host Anderson Cooper.
During the event, Mr Biden said he had benefited from white privilege and knew how it felt to be looked down upon because he was from working class Scranton and didn't go to an Ivy League university.
New polls showed Mr Biden well ahead of Mr Trump in Arizona and Maine. But in a call with Senate Democrats on Friday, the party's November contender said he takes nothing for granted and that he plans on appearing in key battleground states as the election enters the final bend.
Despite the continued advantage in the polling and only 46 days left before the public democratically elects the next occupant of the White House, Biden again called on the president to step down from his position in the Oval Office before his first term has expired.
Please allow a moment for our liveblog to load
1600454519
Bob Woodward says Trump isn't the right guy for the job, but that doesn't mean Biden is
In defending revelations of Donald Trump's coronavirus response for release in his new book Rage, Bob Woodward said he doesn't endorse Joe Biden even though the president is "the wrong man for the job".
In an interview with Fox News host Dana Perino on Thursday, Mr Woodward said he held back Mr Trump's private comments that coronavirus was deadly because he thought the president was specifically referencing its impact on China.
Mr Woodward interviewed the president 19 times, as well as several White House officials, for his second book on the Trump administration. In conclusion, he makes the assessment that Mr Trump is unfit for office, but also says he's not endorsing Joe Biden as he hasn't reported on him in-depth.
When Perino questioned the journalistic credibility of making an assessment, Mr Woodward said he learned journalism from former Washington Post executive editor Ben Bradlee, whose rule was to play it straight, play it aggressively and not be in the political game.
"Dana if you'd been able to read the book, the evidence is overwhelming. It's one of the saddest moments in this country to have a leader who has failed to tell the truth, who has failed to warn the people," he said.
'The evidence is overwhelming. It's one of the saddest moments in this country to have a leader who has failed to tell the truth'
Justin Vallejo
18 September 2020 19:41
1600452033
'As good as anybody else': Biden touts working-class background and says Trump 'squandered' advantages
Democratic presidential nominee Joe Biden, borrowing a page from Donald Trump's playbook, told voters on Thursday night he is proud to not have a degree from an Ivy League school.
"Who the hell thinks you need an Ivy League degree to be president?" the former vice president said during his first general election town hall near his hometown of Scranton, Pennsylvania.
"Guys like me, the first people in their family to go to college," Mr Biden added. "We are as good as anybody else."
Mr Biden, time and again during the 75-minute event broadcast live on CNN, referred to his blue-collar roots growing up in Scranton then Delaware. He clearly attempted to appeal to any remaining undecided working-class voters as he tries to hold off a September surge from the president, who has halved his lead in several crucial battleground states.
Both candidates are campaigning on a message that tells voters this is the most important election in American history, and the choice is clear between Mr Trump's populist conservatism and Mr Biden's mostly center-left progressivism.
But Mr Biden added a new wrinkly during the town hall, telling voters at the "drive-in" event in the parking lot of a minor league baseball stadium that he views the race as "Scranton versus Park Avenue," a reference to Mr Trump's longtime residence in a Trump Tower Penthouse in Manhattan.
"And guys like Trump, who inherited everything and squandered what they inherited," the former VP said, "are the people that I've always found a problem with."
Former Vice President, in dig at Trump, calls election contest between 'Scranton versus Park Avenue'
Justin Vallejo
18 September 2020 19:00
1600450995
FACT CHECK: Joe Biden told a few porkie pies at the CNN town hall appearance last night
Fact-checkers at The Washington Post went through some of Joe Biden's most egregious answers at the CNN town hall. This was one of the best, ie: worst:
"If the president had done his job, had done his job from the beginning, all the people would still be alive. All the people — I'm not making this up. Just look at the data. Look at the data."
False. "Actually, Biden is making this up," the fact checkers say.
They looked at the data and, well, there is no data to support that claim. For Biden's claim to be accurate, not one single person could have died. Even New Zealand had 25 deaths.
To be fair, the claim didn't exactly need a fact check since the position is so demonstrably untenable that it must be hyperbolic by design.
And it's clearly a death too far when even Nancy Pelosi wasn't in agreement with the assessment when referencing the 200,000 dead at a press conference on Friday.
"Would they have all been saved? No," she said. "But many would have, and there are metrics on this. Don't take it from me. There's scientific metrics of how many people could have been saved."
Even CNN's own fact-checker, Daniel Dale, got in on the action with one of Biden's most common refrains - that upside down bible that wasn't during the St John's Church photo up.
Justin Vallejo
18 September 2020 18:43
1600469779
Michael Moore warns Biden's ground game in Michigan worse than Hillary's
Filmmaker Michael Moore has warned that Democratic presidential nominee Joe Biden is running a worse "ground game" in Michigan than Hillary Clinton, who ultimately lost the state by half a percentage point in the 2016 presidential election.
Moore made the comments during an appearance on The Hill's "Rising" to discuss the Biden campaign. The documentarian cited a poll from the Detroit Free Press, showing that Mr Biden's lead over Mr Trump in Michigan has dropped 50 percent since June.
"The fact that Trump has narrowed the lead by 50 percent since June should have everybody screaming bloody murder", Moore said. "We don't have a minute to lose on this".
Asked by the hosts what Mr Biden should do to reverse this trend, Moore said his campaign needs to start with a "ground game" and spend more time engaging Black voters in Michigan rather than disaffected Republicans.
"It's actually worse than Hillary", Moore said. "At least there was a ground game, even though she didn't show up. There were Hillary offices in many towns, there were door-to-door campaigns".
The Academy Award-winning filmmaker said the Biden campaign needs to be doing more not less
Justin Vallejo
18 September 2020 23:56
1600468259
'He has no plan': Biden mocks Trump's repeated promise of an infrastructure strategy
Joe Biden has launched a mocking attack on Donald Trump, saying the president repeatedly says he will reveal an infrastructure plan but never does.
Speaking in Minnesota, a state Democrats narrowly won in 2016 but which the president is hoping to flip, Mr Biden accused Mr Trump of looking down on working people and being perhaps the "most selfish" occupant of the Oval Office.
"He had a plan in '17...then he had one in '18. Then he had one in '19. Then he has one for '20," said the former vice president. "Just like his nonexistent health care plan that's coming next week. He has no plan."
Mr Trump has often vowed to launch major infrastructure plans but they never get off the ground.
Vice president spoke in heartland state of Minnesota
Justin Vallejo
18 September 2020 23:30
1600466696
FACT CHECK: Biden says Trump did not "speak up" about coronavirus during State of Union address
At a campaign stop in Minnesota today, Joe Biden repeated a recent attack vector the Democrats have aimed at Donald Trump in the wake of Bob Woodward's book showing the president downplayed the severity of the coronavirus in the early days of the pandemic.
"How many lies said and lives lost, imagine if he had just, Amy, on the State of the Union, that year, spoke up and said we got a problem, but we can handle it, here's what we gotta do," Biden said on Friday.
"I can't think of any president, who's ever acted, in my view, so selfishly about his own re-election instead of his sworn obligation to protect and defend the American people."
The State of the Union speech has taken on new significance following Mr Woodward releasing audio recordings of the president, who privately called the virus "deadly" while publicly downplaying its severity.
In an interview with Fox News on Thursday night, Mr Woodward said he was shocked the president didn't step up in the opportunities he had to warn the American people earlier this year.
"Quite frankly, when I learned it, I was shocked that the president did not step up in the opportunities he had, like the State of the Union message," Mr Woodward said.
Biden has been repeating the sentiment lately, and called it out again at the Carpenters Union Training Centre near Duluth, Minnesota.
The president did, however, mention the coronavirus in his State of the Union, saying this, according to the White House transcript (there is a video from a non-Trump source at the end of this post):
"Protecting Americans' health also means fighting infectious diseases. We are coordinating with the Chinese government and working closely together on the coronavirus outbreak in China. My administration will take all necessary steps to safeguard our citizens from this threat."
Now, your mileage may vary on whether that counts as "speaking up" and saying we have a problem, depending on whether you drive a donkey or an elephant.
And the case could be made that what Biden meant was that the president didn't speak up about the severity of the problem in a way that reflected his private thoughts, as was the point of Mr Woodward.
But while that may be the case as to what Biden meant, it's not what was said on this occasion. So while that makes this statement mostly false within this context, further clarification on his next attempt may make it mostly true.
Justin Vallejo
18 September 2020 23:04
1600464338
Trump tuned into Biden's campaign stop in Minnesota
Ahead of his own campaign event in Minnesota, Trump checked in with what Joe Biden had to say in today and he didn't take it leaving his Twitter lying down.
This is what Biden said that has Trump so fired up today.
"You know when it was estimated by a great medical school, Columbia medical school, that the president had just started one week earlier in March than he did, we'd have 36,000 more people sitting at the dinner table tonight, or being able to put your arm around grandma or grandpa tonight."
It said: "Had these same control measures been implemented just 1-2 weeks earlier, a substantial number of cases and deaths could have been averted. Specifically, nationwide, 61.6 per cent of reported infections and 55 per cent of reported deaths as of May 3, 2020 could have been avoided if the same control measures had been implemented just one week earlier."
That math was extrapolated by The New York Times to reach the 36,000 figure back in May, with Jeffrey Shaman, an epidemiologist at Columbia and the leader of the research team, telling the publication: "It's a big, big difference. That small moment in time, catching it in that growth phase, is incredibly critical in reducing the number of deaths."
Justin Vallejo
18 September 2020 22:25
1600461959
Polarized: Why this Massachusetts progressive voter supports Joe Biden and Ed Markey
From The Independent's Chris Riotta:
Teachers throughout the United States have struggled with the transition to virtual learning amid the coronavirus pandemic—but they're not the only ones working with children from a safe distance in pursuit of their best interests.
Samuel Harold is a juvenile public defender in Massachusetts who works in the youth advocacy division at the Committee for Public Counsel Services. He is appointed by the courts to represent anyone under the age of 18 who is charged with a crime in the state.
While Harold spent most of his days in court before Covid-19 hit the US, he now mostly works from home, attending sessions of what he calls "Zoom court" while working to build socially-distant relationships with the children he represents.
'I'm not opposed to people changing their minds about things'
Justin Vallejo
18 September 2020 21:45
1600456859
Joe Biden and CNN's Anderson Cooper mocked for breaking social distancing rules during town hall break
Democratic presidential candidate Joe Biden and CNN's Anderson Cooper have faced ridicule online after a video showed them not social distancing when Thursday night's town hall cut to a commercial break.
A former producer at CNN first flagged with Twitter how Mr Biden and Mr Cooper were breaking social distancing guidelines during breaks in the town hall, which took place outdoors in Scranton, Pennsylvania.
In the video, the CNN camera pans out from the town hall stage and Mr Biden is seen walking towards the MR Cooper to speak to him.
Danielle Zoellner has the report.
Mr Biden participated in an outdoor town hall in Scranton, Pennsylvania, on Thursday evening 
Justin Vallejo
18 September 2020 20:20
1600455659
Lincoln Project launches new ad – plot twist, less Trump and more Biden
After weeks of ads attacking Donald Trump, the Lincoln Project today tried a new strategy and focused on Joe Biden's positives rather than the president's negatives.
In the video, titled "Goodness", a mother tells her son he'd be a good president, but he has to be a good person first.
Cut to Biden and the tag: "It's time for decency".
Justin Vallejo
18 September 2020 20:00
Register for free to continue reading
Registration is a free and easy way to support our truly independent journalism
By registering, you will also enjoy limited access to Premium articles, exclusive newsletters, commenting, and virtual events with our leading journalists
Already have an account? sign in
Join our new commenting forum
Join thought-provoking conversations, follow other Independent readers and see their replies