As it happened
ended
1619466941
Biden news: President pledges aid for Covid-stricken India in call with PM Modi
Follow the latest in US politics as the Supreme Court takes on a case seeking to overturn gun laws
Watch live as White House press secretary Jen Psaki holds briefing
Joe Biden pledged additional pandemic supplies to India as the country faces a rapidly increasing number of new Covid cases. In a call with prime minister Narendra Modi, Biden committed to providing emergency assistance including oxygen-related supplies, vaccine materials, and therapeutics.
The Supreme Court has announced it will hear a major gun rights case on whether New Yorkers should be able to carry concealed handguns in public.
Under New York's long-held handgun licensing law, handgun owners must be able to demonstrate "proper cause" to hold the firearms in order to obtain a license.
Those who want an unrestricted license to carry must demonstrate that they have a "special need" to protect themselves.
The challenge, which is backed by the National Rifle Association (NRA) questions that, with gun rights advocates calling on the court to rule that residents have a constitutional right to carry their weapons outside their homes. If the justices vote in their favour, it could be the most significant ruling connected to the Second Amendment in years.
Meanwhile, Donald Trump Jr has been mocked along with a number of other MAGA supporters after racing to defend his right to eat red meat in response to a viral story wrongly suggesting Mr Biden's new climate plan "could limit" Americans' burger consumption.
After the Daily Mail suggested that cutting back on red meat could be a way for the US to push towards the president's goal of slashing greenhouse gas emissions, the story was quickly misinterpreted to suggest that Mr Biden would be enforcing such a plan.
Mr Trump Jr responded quickly to the perceived, but non-existent threat, tweeting: "I'm pretty sure I ate 4 pounds of red meat yesterday. That's going to be a hard NO from me."
1619429686
Good morning and welcome to The Independent's live blog following the latest in US politics as a top Kremlin official signals that a meeting between President Joe Biden and Russian counterpart Vladimir Putin could take place as early as June.
Chantal Da Silva
26 April 2021 10:34
1619430355
Biden-Putin summit could take place in June, top Kremlin official says
US President Joe Biden could meet with his Russian counterpart Vladimir Putin as early as June, a top Kremlin official has suggested.
Speaking on state-run television channel Rossiya-1, Putin's top foreign policy aide, Yury Ushakov, said June had been named as a likely date for the meeting.
Plans have yet to be set in stone, however, and so far the US government has not confirmed a date for a summit.
However, if the meeting did take place in June, it could take place alongside Mr Biden's already planned trips to Britain for a G7 summit, as well as for NATO and EU summits in Brussels.
Chantal Da Silva
26 April 2021 10:45
1619430908
Turkey summons US ambassador over Biden's 'genocide' statement
Turkey summoned the US ambassador in Ankara over the weekend to protest US President Joe Biden's recent statements branding the mass killing of Armenians during the Ottoman Empire a "genocide".
Deputy Foreign Minister Sedat Onal met with David Satterfield late on Saturday evening to express Ankara's outrage over the statement, Politico reported.
On Saturday, Mr Biden became the first US president to formally acknowledge the 1915 mass killings of Armenians as a genocide.
In a statement, the US leader said his intention was "not to cast blame, but to ensure that what happened is never repeated".
Turkey, however, has rejected the use of the term "genocide" to describe the mass deportations and killings carried out in the midst of World War I.
In a tweet on Saturday, Turkish Foreign Minister Mevlut Cavusoglu said the country" entirely rejects" Mr Biden's decision. "We will not take lessons from anyone on our history," he said.
Chantal Da Silva
26 April 2021 10:55
1619432150
Trump hosts Lauren Boebert's family at Mar-a-Lago
Former President Donald Trump appears to have hosted gun rights activist and House representative Lauren Boebert and her family at Mar-a-Lago.
Sharing a photo to Twitter on Sunday of her family posing with a beaming Mr Trump, Ms Boebert said she was "honoured to have my entire family be able to spend time with President Trump".
"We know our country is better than the socialist path the Dems are taking us down," she said.
"We know we need to win in 2022 & get back on track," she said, referring to the midterm elections next year.
"Stay positive & believe. We are going to make good things happen!" she said.
It is unclear when exactly the visit took place or what was discussed between the former president and Ms Boebert.
The Independent has contacted her office for more details.
Chantal Da Silva
26 April 2021 11:15
1619433392
Biden expands summer food programme for 34M schoolchildren
The Biden administration is expanding the US's summer food programme to help feed as many as 34 million schoolchildren during the summertime.
Using funds from the coronavirus relief package approved in March, the Agriculture Department has announced that it will continue to facilitate a payments programme used to replace school meals during the pandemic, when many students were forced to study from home, throughout the summer.
Under the programme, eligible families will receive $6.82 per child for each weekday during the summer, adding up to $375 over the summertime.
Agriculture Secretary Tom Vilsack said the benefits programme represented a "first-of-its-kind, game-changing intervention to reduce child hunger in the United States".
Chantal Da Silva
26 April 2021 11:36
1619434464
US to send aid to India amid coronavirus surge
The US is sending aid to India to help combat a surge in coronavirus cases that has overwhelmed the country, National security adviser Jake Sullivan has announced.
In a statement on Sunday, National Security Council spokesperson Emily Horne said Mr Sullivan had already discussed the plan with his Indian counterpart, Ajit Doval.
"Just as India sent assistance to the United States as our hospitals were strained early in the pandemic, the United States is determined to help India in its time of need," the statement said.
Read more on the commitment here: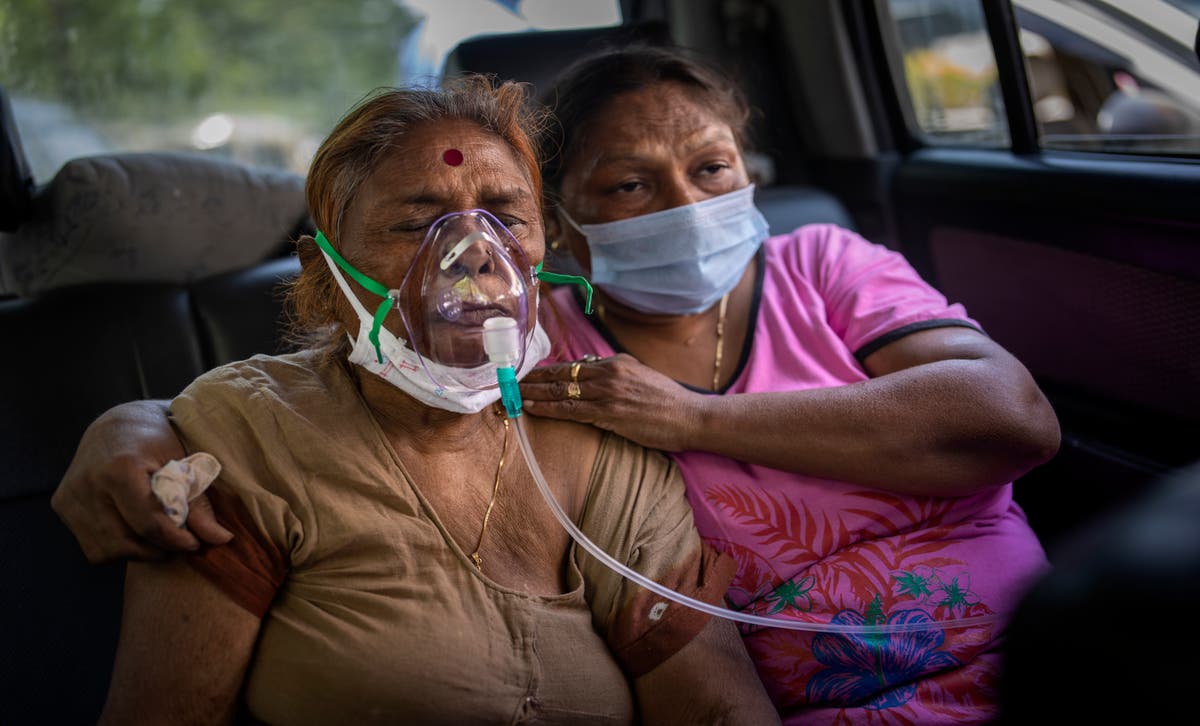 Secretary of State and National Security Adviser announce help is coming after backlash for vaccine hoarding and export bans
Chantal Da Silva
26 April 2021 11:54
1619436400
Mexico calls for Covid vaccine help from US
Mexico is calling on the US for more assistance vaccinating people along the countries' shared border.
Already, Mexico has received 2.7 million doses of the AstraZeneca vaccine from the US.
However, Mexican deputy foreign minister for multilateral affairs Martha Delgado said in an interview with Reuters late last week that the country requires further help.
"We are once again taking up dialogue to insist on this need," she said, in the lead-up to an upcoming visit from Foreign Minister Marcelo Ebrard to the US.
Mexico may also pitch a proposal to prioritise vaccinations along the border, she said, asserting that the issue was an important concern in Mexico.
With strong personal and business ties between communities across the border, the deputy foreign minister suggested it would be easy for reinfection to occur on both sides of the border.
Prioritising vaccinations in border communities could help prevent that from happening, she said.
Chantal Da Silva
26 April 2021 12:26
1619437488
Pence ski trip at height of pandemic cost taxpayers $757,000, Crew says
A controversial ski trip taken by former Vice President Mike Pence at the height of the coronavirus pandemic did not only break federal guidelines - it also broke the bank, a new watchdog report has revealed.
According to Citizens for Responsibility and Ethics in Washington (Crew) Mr Pence's ski trip with his family cost taxpayers at least $757,000 (£544,000) in security costs.
Read on to find out what those dollars went towards:
Former vice president took trip even as his own task force asked people to stay at home
Chantal Da Silva
26 April 2021 12:44
1619439000
Trump Jr defends meat-eating rights after story falsely suggests Biden could take hamburgers away
Donald Trump Jr has rushed to defend his right to eat meat after a viral story appeared to falsely suggest that President Joe Biden could crack down on red meat consumption.
The controversy began after the Daily Mail reported that the US president's climate plan could hypothetically "limit" the consumption of burgers to just one a month.
Mr Biden never made any such claim when he rolled out his ambitious plan to slash greenhouse emissions. However, the Mail made the suggestion as part of an effort to theorise how his emissions targets could be achieved.
"I'm pretty sure I ate 4 pounds of red meat yesterday. That's going to be a hard NO from me," Mr Trump Jr wrote in a tweet.
Read more on how the controversy unfolded here:
President has pledged to halve greenhouse gas emissions by 2030
Chantal Da Silva
26 April 2021 13:10
1619439136
US begins Afghanistan withdrawal
A withdrawal of foreign forces in Afghanistan is underway, US Gen Scott Miller, the commander of foreign forces in Afghanistan has said.
Speaking with reporters in Kabul on Sunday, Gen Miller said that he was acting on orders based on President Joe Biden's decision to withdraw troops by 11 Sept, which marks the 20th anniversary of the 9/11 terror attacks.
Gen Miller said foreign forces would continue to have "the military means and capability to fully protect themselves during the ongoing retrograde and will support the Afghan security forces", according to Reuters.
He said he had spoken with Taliban members with the Taliban Political commission and "told them a return to violence, an effort to force a military decision, would be a tragedy for Afghanistan and the Afghan people".
The troops withdrawal will bring America's longest war to an end, with Mr Biden asserting that the mission is no longer in line with US priorities.
Chantal Da Silva
26 April 2021 13:12
Join our new commenting forum
Join thought-provoking conversations, follow other Independent readers and see their replies