As it happened
ended
1619740495
Biden news: President responds to hecklers at rally to mark 100 days
Follow the latest updates below
Key moments from Biden's joint session of Congress
Joe Biden's administration came under fire from former president Donald Trump on Thursday after the Democrat delivered a first address to a joint session of Congress the night before.
Mr Trump, who accused the Democrat of "destroying our country" in an appearance on Fox Businesses, also praised former personal attorney Rudy Giuliani for being "a great patriot" following a raid on the 76-year-old's apartment on Wednesday by federal investigators.
Mr Giuliani denies allegations that he broke lobbying laws while working for Mr Trump, and of collecting information on the Biden family in Ukraine in the run-up to the 2020 election — which Mr Giuliani claimed was a fraud.
The former president went on to call himself "the father of the vaccine" and took credit for the country's roll out, despite facing criticism for failing to meet initial vaccination targets during his final weeks in office.
At a rally in Georgia to mark the official 100-day mark on Thursday, Mr Biden was interrupted by hecklers demanding the president "end detentions now", and "abolish ICE" while calling out "communities not cages."
Mr Biden responded by saying that he wants to end the use of private prisons in the US, which he pledged in an executive order that ordered the Justice Department to decline to renew contracts with private, for-profit prisons.
Read more:
1619599607
Good morning, and welcome to The Independent's rolling US politics coverage.
Rory Sullivan
28 April 2021 09:46
1619599916
What we know about Biden's address to Congress 
Joe Biden will deliver his first major speech to Congress this evening, almost 100 days after his inauguration. 
But what do we know about the content of his address? And who will attend the event? 
Alex Woodward has the answers: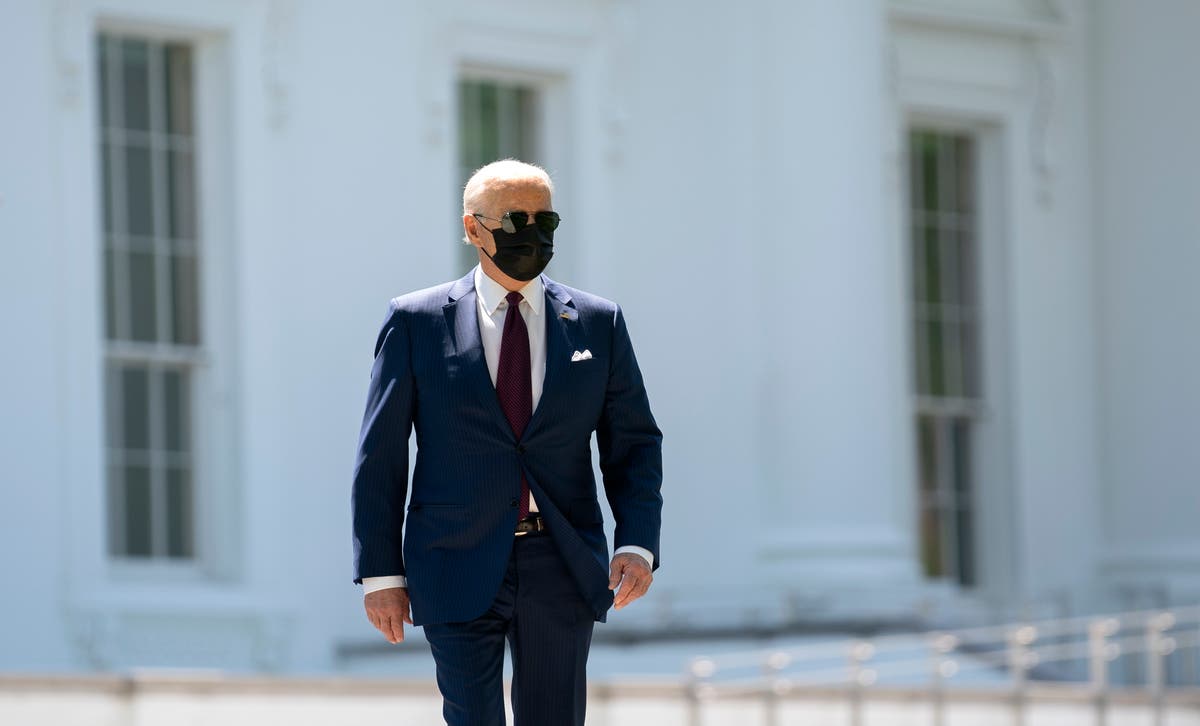 Don't call it a State of the Union – president's address to reflect on first 100 days and upcoming agenda
Rory Sullivan
28 April 2021 09:51
1619601126
What is the difference between a State of the Union and joint address?
The president's speech later today will not be an official State of the Union address but it will be similar.
My colleague Gino Spocchia examines the differences between the two types of address:
State of the Union or joint address? How Biden's 2021 speech differs
Rory Sullivan
28 April 2021 10:12
1619602326
Biden proposes 'transformational' family plan
The Biden's administration's $1.8-trillion American Family Plan will be the central topic in the president's joint Congress speech on Wednesday.
Senior White House officials said the 10-year plan offers "transformational investments" so "all children and young people are able to learn and grow and gain the skills they need".
American Families Plan would spend billions to combat poverty and address long-standing disparities in health and education
Rory Sullivan
28 April 2021 10:32
1619603585
Speech will have 'different dynamic' due to Covid restrictions, says Pelosi
Due to the pandemic, only 200 people will be allowed to attend Joe Biden's joint Congress speech today - instead of the usual 1,600.
The attendees will mainly be lawmakers plus some government representatives and a few family members.
Speaking about the event, House of Representatives speaker Nancy Pelosi said: "It will be its own character, it will be its own wonderful character. We went from 1,600 people to 200 people. That is a different dynamic, but it has its own worth."
Rory Sullivan
28 April 2021 10:53
1619604845
Biden's first 100 days
In his first 98 days as president, Joe Biden has overseen the country's mass vaccine rollout which has administered 230 million doses so far.
James Crump has this and other figures from the opening months of his presidency:
President will reach his 100th day in charge on Thursday, 29 April
Rory Sullivan
28 April 2021 11:14
1619605108
US-Russian relations worse than during Cold War, Lavrov claims
Sergey Lavrov, Moscow's most senior diplomat, has said that mutual respect between the US and Russia is now lower than during the Cold War.
He also insisted that Russia was ready to normalise ties with Washington.
"During the Cold War, the tensions were flying high and risky crisis situations often emerged, but there was also a mutual respect," Mr Lavrov told Russian state TV. "It seems to me there is a deficit of it now."
Rory Sullivan
28 April 2021 11:18
1619606105
Biden administration's family plan includes free meals for millions of children
The Biden administration wants Congress to spend $45 billion on free school meals for millions of children from low-income families across the US.
The proposal comes in the American Families Plan, as part of a raft of anti-poverty measures.
More than 5 milion children lived in food-insecure households in 2019, according to the US Department of Agriculture.
Rory Sullivan
28 April 2021 11:35
1619607303
How to watch Biden's speech
The US president's prime-time address will start at 9pm ET (12am GMT) and will be streamed across all the major US news networks, including CNN and ABC News.
It will be shown live on The Independent, with a dedicated page for the event.
State of the Union 2021: When is Biden's joint address and how to watch
Rory Sullivan
28 April 2021 11:55
1619608708
Immigration groups launch $50m citizenship campaign
A coalition of immigration advocacy groups is launching a $50-million campaign to convince politicians to pass a new citizenship law.
Lorella Praeli, the leader of Community Change Action, said the effort aims to ensure that the Democrats "actually deliver concrete change in people's lives".
"People can no longer wait. And people are not going to absolve either party from delivering in this moment," she added.
The initiative starts with a $1.5 million ad campaign across five states and Washington D.C, which begins this weekend.
Rory Sullivan
28 April 2021 12:18
Join our new commenting forum
Join thought-provoking conversations, follow other Independent readers and see their replies