Boston 'free speech' rally abandoned by right-wing demonstrators outnumbered by 15,000 counter-protesters
The 'free speech' rally was largely isolated in a stone veranda, hundreds of feet from the numerous counter-protesters
Clark Mindock
Boston
Sunday 20 August 2017 00:47 Comments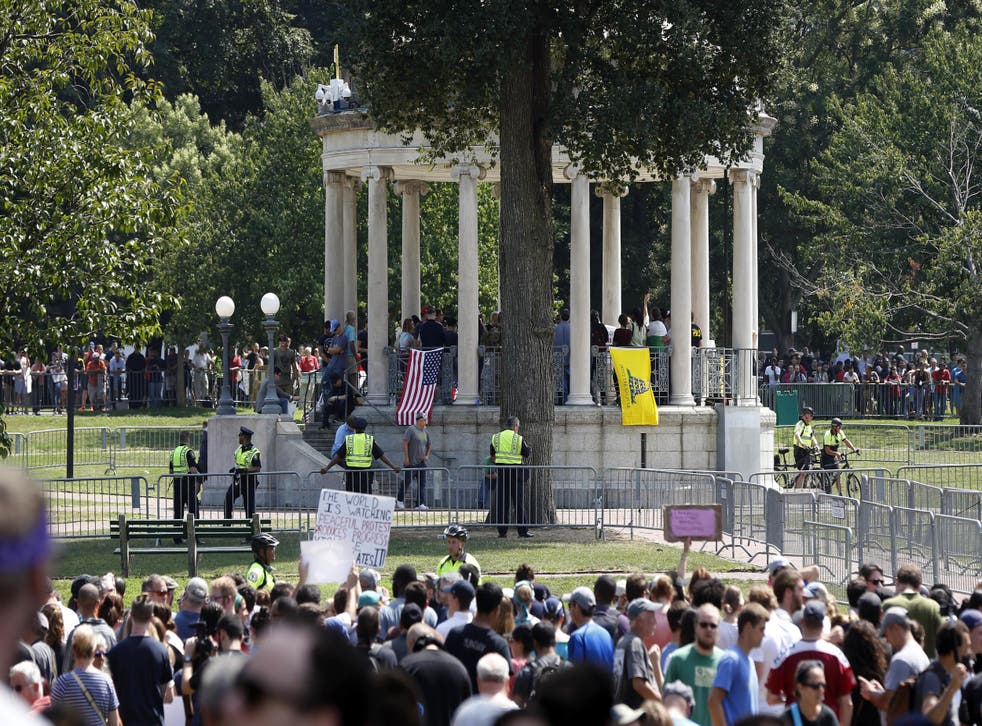 As the official start time of the contentious "Free Speech Rally" in Boston approached, the winner in the battle of words between organisers and counter-demonstrators had already been determined.
If hateful speech aimed at Jewish people or minorities was chanted at Boston Common park, it was not audible at one of the largest rallies being held just one week after the deadly demonstrations in Charleston, Virginia, where neo-Nazis marched bearing torches, and where one woman was killed.
Instead, an estimated 15,000 counter-protesters dominated the air with anti-Nazi and anti-fascist chants.
When it comes to free speech, there is strength in numbers. The small group of "free speech" demonstrators crowded in the stone veranda in the centre of the Boston Common park – a few dozen people separated from the thousands of counter-protesters by a heavy police force, barriers, and hundreds of feet of open grass – did not have it.
"Shame!" the crowd chanted at one "free speech" demonstrator, who later identified himself only as Joe, as he tried to gain access to an entry route patrolled by police that led to the veranda.
"Nazi scum, f*** off," others chanted, telling the right-wing crowd inside the veranda to get out of Boston.
While Mr Trump tweeted that there were "many anti-police agitators", conflict between counter-protesters and law enforcement was somewhat minimal in the early afternoon, then appeared to escalate somewhat after both sides had spent hours in the hot summer sun.
The Boston Police Department tweeted to ask that protesters stop throwing urine, bottles, rocks, and other projectiles at its officers.
"Looks like many anti-police agitators in Boston. Police are looking tough and smart!" the President tweeted.
"I want to applaud the many protestors in Boston who are speaking out against bigotry and hate. Our country will soon come together as one!"
Mr Trump claimed the US had been "divided for decades" in another tweet that had to be reposted twice because of spelling errors that saw the President originally urge America to "heel".
"Sometimes you need protest in order to heal, & we will heal, & be stronger than ever before!" he eventually wrote.
In the week since a suspected white supremacist killed a woman in Charlottesville after a violent rally that pitted neo-Nazis, white supremacists and members of the Ku Klux Klan against counter-protesters including anti-fascist activists, America has grappled with its ugly history of racism and how that history fits into present day.
Mr Trump, who initially released a statement condemning bigotry and violence after Heather Heyer's death, later appeared to avoid condemning white supremacy during an impromptu press conference. Instead, he insisted that both sides in Charlottesville were to blame for violence.
Donald Trump blames both sides for Charlottesville violence
That rollback of condemnation by the President has outraged both conservative and liberal voices in the US, with many making public statements condemning Nazis, fascism, and racist speech. But, with the violence in Charlottesville still fresh in the American psyche, officials in cities holding rallies this weekend were concerned that that anger would spread.
"Show me the bodies. Show me the [white supremacists] who were ran over in Charlottesville" James Tazelaar, 25, told The Independent. Mr Tazelaar had come to the rally with a black shield he'd fashioned at home and adorned with anti-white supremacy messaging. "I have no intention of starting violence. I brought a symbol of protection, not a symbol of aggression."
But "free speech" protester Joe, who faced down the chants of shame, said the rage he heard in those voices was unsettling and worrisome. He was worried for his life, and it did not matter how much sage counter-protesters burned, or how many messages of love they scrawled on cardboard.
"We were, like, this close to getting killed," Joe told The Independent of the counter-protesters yelling at him and his companions after police had escorted him around the demonstration in the veranda to a side street. Police had not allowed him or his companions, one of whom was black, and another Latino, to join the demonstrators on the veranda
It was unclear why they were not allowed to join the rally when they showed up at noon, the official start time, but Joe and those with him blamed Mayor Marty Walsh, who had sent in 500 police officers and encouraged people not to show up fearing a repeat of Charlottesville.
Violence on the streets of Charlottesville

Show all 9
A further 200 police officers were reportedly on call.
Boston Police Commissioner William Evans told reporters there had been very little damage to property though some officers were hit by plastic bottles containing urine.
"We did not want what happened in Virginia to happen here," he said.
He confirmed there were 27 arrests
The counter-protests overall appeared to be peaceful, even if there were tense moments that flirted with the line of violence. As a "free speech" rally-goer attempted to leave the park at one point, a group of counter-protesters followed the individual, throwing fruit and beverages. A police van was dispatched to pick up the individual – it was not clear if they had been arrested or if the police had responded for their safety. Those police vans could be seen sporadically responding to situations throughout the day.
Overall counter-protesters were peaceful and somewhat united. Chants of "black lives matter" permeated the park, and activists discussed the needs of their communities, including adequate child care, healthcare, and schools.
"I want to stand on the side of justice," Julius Wayne Dudley, 72, said when asked why he had attended. Mr Dudley, who came from Georgia, said he had marched with Dr Martin Luther King Jr in the 1960s and was encouraged by the young counter-protests even if he was saddened that the simmering racism in America had resurfaced. "It makes my heart feel like my life has been worth living."
Fifteen-year-old Tony, whose last name is being withheld by The Independent because he is a minor, said that the protests make him – whose family comes from Mexico and Guatemala – feel as though he's not alone in Mr Trump's America, which has seen a crackdown on immigrants.
"It's good to know that the community is standing up for everyone," Tony said. "We're not alone."
Register for free to continue reading
Registration is a free and easy way to support our truly independent journalism
By registering, you will also enjoy limited access to Premium articles, exclusive newsletters, commenting, and virtual events with our leading journalists
Already have an account? sign in
Join our new commenting forum
Join thought-provoking conversations, follow other Independent readers and see their replies