Boston free speech protests: Far-right demonstrators 'outnumbered 10 to 1 by anti-fascists'
The city's mayor has urged everyone to be act peacefully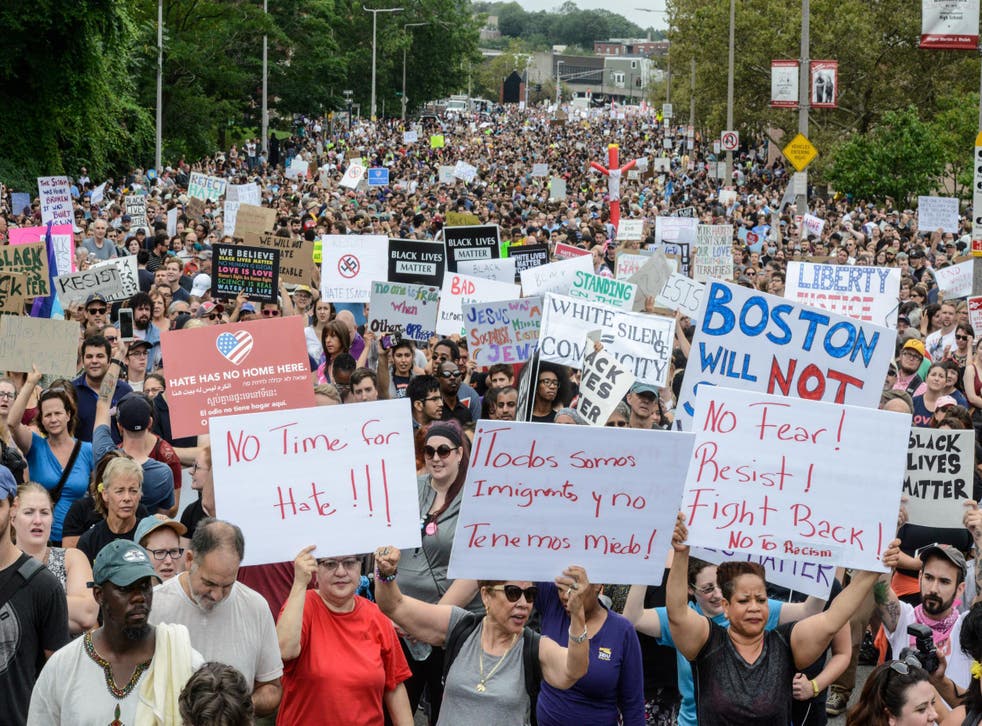 Far-right demonstrators in Boston appeared to be greatly outnumbered by their opponents - perhaps as much as ten to one - as the city braced for two competing rallies.
The Mayor of Boston, Marty Walsh, issued an appeal to the many thousands of people taking part in the two events to be peaceful and show respect.
"I ask everyone to be peaceful today and respect our city. Love, not hate. We stand together against intolerance," said Mr Walsh. "We will not tolerate violence or property damage of any kind."
The events were taking place a week after clashes at a white supremacist protest in Charlottesville, Virginia, that resulted in more than 20 people being injured and one young woman, Heather Heyer, being killed. A 20-year-old man has been charged with her murder.
The protests appeared to be overwhelmingly peaceful, although CNN said that police arrested eight anti-fascist protesters after briefly clashing with police.
Donald Trump has found himself under intense criticism for his slow response to the events in Virginia and his suggestion there was "blame on many sides", rather than an unequivocal criticism of the neo-Nazis and racists who were present.
Hundreds gather for Charlottesville vigil
In Boston, hundreds of police officers were positioned around a park where one group planned to hold a so-called Free Speech rally with right-wing speakers. Thousands of counter-protesters who believe the event could become a platform for racist propaganda, were gathering about two miles away with plans to march on the rally, according to the Associated Press.
Police officers placed barricades to prevent vehicles from entering the park, the nation's oldest. To keep the two groups separate, they also built a cordon around the site of the rally.
Violence on the streets of Charlottesville

Show all 9
Organisers of Saturday's rally in Boston have denounced the white supremacist message and violence of Charlottesville and said their event would be peaceful.
"The point of this is to have political speech from across the spectrum, conservative, libertarian, centrist," said Chris Hood, an 18-year-old Boston resident who stood among a crowd of a few dozen people who planned to join the Free Speech rally.
"This is not about Nazis. If there were Nazis here, I'd be protesting against them."
In addition to the Boston rally and counter-march, protests were also expected in Texas, with the Houston chapter of Black Lives Matter holding a rally to remove a "Spirit of the Confederacy" monument from a park and civil rights activists in Dallas planning a rally against white supremacy.
Register for free to continue reading
Registration is a free and easy way to support our truly independent journalism
By registering, you will also enjoy limited access to Premium articles, exclusive newsletters, commenting, and virtual events with our leading journalists
Already have an account? sign in
Register for free to continue reading
Registration is a free and easy way to support our truly independent journalism
By registering, you will also enjoy limited access to Premium articles, exclusive newsletters, commenting, and virtual events with our leading journalists
Already have an account? sign in
Join our new commenting forum
Join thought-provoking conversations, follow other Independent readers and see their replies